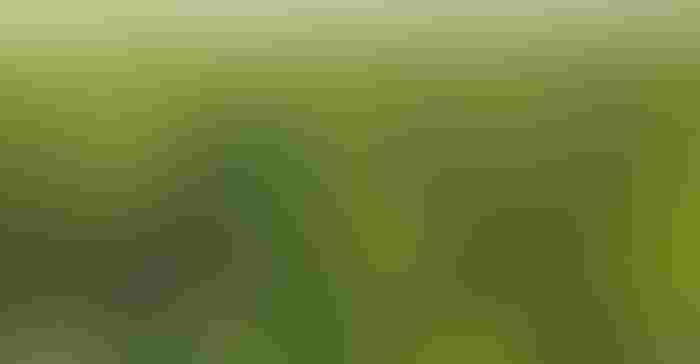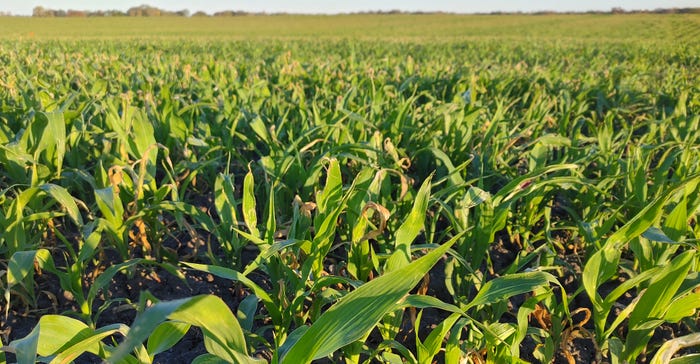 In 2020, many variable weather events and patterns occurred across Iowa. Between the severe drought conditions in the western half of the state and the derecho storm that tore through the center, fields have been hit hard. Downed corn in a wide area is prevalent this fall, with many fields being deemed unharvestable by insurance adjusters or requiring added time and effort to harvest.
Flattened and severely lodged cornfields have left a much higher volume of harvest loss corn on the ground than in previous years. With the corn standability issues and increased harvest loss, volunteer corn in 2021 will be a challenge for farmers.
In most years, volunteer corn isn't a particularly difficult or yield-robbing issue farmers need to make specific considerations for. However, fields that have been destroyed by storms or have fallen over due to weakened stalks and poor standability have made the problem of volunteer corn one to be prepared for in 2021.
Volunteer corn ranging from 800 to 13,000 plants per acre can cause yield losses up to 54% in soybeans and up to 13% in corn, according to research conducted by South Dakota State University, University of Minnesota and University of Nebraska-Lincoln.
Millions of kernels left in fields
Mark Licht, Iowa State University Extension cropping systems agronomist, urges farmers to consider the ramifications of the derecho windstorm and how this year's weather may affect the 2021 cropping season.
"If you have 200-bushel-per-acre corn that's flattened as a result of the derecho windstorm that struck in August, and this flattened mass can't be harvested, that's the equivalent of 20 million corn kernels per acre in that field. Even at 1% germination, that's 200,000 seeds per acre, meaning we need to focus on volunteer corn control," he says.
Management of fields with potential volunteer corn issues in 2021 may be approached in various ways, using multiple methods. There are strategies for fall and spring management of fields that can be considered, based on farmers' preferences or systems.
Fall management of fields through use of tillage and residue destruction is an option, but the results are mixed. Tillage will increase the seed-to-soil contact of the harvest loss corn in fields as well as promote germination of seeds this fall. Fall-germinated corn seeds will be subject to winterkill, reducing the volunteer corn population in the spring. This method doesn't remove all the volunteer corn producing seeds, but it can help to reduce the numbers significantly.
Is disking fields effective?
Licht reminds farmers that crop residue sizing by using tillage this fall will improve decomposition of kernels, but farmers may still need to switch those acres to soybeans in 2021 and consider the herbicide traits of the corn that was planted in that field this year. "Getting a cover crop established can also be a great help to suppress germination of volunteer corn," he says.
Spring options for controlling volunteer corn involve crop rotations, planting strategies and a targeted herbicide portfolio that can effectively help manage these volunteer corn increases. The best row crop option for controlling volunteer corn would be planting a soybean crop into fields with high potential for issues. There are many more herbicide options (Group 1 herbicides) labeled for controlling corn within soybean fields. There is also an opportunity to plant different herbicide-traited soybeans that can help with these issues.
Planting strategies such as delayed planting and delaying herbicide application until volunteer corn has emerged can be effective. The emerged corn is easier to control, and if killed in the spring, it will not be an issue later in the growing season.
Plan your herbicide program
Herbicide portfolios that have an increased emphasis for control of volunteer corn in both corn and soybean fields should be considered for in-season control. These portfolios should include full rates of "corn killer" herbicides with proper timing of application to ensure adequate control. Following full labeled rates when applying herbicides is always recommended for fields with high weed pressure or volunteer corn populations.
Grass herbicide antagonism with broadleaf herbicides is also an issue to consider if tank mixes are used on high potential volunteer cornfields. Tank-mixed products with potential antagonism can usually be avoided by applying a higher rate of the grass herbicide in the tankmix, or by applying the grass herbicide one or more days before or seven days after the broadleaf herbicide. This antagonism does not occur with all herbicide tankmix combinations, so do your homework and consult with local agronomists and chemical dealers.
Most farmers are ready to put 2020 in the rearview mirror and move on to next season. It's slow-going through the fields with combines this fall, trying to harvest the downed corn and tangled stalks. However, harvest 2020 is proceeding at an increased rate over last year, thanks to an early start and a dry fall. Farmers will soon be getting ready for winter and making next year's cropping decisions.
A few small changes in crop management plans will help reduce the yield-robbing potential of large areas of volunteer corn. Volunteer corn is not typically a high management issue for farmers, so making sure it moves up the list for 2021 will ensure that the problems of 2020 don't affect next year."
Witt is the ISU Extension field agronomist for west-central Iowa. Email [email protected].
Subscribe to receive top agriculture news
Be informed daily with these free e-newsletters
You May Also Like
---