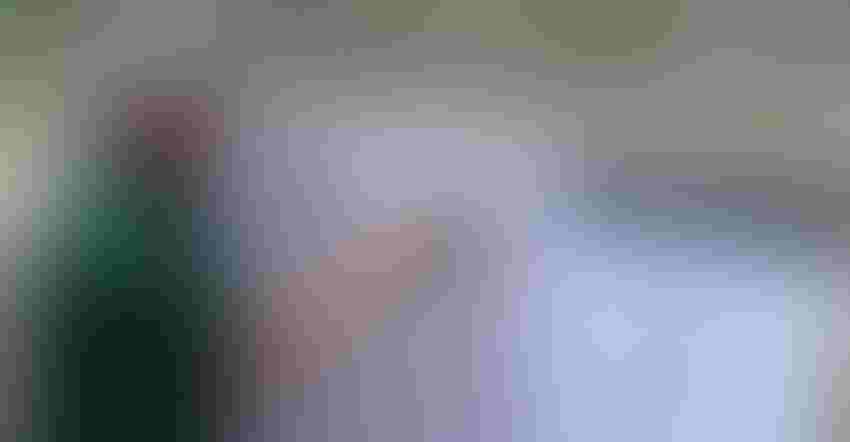 SEED PLACEMENT MATTERS: Jason Webster with Precision Planting explains that how the corn kernel is placed in the furrow can impact things such as emergence efficiency and leaf orientation.
Tom J. Bechman
Suppose you could choose which way corn leaves were oriented in relation to the stalk. Would you prefer that they run parallel with the row, so leaves of one plant overlap leaves of the next plant in the same row? Or would you rather leaves run across the row, touching leaves of neighboring plants in adjacent rows?
"I would like them to run across rows, not with rows," says Jason Webster, manager of the Precision Technology Institute research farm near Pontiac, Ill., operated by Precision Planting. "I would vote for the across-the-row orientation every time."
Why? Because that positioning gives corn leaves an advantage in capturing more sunlight, Webster explains. When plants capture more sunlight, they produce more products of photosynthesis. Less sunlight reaching soil should help suppress weeds, promote cooler in-canopy temperatures and help preserve moisture.  
"We've proven to ourselves that leaves running across the row is the correct placement by weighing ears with that placement and comparing them to ears where the leaves run with the row," Webster says. After two years of sampling, they predict a 9% yield loss due to incorrect leaf orientation in corn planted by a commercial planter.
The yield loss on ears from plants with incorrect leaf placement is considerably higher, he notes. However, they found that typically 20% to 30% of leaves in a field are oriented the wrong way. That pulls down the average loss compared to if leaves on every plant were pointed the wrong direction.
Search for solutions
Why document something you can't do anything about? Webster is fascinated by the idea because he thinks there could be ways to influence leaf orientation. One possible way is to place kernels in the furrow in a certain orientation. It impacts the direction in which key parts of the young seedling emerge from the seed itself, he notes.
If you think weighing individual ears from plants based on leaf orientation sounds time-consuming, think about manually placing seed in a certain position within the furrow! Webster acknowledges it's not a favorite activity of summer interns, but he believes it's worth investigating. It's also why the plots devoted to studying leaf orientation are small!
"So far, we've noticed that embryo directional placement in the trench appears to impact leaf orientation," Webster says. "Seed tip directional placement seems to improve emergence timing."
Early results indicate that incorrect leaf orientation probably can't be totally prevented, but manually placing seed in a certain position can reduce the number of plants with leaves oriented the wrong way, Webster reports.
No one is suggesting that anyone would ever plant seed by hand. However, Webster banks on the theory that if someone could figure out that a certain seed orientation made enough difference to improve yield, ag engineers would come up with a way to make that seed placement happen.
Subscribe to receive top agriculture news
Be informed daily with these free e-newsletters
You May Also Like
---