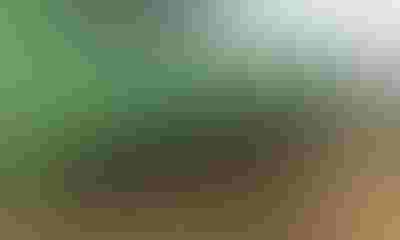 Managing corn residue can be a big problem for farmers. Corn stalk residue is very beneficial as it is a source of soil organic matter and returns valuable nutrients back to soil. Left unmanaged however, corn residue can interfere with planting and stand establishment. Beck's Practical Farm Research has conducted a number of studies to try and find new solutions for corn residue management.
One approach to residue management that Beck's PFR has tested is the application of nitrogen and various biologicals to hasten the breakdown of corn residue in the fall. This approach has generated inconsistent results. The bacteria and fungi that degrade corn residue require warm temperatures and moisture. A dry fall or early onset of cold weather causes nitrogen or biologicals to become ineffective in reducing residue. In wet and warm falls, Beck's PFR has seen significant benefits for some biologicals that enhance stover degradation.
The equipment industry has developed several approaches to residue management that have shown definite improvements. One of these is the Yetter Stalk Devastator™.  A rolling basket attached beneath the corn head splits and cuts stalks while harvesting. Being a passive system, the Yetter Stalk Devastator™ does not require more combine horsepower.
Beck's PFR results have found that while the Stalk Devastator can hasten degradation, the stalks do not blow in the wind as they are often still attached to the roots. (Figure 2) One of these studies conducted in 2015 compared strips where there was no stalk roller used in the fall of 2014 with strips where a Stalk Devastator was used. The average yield advantage for Stalk Devastator in this study was 15.2 Bu./A. (Table 1).
Another approach the equipment industry has taken in managing residue is chopping heads. In 2015, Beck's PFR compared strips where a Capello® Quasar Corn Head was used in the fall with a no-chopping head control. The yield advantage for the chopping head was 29.7 Bu./A. in a no-till scenario and 16.3 Bu./A. in a conventional-till system. (Table 1)
Beck's PFR study comparing Yetter Stalk Devastator™ and Capello® Quaser Corn Head
Capello® Quaser Corn Head
In summary, Beck's PFR has shown inconsistent results when applying chemicals and biologicals to enhance residue degradation. New style combine attachments and chopping heads have shown some benefit in the management of corn residue.
Utilize Beck's PFR as a resource to help understand which biologicals and micronutrient products may be profitable on your farm and why.
Practical Farm Research (PFR)® is a registered trademark of Beck's Superior Hybrids, Inc. 5000 Stalk Devastator™ is a trademark of Yetter Manufacturing Company, Inc. Capello® is a registered trademark of Capello USA.
Subscribe to receive top agriculture news
Be informed daily with these free e-newsletters
You May Also Like
---