Corn residue breakdown myths
Corn residue breakdown myths
Think DifferentAdding liquid nitrogen (N) to corn residue in the fall does not speed up decomposition, as many growers believe.A two-year nitrogen and residue study at Iowa State University (ISU) confirms this and earlier findings from around the Midwest, says research leader Mahdi Al-Kaisi.The ISU researchers applied 0, 30 and 60 lbs. of N/acre as UAN 32% to corn residue immediately after harvest. The rate of decomposition, which was evaluated every three months, was no different among any of the treatments."These results show that applying N fertilizer to facilitate residue decomposition is not effective," Al-Kaisi says.Residue decay is limited by soil temperature and moisture, not a shortage of nitrogen to feed microbes, he says. Applying nitrogen for this purpose simply increases expense and N loss.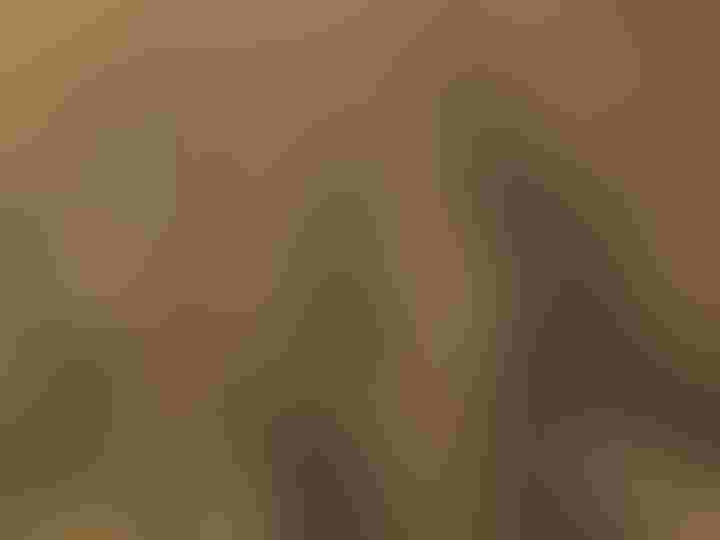 Slicing up corn residue and mixing it into the soil with tillage speeds up decomposition… right? Wrong!
That's according to research from Iowa State University (ISU), which compared how fast Bt and non-Bt corn residue broke down under conventional tillage, strip-till or no-till. Three years of tillage and residue field and laboratory trials at Ames, Iowa, found no differences in corn residue breakdown due to tillage or type of residue, says research leader Mahdi Al-Kaisi, ISU Extension soil scientist.
These findings overturn common misconceptions, Al-Kaisi says. Midwestern growers dealing with mounds of cornstalks often assume that "cutting crop residue into small pieces or burying residue by tillage can accelerate residue breakdown."
But in reality, these practices don't speed up decomposition significantly, he says. Instead, biological processes that depend on weather and soil conditions are responsible for residue breakdown.
Tillage and Bt effects
The field trials were performed on fine loamy soil near Ames from 2005 to 2007 and repeated in laboratory studies. The rate of residue decomposition was measured by carbon dioxide (CO2-C) released. Mesh bags of Bt or non-Bt corn residue were placed in fields at different depths, simulating the effects of tillage. For no-till, residue bags were left on the soil surface; for strip-till, they were partly buried about 3 in. deep; and for deep tillage, they were buried about 11 in. deep.
After 12 months, the remaining residue was the same for all the tillage treatments. "It didn't make any difference whether we left it on the surface or buried it," Al-Kaisi says.
Growers often observe that Bt-corn residue seems more resistant to breakdown than non-Bt residue, Al-Kaisi says. In the no-till field trials, there was no significant difference between Bt and non-Bt residue decomposition. However, in one year of the field study, buried Bt residue did decompose more slowly than buried non-Bt residue.
Weather, soil most important factors
Why didn't tillage speed up decomposition?
Environmental conditions near the soil surface are far more important than tillage for breaking down residue, the researchers concluded. Organic matter decay is controlled by a complex interplay of "air and soil temperatures, soil moisture availability, soil pH, oxygen and the microbial community," Al-Kaisi says. Soil bacteria and fungi – the organisms responsible for decomposing organic matter – are most active when soil moisture is just under field capacity and temperatures are above 50 degrees F. As temperatures fall, microbial activity begins to slow down.
The ISU research didn't surprise Andy Thompson, Carthage, Ill., regional sales manager for Yetter Manufacturing. "Many longtime no-tillers say they have no problem with residue buildup," he says.
Thompson, who is also a part-time farmer, raises continuous corn in a strip-till system. He leaves tall cornstalks at harvest, then runs an Aerway aeration tool with rolling baskets over the field. That flattens the residue to promote soil contact, but doesn't chop it, so it won't blow around.
He follows with fall strip-tillage, pushing all residue between the 10-in. seed zones without burying it. "We move the residue out of the way and allow it to break down," he says.
By the end of the following growing season, the microbes have worked their magic, leaving very little residue. "Every time we till, we harm the microbial activity in the soil," Thompson says. "If we take care of our soil, then it will take care of our residue." 
Managing residue in a cold climate
Some northern growers might be a bit skeptical about the ISU research, says DuPont Pioneer field agronomist Clyde Tiffany, Spicer, Minn. In Minnesota, most farmers chop residue and follow with primary fall tillage. Although one goal may be fostering residue breakdown, northern growers have other reasons for sizing and incorporating residue.
"Chopped residue flows through tillage equipment and planters better," Tiffany says, adding that the benefits of tillage for soil warmup are well documented. "A mat of residue won't dry out and warm up in the spring, and the crop will suffer."
In the northern Corn Belt, it's tough to raise corn without any tillage, Al-Kaisi acknowledges. "The soil is cold and residue makes it colder. The question is, how do we manage residue short of tilling the whole field?"
Al-Kaisi suggests strip-tillage, which offers the benefits of no-till while making "a good seedbed for corn to germinate."
It's also important to spread residue evenly with the combine and use row cleaners on the planter to clear the seed zone so the sun can warm the soil around the seedling, Tiffany says.
Using tillage to try to speed up residue breakdown is generally "counterproductive from economic and environmental perspectives," Al-Kaisi says, not to mention the cost and degradation of soil health and water quality. Instead, he recommends that growers "keep residue on the soil surface rather than incorporate it with tillage."
About the Author(s)
Subscribe to receive top agriculture news
Be informed daily with these free e-newsletters
You May Also Like
---