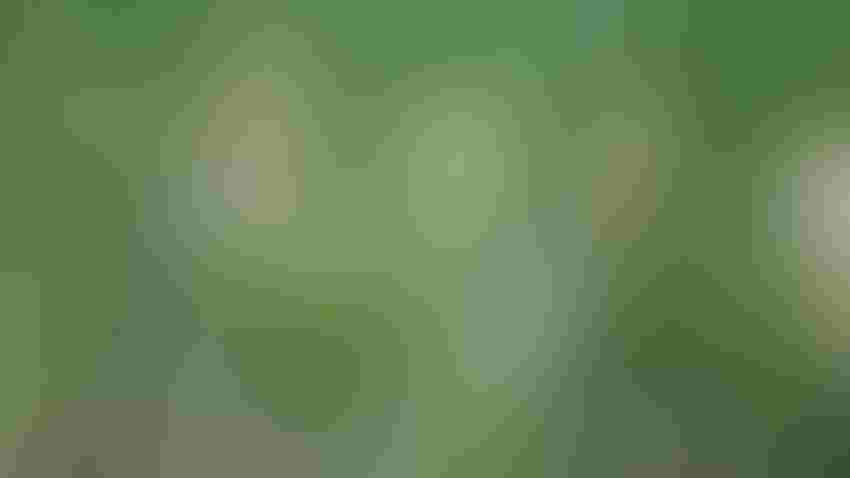 BAGS AND MORE BAGS: Some bags are covering silks and some are collecting pollen. All are important tools for a plant breeder.
Tom J. Bechman
I joined Stewart Seeds Inc. near Greensburg, Ind., in 1989 as corn research director. Tom and Jim Stewart were very cooperative and encouraging in my corn breeding efforts. At the time, it was a family-owned company. Earlier, they took over leadership from their fathers, brothers John and Gilman Stewart.
I worked there for 18 years. With a team of six people, we developed excellent inbred lines and hybrids. Stewart Seeds started a Genetic Originals brand of hybrids that were not available anywhere else.
This is when I first met Tom Bechman, a young editor for Indiana Prairie Farmer. He often interviewed me at the farm. We toured my breeding nurseries and research plots. This was also the time, around 2000, when I first told him that someday the architecture of a corn plant would change. It would be shorter, with plants shaped like Christmas trees to make better use of sunlight.
Busy days
Pollination is one of the busiest times for a corn breeder. A corn breeder must be well organized to make the most of each day. He or she must make pollinations in research nurseries. It is a labor-intensive task which, even today, must be accomplished by human hands. The plant breeder can hire helpers, but the plant breeder must teach and work with them.
Stages in corn breeding and hybrid development projects include developing breeding populations, developing inbred lines at various stages of inbreeding, and increasing seeds of finished inbred lines to produce foundation seed for making experimental hybrids for planting in strip plots. Other tasks on a plant breeder's agenda include producing seed to display to farmers in sales strip plots and at agronomy field days, and maintaining paired-row crossing blocks.
Hand pollination work must be done in each section of the nursery. At Stewart, we hired around 15 high school students to help make hundreds of hand pollinations each day. Every morning, we would go through each section and cover ear shoots with special translucent paper bags to protect them from extraneous pollen. Silks needed to be visible to people making pollinations.
More tasks
There were no siestas in the afternoon. Instead, we would put tassel bags on tassels starting to shed pollen. Once collected, pollen was used either for self- or cross-pollination, as predetermined by the breeder. It would be indicated on row tags or by color of tags.
Pollen generally won't shed until midmorning. We would start making self- or cross-pollinations in each section as planned. In the sections for developing new inbred lines, we would collect pollen in paper bags put on the tassels the previous day, remove ear shoot bags and pollinate the silks. Then, they were covered with tassel bags and stapled until harvest.
After all pollinations for the day were made, we would put up tassel bags for inbreeding or crossing, depending on the section in the nursery. These tasks must be performed by humans even today.
Nanda is director of genetics for Seed Genetics Direct, Jeffersonville, Ohio. Email [email protected]or call 317-910-9876. Please leave a message. Editor's note: Bayer recently announced that several prestigious names in the seed industry will be funneled into Channel brands over the next two years, and the names retired. That will include Stewart Seeds.
Subscribe to receive top agriculture news
Be informed daily with these free e-newsletters
You May Also Like
---