Cool, wet conditions create good environment for crops, diseases
Cool, wet conditions create good environment for crops, diseases
"In soybeans in Tennessee, we are getting reports of frogeye leaf spot in the field in susceptible varieties," says Heather Young-Kelly, Extension plant pathologist with the University of Tennessee. "In my own research plots, I'm seeing it where I expect it. I have seen that it's a little delayed in its development due to the low relative humidity and the cooler temperatures."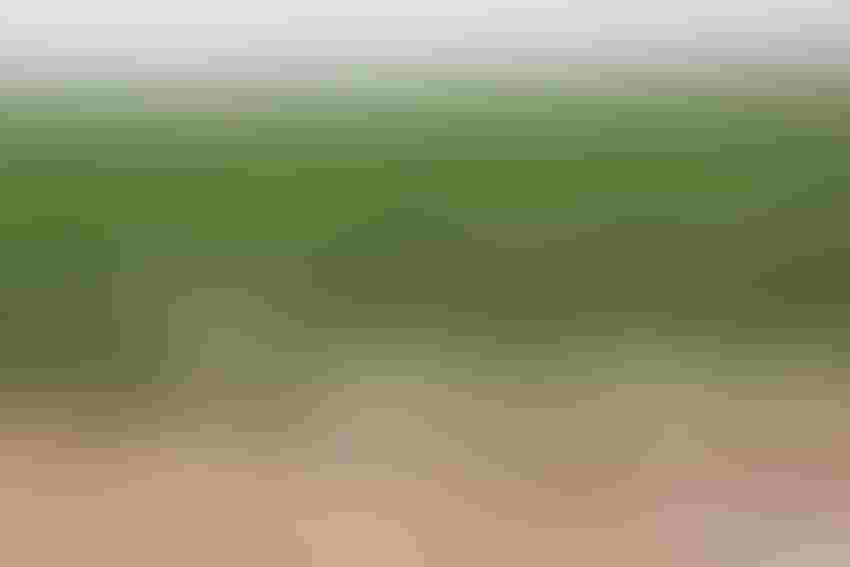 <p>SOYBEANS CAN BE found in all stages of growth in the Mid-South in late August -- from fully mature and in the bin to still in the vegetative stage. This summer&#39;s cooler weather, at least, until recent days, brought an increase in foliar diseases.</p>
This has been one of the coolest summers in recent memory for residents of the South and Southeast. Instead of breaking into a sweat moments after you walk outside, farmers and others who work outdoors have been able to stay reasonably calm, cool and collected.
Unfortunately, the same can also be used to describe foliar diseases that can infect corn, cotton, rice and soybeans. Some have flourished while others – which tend to do better in hotter, dryer weather – have languished.
"In soybeans in Tennessee, we are getting reports of frogeye leaf spot in the field in susceptible varieties," says Heather Young-Kelly, Extension plant pathologist with the University of Tennessee. "In my own research plots, I'm seeing it where I expect it. I have seen that it's a little delayed in its development due to the low relative humidity and the cooler temperatures."
Dr. Kelly was one of several university speakers who participated in the Asgrow/DeKalb agAcademy Field Day in Union City, Tenn. About 200 farmers traveled to the Aug. 7 event from Kentucky, Missouri and Tennessee.
The cooler temperatures and rains are also the right conditions for SDS or sudden death syndrome in soybeans along with other diseases that have been showing up in corn, cotton and rice in 2014.
SDS appearing in soybeans
"We are starting to get reports of SDS in Tennessee," she said. "That is a fungus that infects through the roots, and the foliar symptoms you see, yellowing between the veins and possibly necrosis and browning between the veins. That's actually due to the toxin that fungus creates within the plant after it's been infected through the roots."
Stem canker is a disease that looks similar to SDS, but stem canker is more prevalent in hot dry years, she said. "There's a very low probability we will see any of it (stem canker) this year," Kelly noted.
Disease problems have also been surfacing in some parts of neighboring Kentucky, according to Sarah Gehant, an agronomy service representative who covers the state for Syngenta Crop Protection..
"It's been one of the worst disease years I've seen in my 25 years – in both corn and soybeans," she says. "But the situation is very variable along with the weather conditions. Here, in Bowling Green, for example, we could use a rain, but the Owensboro area has been receiving ample moisture.
"In corn, we're seeing an awful lot of gray leaf spot, and we're seeing it earlier than what we've seen in the last decade and at higher levels," said Gehant, who was interviewed toward the end of July. "That combined with northern corn lead blight would be the two diseases that we're seeing in very, very high populations."
Gehant says the problems are occurring across the board in Kentucky. "The level of infection across different hybrids is pretty intense on corn, and now the Southern rust that growers to the South are experiencing is beginning to appear. We, of course, get that from them."
Corn diseases
Those three diseases – gray leaf spot, Northern leaf blight and Southern rust – are the three that impact corn in Kentucky year in and year out, she said.
Although some areas haven't received as much rain, "when we have dew points that are in the upper 60s and low 70s that causes us to have leaf moisture 10 to 12 hours a day, in the evening. You need about 10 hours of leaf wetness for these diseases to sporulate, and we're seeing that even when it doesn't rain."
Farmers have also been seeing frogeye leaf spot in soybeans. "I think it's a function of the moisture we're seeing, the direction from which the wind is coming, the south to the north, but, in Kentucky, a lot of the problem is caused by the high humidity."
Wet and cooler than normal conditions were being blamed for an increase in the level of Southern rust in areas like eastern North Carolina and frog-eye leaf spot in central and north Alabama.
"Frogeye leaf spot development is favored by warm, humid conditions and frequent rain events," says Ed Sikora, Extension plant pathologist with Auburn University. "Those are the conditions we experienced in Alabama in July."
Yield losses depend on disease severity and varietal susceptibility, he says. Losses have been reported at up to 30 percent in severely damaged fields. Minor damage to resistant varieties likely will not cause economic damage.
Resistant strains
"We strongly suspect that resistant strains of the pathogen are present in regions of the state," says Sikora. "This suggests that applying a strobilurin fungicide alone may not be effective in controlling the disease when used on FLS-susceptible or moderately tolerant varieties. With this in mind, we suggest using a pre-mix or tank-mix of fungicides that provide a dual mode of action such as a strobilurin plus triazole or strobilurin plus carboximide when treating varieties that are susceptible or moderately tolerant to FLS." 
For best results, Sikora says a fungicide should be applied before FLS is observed in the field. Typically, an application at the R3-to-R4 growth stage would be adequate, but this year, the disease appears to be beginning earlier in fields due to favorable weather conditions, he says. Delaying sprays until after the disease is widespread in a field may not result in an economic benefit from the fungicide application."
Gehant says Syngenta has developed a new product for soybeans called Quadris Top SB, which combines two active ingredients – Quadris and a triazole fungicide – aimed at combatting strobilurin-resistant frogeye leaf spot and helping prevent resistance in other diseases.
Gehant acknowledges it is difficult for farmers to keep up with the different diseases that can infect corn, soybeans and other field crops. But it's something they need to try to keep an eye on or find someone who can provide good scouting and good advice.
"Some growers look at their fields and think their corn is drying down early," she says, "when, in fact, is dying early from diseases." For more on foliar diseases, visit
Subscribe to receive top agriculture news
Be informed daily with these free e-newsletters
You May Also Like
---