5 truths for drying frost-damaged corn
5 truths for drying frost-damaged corn
Corn Illustrated: Be prepared, in case some corn runs out of time to fully mature this year.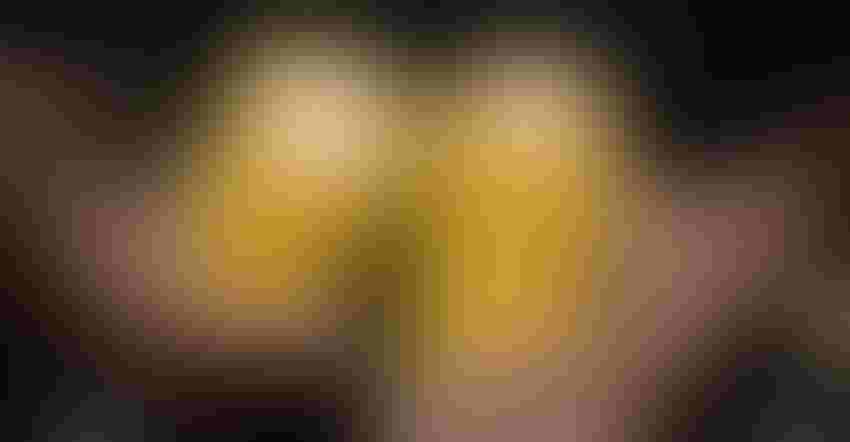 NOT DONE YET: Here are ears from two different hybrids. Although both are well dented, neither is safe from frost because kernels haven't reached black layer.
If someone tells you they want a fall like 1931, take their word for it. According to the National Weather Service, the first 32- and 28-degree-F readings at Fort Wayne, Ind., occurred on Nov. 25. It's the latest "first freezes" ever at that location. What no one wants is a year like 1974, when the first 32-degree freeze came Sept. 23 at Fort Wayne — and earlier some places. The first 28-degree freeze at Fort Wayne that year followed Oct.1.
History says this year's first killing freeze will be somewhere in between those dates. Even so, many believe odds are relatively high that some very-late-planted cornfields somewhere won't reach black layer before it occurs.  
Frost damage to corn is a subject all its own, says Gary Woodruff, district manager for GSI. The further north, the more likely frost will be an issue, but it can happen anywhere planting was seriously delayed, especially if those farther south see an earlier-than-normal frost. It's more likely where producers stuck with mid- to full-season hybrids.
Frost headaches  
Here are five issues frost can cause, along with the effects on drying. Woodruff provides the information.
1. Frost affects yield and drying. A light frost can affect yield and cause noticeable drying issues. A killing frost, which takes four to five hours below 32 degrees to occur, will likely kill the plant and stop all growth and yield improvement. A freeze at the early-dent stage is considered the point where corn may see serious damage on yield up to 25%, and feed quality suffers. The black layer stage is where no damage should be expected.
2. Field drying is impacted. When a heavy frost occurs before black layer, field drying will be slowed. This also means kernels will be high in sugars, which can slow water removal in the dryer. You may also see caramelizing of sugars, which will require reducing the plenum temperature from normal levels, which further reduces capacity.
3. You see more fines. Kernels will break up easier, causing much more fines. This reduces airflow. At times, fines may be so heavy that keeping grain moving through the dryer is severely affected. This worst-case scenario may require daily emptying and restarting of the dryer to keep it drying effectively.
4. Test weight suffers. Test weight inevitably will be low. That will affect flow and cause reduced realized capacity. Water still must be removed, while grain bushels are measured in 56-pound increments. Reduced density means more cubic feet of grain per bushel and fewer bushels per hour of capacity through the dryer.
5. Even some frosted corn slows the process. If normal corn mixed with frost-damaged corn is dried, where only corn in low areas of the field was damaged, still follow the same precautions and make the same operational changes. Even some frost-damaged kernels can cause these issues, particularly brown kernels. That's why even some frost-damaged corn still requires a lower plenum temperature. You can also still expect reduced airflow and column plugging.
Subscribe to receive top agriculture news
Be informed daily with these free e-newsletters
You May Also Like
---