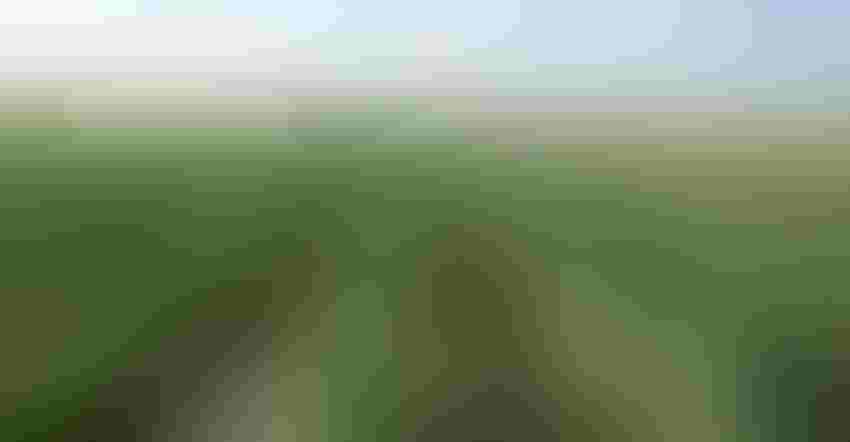 A GOOD START: Agronomist Mick Goedeken says starter fertilizer for corn is worth the investment, even in late-planted scenarios. "The yield response to starter fertilizer was tremendous this year."
For four years, Central Valley Ag has conducted a series of research trials on its Innovation Series plots, with locations in Norfolk and Bellwood, Neb., and in Cuba, Kan. — and has conducted on-farm trials for several years prior. So far, trials have ranged from nitrogen fertilizer timings and rates to different biological products to multi-hybrid planting.
Central Valley Ag agronomists discuss some key takeaways from this year's Innovation Series plots:
1. Active hydraulic downforce. Since 2017, CVA has put Precision Planting's DeltaForce system to work on its planters. The downforce system has settings for light, medium and heavy downforce — each of which makes automatic adjustments for individual row units based on soil conditions. Or operators can set a static downforce of 150 or 250 psi.
This year, automatic downforce resulted in an average yield increase of 6.3 bushels per acre, or in most cases, about a 2.5% increase, compared to an optimal static downforce setting.
"The 2018 crop had the best emergence and stand quality we had seen in several years, and there was still an advantage to the downforce systems on the planter," says Keith Byerly, Advanced Cropping Systems manager at CVA. "In 2017, the downforce system was a huge slam dunk. It paid for itself twice in one season. Based on results this year, it's going to take two years to pay for itself, but doubling your return on investment in two to three years is not bad." "I was still seeing a 3- to 4-bushel increase at our Norfolk site, even though it was ripped and field-finished, and we had as ideal of a seedbed as you could plant into," Byerly says.
"Tillage systems have an effect on how much benefit you may see from a hydraulic downforce system, but it still pays for itself in a respectable amount of time."
2. V5 fungicide applications. This is also the second year CVA has tested fungicide applications on corn at V5. "The V5 fungicide applications this year showed a lot of promise, especially at Bellwood," Byerly says. "We had a hail event go through less than two days after fungicide applications, and the side-by-side comparisons at that V5 stage were pretty noticeable in many ways."
"After we applied fungicide and got a hail event, plants recovered a lot quicker, were able to photosynthesize quicker and produce greater yields at the end of the year," says Mick Goedeken, ACS innovation agronomist at CVA.
In this case, the V5 fungicide application resulted in a 5% to 11% increase in yield over the control. Across all sites, these applications resulted in a yield response of 3.4% to 6.1%, with a return on investment ranging from 1 cent to $1.92 per acre.
However, there were also some immeasurable benefits, including a thicker, darker canopy, with cooler temperatures beneath the canopy compared to the control treatment.
"Typically the tassel application will give the most bang for the buck, but especially around the V5 stage, we can prevent some of those early-season diseases, and give that plant the ability to respire during those warm nights we see in the month of June and early July," Goedeken says.
3. Starter fertilizer. It's common practice on many farms, but Goedeken notes it's worth pointing out that starter fertilizer is worth the investment in corn production, even in late-planted scenarios.
"The yield response to starter fertilizer was tremendous this year, even though we planted late," he says. "Some naysayers say, 'If I plant later I do not need a starter fertilizer.' But getting a starter fertilizer out there whenever you plant is key to getting that plant off to a good start by providing a balanced nutritional program. Compared to no starter fertilizer, we saw an average of a 10% increase in yield across the five sites."
This trial included the three Innovation Series sites, as well as two sites at Northeast Community College in Norfolk — and all were planted between May 1 and 8. In this trial, the starter treatment included 5 gallons per acre of Begin (7-23-4-0.25Zn) in-furrow. Responses ranged from a 1.8% to 20.8% yield increase — at an average of about 15.7 bushels per acre — depending on the location.
At a cost of $17.12 per acre, this amounted to an average net return of $32.55 per acre.
4. Fertility trials. CVA also compared several dry fertilizer products, including MAP (monoammomium phosphate), Corn Mix LS (a blend of lignosulfonate, zinc, sulfur, manganese, boron and copper), a MAP blend with the same nutrients as the Corn Mix LS blend, MESZ (monoammoniumphosphate plus sulfur and zinc), Zinc LS (lignosulfonate), MAP plus SO4 (sulfur), and MESZ plus K2O (potash).
The average yield response across all sites ranged from 3.3%, or 5.1 bushels per acre, with the MAP blend, to 10.7%, or 15.6 bushels per acre, with the MESZ treatment. The big take-home is the average net return — $32.81 per acre with the MESZ treatment, although the standalone MAP treatment and MESZ plus potash treatment both yielded a return on investment as well.
"To me, the benefit of the MESZ application is about getting everything into that root at the same time," Goedeken says. "The way that granule breaks down whether mixed in the soil or on the soil surface, it creates an acidic zone around that. And the roots are attracted to that area facilitating uptake, and their getting all those nutrients when the roots are in one place, making that uptake more efficient for the plant."
About the Author(s) Tyler Harris is the editor for Wallaces Farmer. He started at Farm Progress as a field editor, covering Missouri, Kansas and Iowa. Before joining Farm Progress, Tyler got his feet wet covering agriculture and rural issues while attending the University of Iowa, taking any chance he could to get outside the city limits and get on to the farm. This included working for Kalona News, south of Iowa City in the town of Kalona, followed by an internship at Wallaces Farmer in Des Moines after graduation.
Coming from a farm family in southwest Iowa, Tyler is largely interested in how issues impact people at the producer level. True to the reason he started reporting, he loves getting out of town and meeting with producers on the farm, which also gives him a firsthand look at how agriculture and urban interact.
Subscribe to receive top agriculture news
Be informed daily with these free e-newsletters
You May Also Like
---