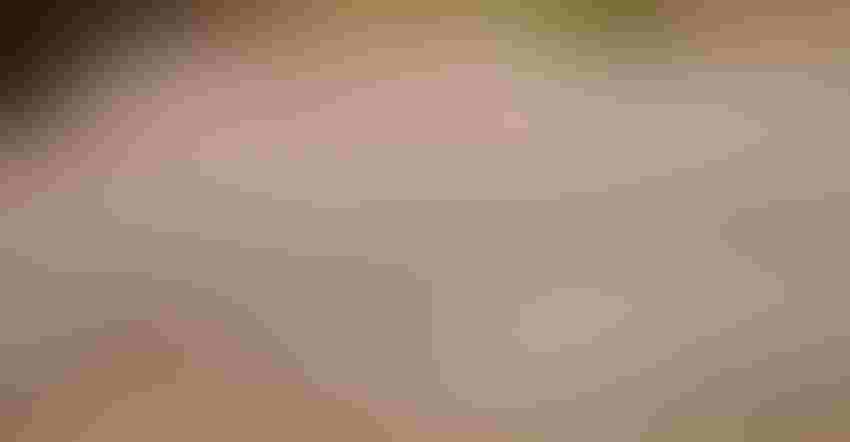 TAKEN OUT BY TAR SPOT: Notice the black speckling on this leaf caused by tar spot. Severe blight on leaves before black layer can reduce kernel size and yield.
Tom J Bechman
Dark brown leaf spots. Loose kernels. Spongy ears. Tar spot is striking fear in a growing number of fields across the Corn Belt. The bright spot for farmers, however, is that there are ways to proactively manage the fast-spreading disease and now is the best time to prepare.
"This is the first season where tar spot has shown up in a noticeable way in western Iowa," said Tony Moellers, Retail Product Agronomist for the Brevant seeds brand. "With seed selection for 2023 top of mind, farmers should prepare now for increased pressure next season and select hybrids with genetic protection to give their fields a better chance against the disease."
After its debut in eastern Midwest states, tar spot is quickly moving west. Alongside ag retail, agronomists advise farmers to put tar spot at the top of the list of considerations for 2023 corn seed.
Here are two ways to tackle tar spot next season:
1.
Select hybrids with genetic resistance.
Corteva Agriscience scientists have been studying tar spot and screening hybrids to develop a rating scale that accurately communicates a hybrid's level of tolerance, based on multiple years of observations in multiple locations. Some hybrids show more tolerance to the disease than others. 
"If you suspect tar spot pressure, make sure you're asking your seed adviser for hybrid tolerance ratings before selecting seed," Moellers said. "Genetic protection is a farmer's first line of defense against the disease, and there are numerous seeds products that have been vetted and established to have a high level of tolerance against tar spot."
Related:Panel digs into crop protection
2.
Fight back with scouting and fungicides.
Tar spot presents more challenges the earlier it appears and, left unchecked, it can significantly impact yield and late-season stalk integrity. 
Although there is no known way to prevent tar spot, scouting is a proven method to get ahead of the disease and make smart fungicide choices. By scouting early and often, farmers can make better decisions on when and how to treat the disease.
"Don't let it surprise you," Moellers said. "If the environment favors tar spot, it can appear at any time and spread rapidly. Fungicide application is not optional in the fight against tar spot; it's mandatory to protect yield potential and plant health." 
Farmers have become skilled at tackling known corn diseases over the years, but tar spot is still new to many U.S. fields, and it is aggressive. Don't find out the hard way in 2023. Together with tolerant corn hybrids, fungicides help protect yield potential during grain fill stages and the critical dry down period. For more information about managing tar spot and which corn hybrids can help, visit your local ag retailer.
Related:Russia likely to extend Black Sea grain deal
Source: Brevant Seeds
Subscribe to receive top agriculture news
Be informed daily with these free e-newsletters
You May Also Like
---