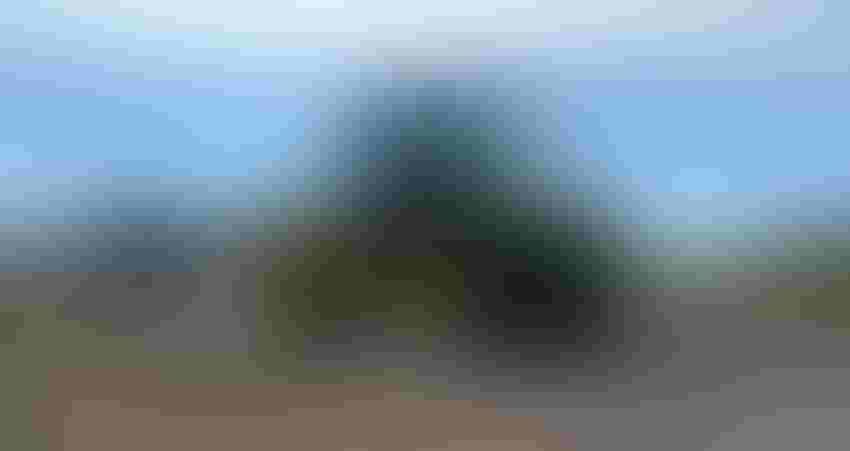 Farm equipment and trucks convoy through the Klamath Basin in Northern California and Southern Oregon, protesting an unexpected cutback in water that could jeopardize the area's crops.
Tim Hearden
Bob Gasser didn't expect to be in this situation again.
The owner of Basin Fertilizer in Merrill, Ore., Gasser was deeply involved in the first big protests over water in the Klamath Basin straddling the California-Oregon state line, which gained national attention in 2001.
After 19 years of lawsuits, negotiations and a water-sharing breakthrough that slipped through its proponents' fingers, Gasser was back to co-organizing another protest movement.
He was one of hundreds of area growers and agriculture-related businesspeople who drove a convoy of farm equipment and big rigs through the Klamath Basin on Friday morning to protest federal cutbacks that could leave some 200,000 acres of farms without surface water by midsummer.
Many of the tractors and trucks displayed handmade signs with messages such as "Save our farms" and "No water, no farms, no food."
"It's not just farm equipment" participating in the convoy, Gasser said. "I have a furniture store that's sending three rigs. I have sprinkler pipe people. I have people coming out of the woodwork. The whole community is upset."
Mike Mustoe, owner of Morningstar Farms, drove one of his irrigation trucks. The farm grows, packs and ships peppermint, potatoes and sugar beets, among other crops.
"If we can make it to around the 1st of August, we'll be OK," Mustoe said. "But if they cut us off in mid-July, we'd lose about half our yield."
A call to unity
The "Call to Unity" tractor convoy started on a farm near Merrill and traveled about 20 miles, passing through downtown Klamath Falls, Ore., and past the head gates of the Klamath Reclamation Project's main canal.
The convoy ended up in another farm field near Midland, Ore., where Gasser and others have planted hundreds of white crosses on bare ground visible from Highway 97 – the main highway coming from California – as a symbolic reminder of those whose livelihoods are threatened by the water shortages.
People on Friday placed American flags amid the crosses.
"We needed to be a part of our brothers' and sisters' fight down here," said Larry Needham, a safety officer for the Roseburg, Ore.-based Gene Whitaker Inc. log trucking company. "I'm hoping that all our farmers and ranchers will get the water they need."
People gathered along the convoy route and waved flags and held signs supporting the demonstrators.
Zach Wells of Rocky Mountain Construction Co. drove his truck in the convoy. He said a water shutoff could affect everyone in the basin.
"There's a lot of dairies in California that rely on the alfalfa that's grown here," Wells said. "It's going to affect everybody."
Looming shutoff
The latest protest comes after the U.S. Bureau of Reclamation initially forecast 140,000 acre-feet of water for the project but cut its allocation to 80,000 acre-feet for the entire year.
Growers planted their potatoes, horseradish and other crops based on the higher allocation, and they've already used about 30,000 acre-feet. The initial allocation was already less than half the roughly 350,000 acre-feet sent to farms in the basin in a normal year, Gasser said.
"If they shut it clean off, it's devastating," said Tracey Lyon, who grows hay, grains and potatoes near Merrill, Ore. Depending on the weather, an early shutoff could cost Lyon as much as 75 percent of his crop, he said.
The U.S. Drought Monitor shows the basin to be in moderate drought following a dry winter.
"We know there's a drought," Gasser told Farm Progress, "but there's roughly 250,000 acre-feet of water that will come into Klamath Lake from runoff and the (Klamath) River this year is going to get 400,000 acre-feet."
A way of life
Water wars have been a way of life for decades in the basin, where farms, endangered fish, local American Indian tribes and downstream fishing businesses vie for limited supplies.
The Klamath project was created in the early 1900s, when the federal government began drawing water from nearby lakes and streams. World War I veterans homesteaded what had been dry uplands, using the water to grow the potatoes, alfalfa, horseradish and cattle that are still raised there today.
The basin became Ground Zero for water fights in 2001, when biological opinions on endangered suckers and threatened coho salmon led the Bureau of Reclamation to abruptly shut off irrigation water to about 1,200 farms.
The bureau for years kept enough water in the Upper Klamath Lake for suckers, but the coho listing forced more drastic water-saving measures, officials argued.
The so-called "bucket brigade" protests in 2001 drew some 18,000 participants from throughout the West and prompted then-President George W. Bush's administration to boost deliveries to growers the following year, which environmentalists blamed for a subsequent die-off of about 70,000 salmon.
A National Academy of Sciences panel later found fault with the science used to justify cutting off irrigation for farms and water for the project's two wildlife refuges.
Agreements sought
Ensuing legal battles eventually gave way to five years of talks involving farmers, fishing interests, environmentalists and local, state and federal officials. In 2010, representatives of those groups gathered in the rotunda of the Oregon state capitol to sign two landmark agreements – the Klamath Basin Restoration Agreement and Klamath Hydroelectric Settlement Agreement.
The two pacts outlined water-sharing among the tribes, fishermen and farms and called for various fisheries improvements around the basin. Their most controversial element was the removal of four dams from the Klamath River.
In 2014, off-project ranchers in the upper basin reached a similar agreement with local tribes.
The 50-some bureaucrats, activists and growers working to make the agreements a reality encountered no shortage of obstacles and setbacks, including persistent local opposition and the inability of Congress to pass authorizing legislation by an end-of-2015 deadline.
The proponents regrouped and created a nonprofit entity to be formed, take control of the dams from owner PacifiCorp and seek approval for their removal from the Federal Energy Regulatory Commission. In 2019, the Klamath River Renewal Corp. gave an $18.1 million contract to Kiewit Infrastructure West, the firm that led repairs to the Oroville Dam in Northern California, to oversee the dam removals.
Optimism is gone
But the spirit of cooperation that fueled a sense of optimism in the basin is gone. Many of the signatories in the original agreements have moved on to other things, and new conflicts have arisen, including a series of water-rights calls by the Klamath Tribes that further diminished supplies.
"It's just unfortunate that we're kind of back to the way things were," said Greg Addington, a former director of the Klamath Water Users Association who worked on the water-sharing agreements.
This year's flap began when Reclamation agreed to send an additional 40,000 acre-feet of water down the Klamath River as part of a three-year interim operating plan, which was initiated under an agreement with the Yurok Tribe.
"Every acre-foot of water is valuable and is in limited supply," said Klamath Basin Area Office Water Operations Chief David Felstul.
A federal judge on May 22 denied the tribe's request for an additional 390 cubic feet per second (cfs) in releases for about 20 days, or a total of 16,000 additional acre-feet, the Klamath Falls Herald and News reported.
"I always said the worst scenario for irrigators would be that the dams come out but we don't get a water deal done," Addington said. "That's where we seem to be headed.
"I didn't expect to be back here," he said, "but after that (set of agreements) failed, I lost some amount of hope."
Subscribe to receive top agriculture news
Be informed daily with these free e-newsletters
You May Also Like
---