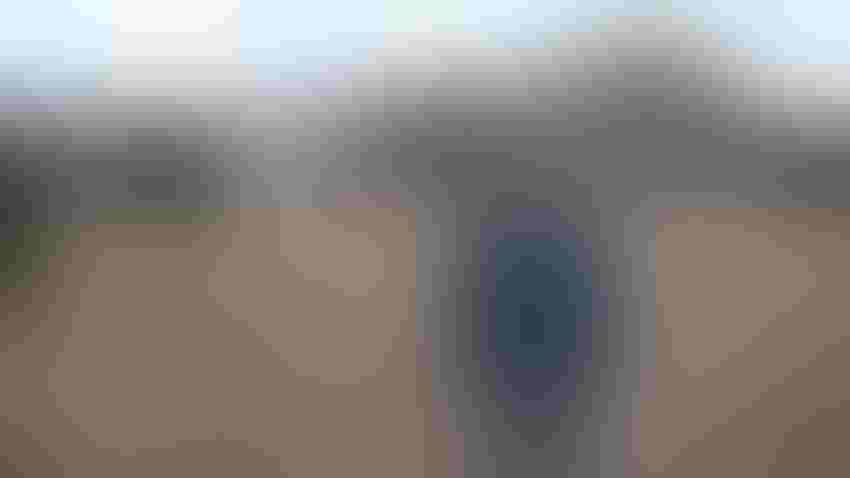 SAVING SOIL: Brad Hunter, Porter County, Ind., maintains native grasses at the edge of his yard to conserve soil. He is also serious about supporting pollinators and preserving habitat for endangered bats.
Darrell Boone
Brad Hunter returned to the family farm in southern Porter County, Ind., after finishing college. He joined his dad, Jay, and uncle Chris. They did what they had always done — worked ground. Then he started reading articles on no-till and cover crops. He attended his first National No-Till Conference, which he loved. But still, he came home and worked ground. Something needed to change.
"Every spring the dust was flying every which way, and I thought, 'This is silly. We've got to figure this out,'" Hunter recalls. Then he heard about the Porter County Soil and Water Conservation District's cost-share program and stuck his toe in the water with his first cover crop. It was 18 acres of wheat. He planted green into it the next spring.
Encouraged by his initial foray into cover crops, Hunter "ran with it." He persuaded his dad to buy a strip freshener, and gradually worked his way into more cover crops, primarily cereal rye. Then five years ago, they added about 300 acres of wheat into their corn-and-soybean rotation. After wheat harvest, they plant a mix, including clover, buckwheat and sunflowers.
"The sunflowers are fun to watch," Hunter says. "It keeps everyone around here happy."
Meeting challenges
Hunter says that while there have been challenges with no-till and cover crops, he hasn't found those challenges to be all that daunting.
"Your mindset can be one of your biggest challenges," he says. "Just figuring out what works and what doesn't, figuring out what the plant actually needs and what it doesn't, are just part of the learning process."
One lesson Hunter learned was to install row cleaners. He was able do so with cost-share assistance through the Environmental Quality Incentives Program.
This year he will add hairy vetch to the cover crop mix. "I plant green, and I'm a little nervous about it possibly wrapping on the planter, but I like the biomass and nitrogen it produces," he says.
Likes benefits
For Hunter, learning with cover crops isn't confined to implementation. He's learned more about benefits. He says having residue cover the soil not only keeps it cooler, but also helps reduce evaporation during hot, dry spells. Building organic matter enables the soil to store more water.
"We have light sand here, but through the National No-Till Conference, I learned how we could easily fix the topsoil blowing," he says. "Because it's light sand, we always have some drought stress. I wanted to store more water in the soil to buy a couple extra days when it gets dry."
With cover crops, Hunter can get in the field as easily or more easily than with conventional tillage. He's built up enough nutrients that he believes he's approaching the point where he can start cutting back on purchased fertilizer.
Becoming river-friendly
Hunter lives a literal stone's throw from the Kankakee River. His use of conservation practices garnered him the designation of River Friendly Farmer from the Indiana Association of Soil and Water Conservation Districts.
"It's really not that hard to get started taking better care of your soil and not let it blow or wash away," he says. "You don't have to make that many adjustments to your current equipment. Just take that first step. I don't know why more farmers don't do this. For me, it's a no-brainer."
Boone writes from Wabash, Ind.
Subscribe to receive top agriculture news
Be informed daily with these free e-newsletters
You May Also Like
---