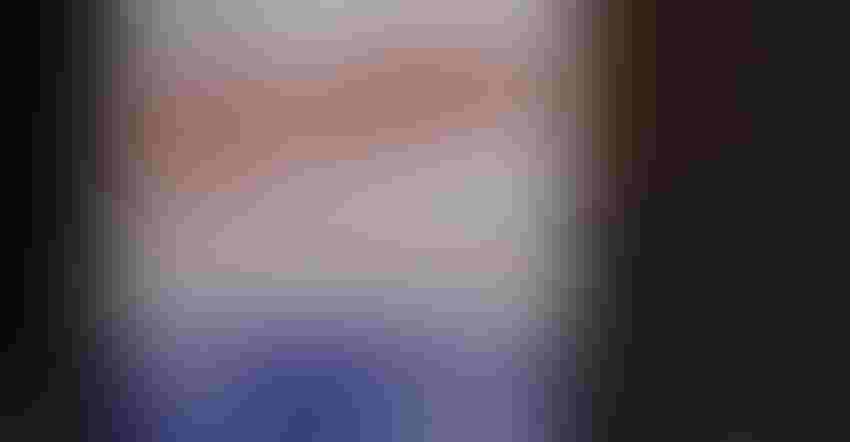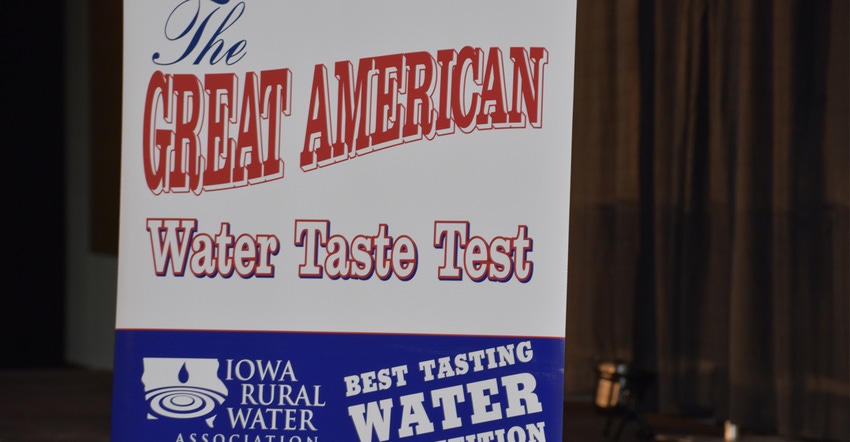 WATER WINNER: Rathbun Regional Water Association was selected as the winner of the 2019 Best Tasting Water in Iowa contest.
By Darin Leach
Water is life.
"Nothing happens without water," said Glen Womack, National Rural Water Association executive board member, during his keynote address to more than 600 attendees at the Iowa Rural Water Association's 44th annual conference and training workshop earlier this year. "Economic development is not happening without a water source. A doctor cannot treat patients without clean, potable drinking water. A construction worker cannot go to work without clean, safe drinking water."
Training sessions at this year's conference were led by more than 40 industry leaders and experts. "This event is a tremendous opportunity for water and wastewater professionals to visit with industry representatives, network with each other, and gain valuable knowledge to bring back to their systems and communities," said Greg Huff, chief executive officer, Iowa Rural Water Association.
Huff said conference membership with the IRWA grew this past year to a record 830 members, including 17 rural water systems, more than 600 communities and 172 associate members. "During the three days, attendees heard presentations on a wide range of topics impacting rural Iowa communities and their ability to deliver safe drinking water and properly handle wastewater."
Infrastructure, cyber security
Aging infrastructure and cyber security are two top issues facing rural Iowa communities where water treatment, storage and distribution infrastructure are many decades old. "Replacing components of those systems will require long-term funding sources," Huff said. "Luckily, current interest rates and terms are still very favorable."
With an increased reliance on technology in day-to-day operations and management of water utilities, cyber security has become an important concern for water utility professionals. "The tools and programs available to assess cyber threats and help utilities guard against them are becoming more and more popular," Huff added.
USDA Rural Development awarded a record 44 projects totaling $132 million in 2018 to help rebuild and improve rural water and wastewater infrastructure in rural Iowa. This is a nearly threefold increase compared to 2017. When completed, these projects will benefit more than 120,000 Iowans with improved drinking water, stormwater drainage and waste disposal systems.
USDA provides financial help
"This record level of investment was made possible through the hard work of our USDA staff, wonderful partnerships with rural communities and leaders, and a historic level of funding for water and wastewater infrastructure provided by Congress," said Grant Menke, USDA Rural Development state director in Iowa. "With a full year's funding passed and signed into law, we are excited for another historic level of water infrastructure investment in 2019."
Womack concluded his speech by reminding everyone about the vital role having access to safe and clean water plays in daily living and thanking water industry professionals for never taking a day off.

TASTES GREAT: Jason Marcel (right), with the Iowa Department of Natural Resources, and Grant Menke, USDA Rural Development state director in Iowa, serve as judges for the Best Tasting Water in Iowa contest.
"Everybody depends on you, and you deliver 24 hours a day, seven days a week," Womack said. "Your dedication and passion for serving the needs of others is unmatched. Saying 'I will get around to fixing that water problem next week' is not in your vocabulary."
Clean, safe drinking water
A variety of awards were handed out recognizing individuals from across the state who help bring clean and safe drinking water to rural Iowans.
Rathbun Regional Water Association was selected as winner of the 2019 Best Tasting Water in Iowa contest. Community water system operators of the year awards were given to Bob Rhone of Colfax and Shane Metz of Dike. Matt Tapken, Poweshiek Water Association, and Jer Buckingham, Rathbun Regional Water, were named rural water system operators of the year. Rural water system board member of the year recognition went to Ron Grimm, Poweshiek Water Association, and Duane Bass, Wapello Rural Water Association. Lastly, Chad Coburn, also with Poweshiek Water Association, was named rural water system manager of the year.
"Congratulations to all of the individuals, rural water systems and communities recognized by the Iowa Rural Water Association," Menke said. "USDA Rural Development is proud to work so closely with many partners to help address some of the greatest needs facing rural Iowa today, including job creation; a skilled workforce; affordable housing; high-quality education; easy access to health care; clean, safe drinking water; public safety; high-speed internet connectivity; and business development. Our targeted investments will help ensure that the future of rural Iowa remains vibrant."
Leach is public information officer with USDA Rural Development in Iowa.
Subscribe to receive top agriculture news
Be informed daily with these free e-newsletters
You May Also Like
---