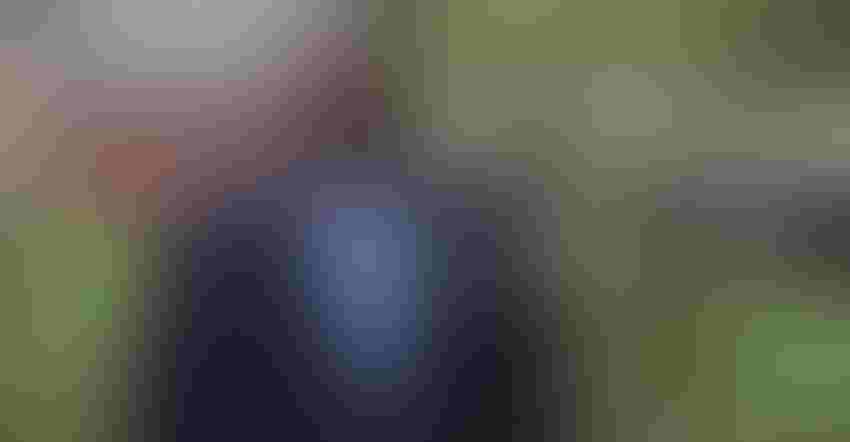 OFF AND RUNNING: Jerry Raynor is already out and about, learning as much as he can about Indiana agriculture and preparing to lead the USDA Natural Resources Conservation Service.
USDA recently named Jerry Raynor as the new Indiana state soil conservationist in charge of the Natural Resources Conservation Service in the state. He comes to Indiana from North Carolina, where he was an assistant state soil conservationist.
Raynor sat down with Indiana Prairie Farmer for this exclusive interview. The backdrop — the Pathway to Water Quality exhibit at the Indiana State Fair — was appropriate since he believes strongly in educating the public about the conservation message.
Tell us about your background.
I grew up on a farm near Clinton, N.C., and attended North Carolina State University, the land-grant college in the state, studying ag business and economics with a concentration in marketing. I started working with what was then the Soil Conservation Service during my senior year in high school. I have worked in Texas, Maryland, Idaho and North Carolina. I was acting state soil conservationist in Idaho. This is the first time living in Indiana for my wife and I. We have a daughter who lives in Virginia.
Why did you decide to come to Indiana and take this position?
I want to make an impact and give back to agriculture, and I feel I can do that here. It was a logical next step both in my career and based on my skill set. National NRCS leadership tries to pair up people and positions based on needs and skills, and they felt I could be helpful here.
Which skills will serve you best here?
I will rely on my training in economics and marketing. Crop prices are on the low side now, and farm income has taken a hit. When that happens, participation in conservation programs sometimes takes a hit. My philosophy is that we need to recognize that fact, but continue to promote the conservation message to farmers and landowners. When times turn around, and they always have, they'll be ready to invest in conservation practices again. In the meantime, we can support them with technical assistance.
What do you see as a strength of Indiana agriculture so far?
Indiana has great leaders, and it's recognized at the national level. Indiana was promoting soil health before the movement even got off the ground at the national level. It's one thing to have agriculture as a major industry in the state, but it's another thing to be a national leader in agriculture. That's where Indiana is, and that's real important.
Indiana has prided itself on having a strong partnership when it comes to working together on soil conservation for many years. Have you seen evidence of that partnership yet?
Yes, I certainly have. I was aware of that coming in, and it's certainly true. I've already met with some of our key partners, and we certainly want to continue working together. NRCS can't get the message out about the importance of soil conservation and do the work alone. I would like to expand the partnership to include more private and nonprofit partners as we move forward.
What is your goal moving forward?
We want to continue and grow partnerships and strengthen relationships. The ultimate goal is to do whatever we can to get conservation on the ground now and in the future.
Subscribe to receive top agriculture news
Be informed daily with these free e-newsletters
You May Also Like
---