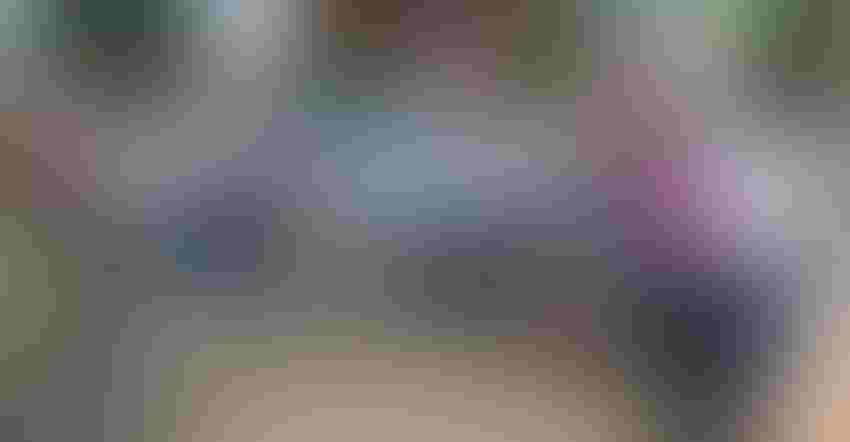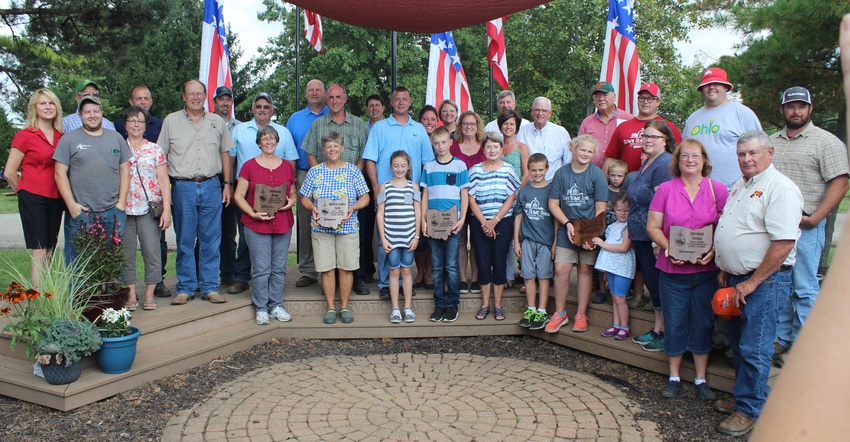 LAST YEAR'S WINNERS: The Ohio Department of Agriculture recognized five Conservation Farm Family Award winners at Farm Science Review last year. Plaque winners by group, from left,: Area 1 winner Rufenacht Family, Area 2 winner Daniels Family, Area 3 winner Waters Family, Area 4 winner McGlinch Family, Area 5 winner Sherman Family.
Has your family or someone you know implemented exemplary efforts to conserve soil, water, woodland, wildlife and other natural resources on farmland? The Ohio Department of Agriculture is accepting nominations to honor Ohio farm families who are leaders in conservation for the 2018 Conservation Farm Family Awards, which are presented during Farm Science Review. Don't delay, the forms must be postmarked and sent to the Ohio Department of Agriculture by May 25. There will be five families chosen to be recognized representing each region of the state.
Ohio Farmer magazine has continuously sponsored the Ohio Conservation Farm Family Awards since the program's inception in 1984, and it is a true pleasure to feature the award winners in the magazine, for there is nothing more important than conservation. Done correctly, these families know how to manage natural resources while meeting both production and conservation goals, as well providing the necessities for future generations to thrive.
What I've found to be a common thread with many of the winners is a desire to inspire others to adopt conservation practices. Many have hosted a variety of educational programs and have opened their farms to schools, scout groups, farm organizations and others.
These families really go the extra mile and are proud of their advancements in taking care of Mother Earth.
Individual farmers, partnerships or family farm corporations are eligible for nomination, provided a substantial portion of their income is derived from farming. The judging is based on the nominee's use of new and traditional conservation techniques, comprehensive management, individual initiative in applying conservation measures, and the nominee's willingness to share conservation information, experiences and philosophy with others.
It's really a distinguished honor to help award the winners, and I'd like to give an extra nod to the five families honored last year: the Rufenacht Family of Fulton County; Dale and Rita Daniels of Erie County; Wendell and Greg Waters of Coshocton County; Greg and Gary McGlinch of Darke County; and Jim and Denise Sherman of Delaware County.
In addition to being featured in Ohio Farmer, the families also receive $400 each from the Ohio Farm Bureau Federation, and plaques from ADS Hancor Inc.
Nomination forms can be obtained from local county soil and water conservation districts, or by visiting ODA's website at agri.ohio.gov. The forms can be submitted by email to [email protected] or by mail to Conservation Farm Family Award, c/o Ohio Department of Agriculture 8995 E. Main St., Reynoldsburg, Ohio 43608.
The awards program is sponsored by the ODA Division of Soil and Water Conservation, Ohio Farmer magazine, Ohio Farm Bureau Federation, Ohio Federation of Soil and Water Conservation Districts and the United States Department of Agriculture's Natural Resources Conservation Service.
About the Author(s)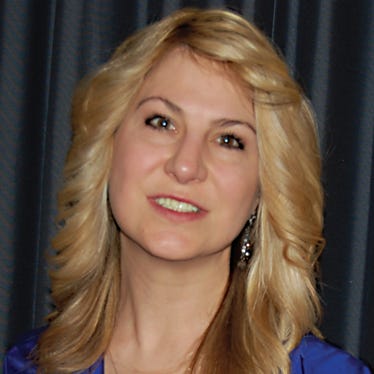 While Jennifer is not a farmer and did not grow up on a farm, "I think you'd be hard pressed to find someone with more appreciation for the people who grow our food and fiber, live the lifestyles and practice the morals that bind many farm families," she says.
Before taking over as editor of Michigan Farmer in 2003, she served three years as the manager of communications and development for the American Farmland Trust Central Great Lakes Regional Office in Michigan and as director of communications with Michigan Agri-Business Association. Previously, she was the communications manager at Michigan Farm Bureau's state headquarters. She also lists 10 years of experience at six different daily and weekly Michigan newspapers on her impressive resume.

Jennifer lives in St. Johns with her two daughters, Elizabeth, 19, and Emily 16.
Subscribe to receive top agriculture news
Be informed daily with these free e-newsletters
You May Also Like
---