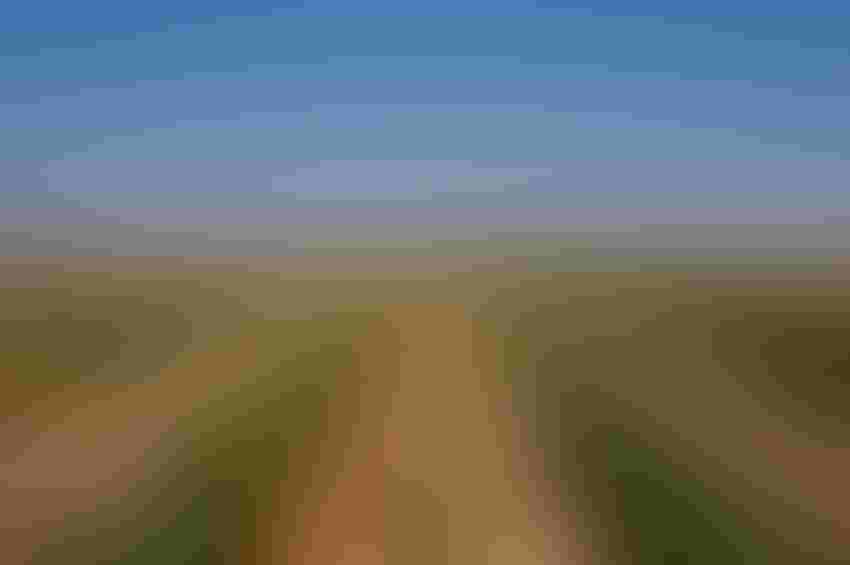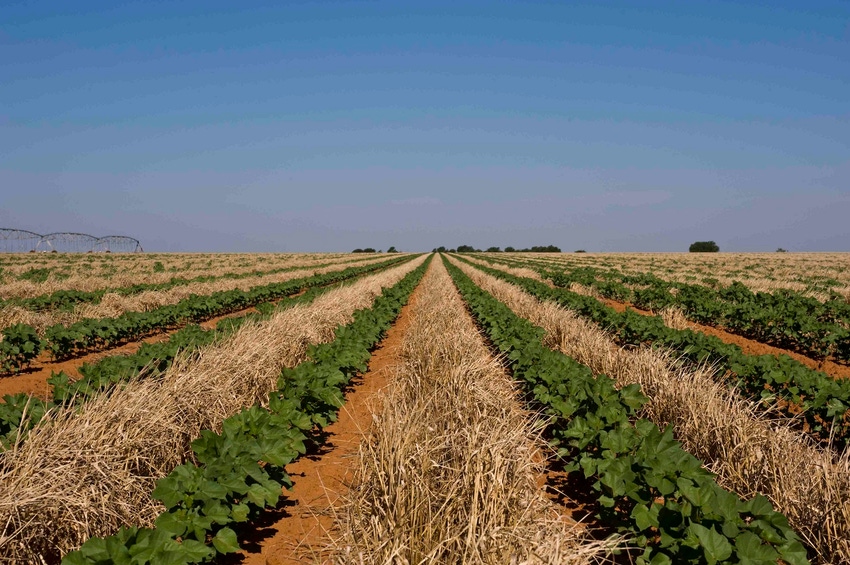 No-till farming and use of cover crops requires adjustments but improvements in soil health, conservation and water infiltration may justify the switch.
Photo by Todd Johnson, Oklahoma State University Ag Communications Services
Oklahoma ranks fourth in the nation for wheat production with 4,291,939 total wheat acres harvested in 2012, according to the United States Census of Agriculture.
Josh Lofton, Oklahoma State University cropping systems Extension specialist, and other OSU experts, predict a drastic increase of non-wheat crops in Oklahoma during 2018.
"We are going to have more cotton than we have had in decades in the state of Oklahoma," Lofton said. "We are going to have more soybeans. We are going to go back to almost our prominence on soybean production acres this year. Milo is increasing. We have more corn acres."
Also in the mix is an increase in no-till farming, Lofton said.
"Wheat does well when you put some steel into the ground," Lofton said. "As we get more non-wheat acres, no-till just becomes a factor.
 "In a no-till system, we cannot use tillage to control weeds, and a lot of people do not like tons of herbicides being sprayed across the land," Lofton said. "So, if we have a growing crop to help us limit or minimize the amount of herbicide, it ties everything together in a neat little bow."
Cover crops are planted immediately after harvesting a cash crop, Lofton said.
"As soon as the combine rolls through the wheat field we plant soybeans, sorghum, sesame or something along those lines," Lofton said. "In successive years, we see the benefit of the wheat and sorghum residue and what suits best within a no-till or minimum-till system, compared to conventional-till."
Multiple Options
Growers have several options for specific, sustainable cover crop systems in the Southwest.
"From a crop rotation standpoint in no-till, we have virtually all options," Lofton said. "Nothing says when we go into a no-till system a particular crop is off the table. We have the technology where anything can work."
Lofton said cover crop selection is based on what the farmer wants.
"Realistically, it's how much management growers want to put in," Lofton said.
Jason Warren, OSU Extension soil and water conservation specialist, said some of the greatest yield improvements from no-till come with summer crops, such as grain sorghum, cotton, corn and soybeans.
"[Once producers convert to no-till,] we have data that show a 10 percent to 20 percent increase in summer crop grain production," Warren said. "Yield improvements are particularly noticeable as you move west to more arid and hotter summer environments."
Warren said improvements in soil moisture associated with no-till farming are responsible for yield improvements.
"One of the benefits [of no-till] from a cropping systems standpoint is it reduces evaporation from the soil surface, increasing water available for crop production," Warren said.
Not all crops, such as wheat, can take full take advantage of this water conservation benefit.
"Typically, we do not see a yield improvement on wheat in our research, unless we rotate crops," Warren said.
"In contrast, with summer crops, where you have much higher potential for evaporation, we do get yield improvements, particularly as the system matures and soil conditions improve," Warren said.
These improvements are less prominent in eastern Oklahoma.
"In the eastern part of the state, the discrepancy between no-till and conventional is lower, and yields are probably very similar," Warren said. "In this case, it is more of a labor savings. If you want to cover a lot more acres, no-till will be an advantage."
Lofton said management is a factor in switching to no-till.
"When working in a no-till system, you sometimes must be a little more heavy-handed with a few management practices, such as making sure the seed went into the ground correctly," Lofton said. "It is easy to do conventional-till because the soil surface is right there. But with the residue in no-till, you have to not only manage the soil but the residue, as well," Lofton said.
He said another example of additional maintenance required in a no-till system is making sure the cover crop does not reach the reproductive stage.
"One of the most beneficial cover crops we have found in the state is cereal rye," Lofton said. "When allowed to seed and get into the system, it can easily convert to feral rye, which is one of the premiere weeds in wheat production."
Weed Management
No matter the crop, Lofton said, with a cover crop, a producer introduces all the qualities of a weed into the system.
"You are essentially putting a weed into a field," Lofton said. "Cover crops have vigorous growth, are very competitive, can grow on their own, and do not need a lot of input."
Brian Arnall, OSU precision nutrient management specialist, said this is one of the greatest obstacles in a cover crop or no-till system.
"Getting the timing right is one of the biggest challenges," Arnall said. "When growers first added cover crops, they put them between two wheat crops: plant wheat, put in a cover, put in wheat. That did not work well."
Researchers at OSU have found planting cover crops in front of summer crops is much more sustainable. "This way, we are improving the soil system and productivity while maintaining the economic viability."
Lofton said with proper management and timing, a cover crop reaching the reproductive stage is not a major concern in a no-till system.
"It just takes an extra, heavy-handed approach saying: 'I'm not going to let that cover crop go to seed,'" Lofton said. "Once you get it terminated — via chemistry or physical termination — it's just residue. As long as the growers know what they are getting into when they plant, they'll be fine."
Herbicide Resistance
An additional weed concern in no-till is the increase in herbicide-resistant weeds. "While cover crops can help control weeds, they are never going to be your principal means of management," Lofton said. "When switching to a no-till system, herbicides will become your primary way to manage weeds. Growers have to come around to that."
Some herbicides may be difficult to find or challenging to purchase. "Some of them are older and potentially harder to find," Lofton said. "We have a lot of new chemistries, but Oklahoma is not a primary soybean producer in the United States. Our 700,000 to 800,000 acres of soybeans does not compare to other regions harvesting multi-million acres, so we just do not have some of the products available," Lofton said.
While herbicides as a primary form of weed control may be expensive, producers have opportunities to save money during application, Arnall said.
"A lot of growers in no-till have their own sprayers," Arnall said. "That means you can apply your own fertilizer instead of having the co-op do it. Every time you run that piece of equipment over the ground, it becomes a little bit cheaper."
The final risk associated with converting to a no-till system may be yield drag. "It takes a couple of years for the true benefits of no-till to show up," Lofton said. "The yield drag associated is typically two or three years in our most moist areas in the eastern part of the state.
"As we get further west, because advantages of no-till build up over time, we are looking at five-or-so-plus years of where yields may not be what they were with conventional-till."
Yield drag is the biggest hurdle for growers to overcome. "If you talk to growers who have been 30-plus years of no-till, often they say the first five to 10 years were scary because they were worried about going bankrupt," Lofton said. "But now, three decades later, they're still going."
Once making the switch, one of the greatest advantages of no-till farming is the increase in organic matter. "When we work the ground, it makes organic matter decompose faster. So, with decreased tillage and no-till, we can increase organic matter," Arnall said
 "Organic matter is basically a warehouse for nutrients," he added. "It has a bunch of nitrogen, sulfur, potassium, and all those good nutrients in there, and it also holds water. With no-till, we have more water, which can make more yield, and we also can hold onto and release more nutrients."
He says cooler soil temperatures and reduced wind erosion are other benefits of a no-till system.
Cleaner Water
"Oklahoma has more water bodies taken off the concern list than any other state in the nation," Arnall said. "This has a lot to do with conservation practices, such as no-till."
For its ability to improve both water and air quality, many conservationists advocate for no-till farming, Warren said. "Our goal is to minimize erosion. We want to prevent dust clouds from blowing across this country and minimize the amount of dirt running down into the Gulf or the reservoirs between here and there."
Lofton, Warren and Arnall all say they see no-till farming as a trend here to stay. "No-till is going to increase through the years," Arnall said. "Equipment is better, our capabilities are better and the importance of water is better."
Lofton said if a producer makes the decision to convert to no-till, the best thing to do is sell all the tilling equipment.
"One of the biggest things one grower said at our no-till conference was, 'If you decide you are going to go no-till, sell every bit of tilling equipment you have. Because it is always a temptation to go back to what you have always done.' Once you sell it, you are not going to buy it back," he added. "This is when you will be successful because you will get resourceful in how you make things work."
Jacqueline Bauer is an agricultural communications major at Oklahoma State University.
Subscribe to receive top agriculture news
Be informed daily with these free e-newsletters
You May Also Like
---