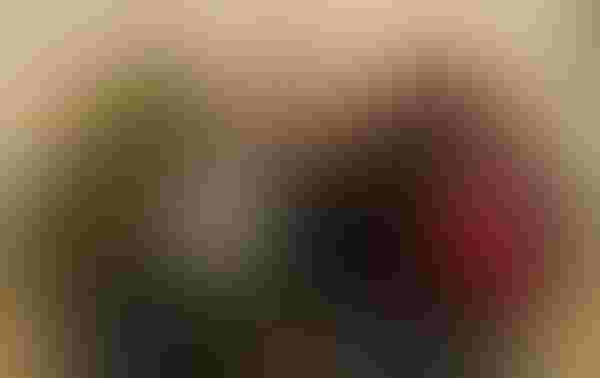 When September rolls around, Rodney Rulon gets the urge to take his soybean planter out of the shed and get to work. It may seem an odd time of year to watch a 31-row, 15-in. planter unfold in the field, but there is a method to his madness.
Rulon Enterprises, an Arcadia, IN, family operation, is committed to cover crops—as well as many other environmentally friendly practices—in a big way. So they start early on their fall seeding chores.
"We have a corn-soy rotation, with no wheat in the system, so our best opportunity for cover crops is to plant them following a Group 2 to early Group 3 soybean," Rulon explains. That maturity allows the family to harvest in September, then plant a mix of cover-crop species into that soybean stubble.
"We actually use our White soybean planter, and alternate species in the 15-in. rows," he continues. A common approach is to devote one row to oats, while the adjacent rows are seeded to a mix of oilseed radish and crimson clover.
"That gives us a real nice mix," Rulon says. "The crimson clover will overwinter. The oilseed radish and the oats will die out. Crimson clover is something we have experimented with the last couple of years. It seems to foster a little more growth from the radishes."
By using the soybean planter, the Rulons can cover 250 acres or more a day. And the planter's ability to singulate seeds helps hold down the cost of putting in the cover crops.
 "The mix is about 2 lbs./acre
of radishes and 5 lbs./acre of crimson clover," Rulon says. "In the alternating row is about 0.4 bu./acre of oats. We have about $12/acre in seed costs for the total mix, which is certainly a manageable cost for the benefits we've seen."
Originally homesteaded in 1869, Rulon Enterprises is a family-farm partnership that prides itself on a tradition of sustainable and environmentally responsible farming.
Beginning in the early 1960s, Rulon brothers Jerry and Doyle operated the farm. The next generation – Jerry's sons, Ken and Roy, and Doyle's son, Rodney – completed the purchase of the farm in 1996 following Jerry's retirement. (Doyle died in 1986).
Another generation has been added recently, as Roy's sons Nick and Neal returned to the family farm.
The Rulon family actively promotes conservation cropping systems. It is "a showcase of conservation practices such as no-till, cover crops, grassed waterways, filter strips, and nutrient and pest management," says Jane Hardisty, the Indiana Natural Resources Conservation Service state conservationist. "They constantly pursue the latest and best agronomic and conservation cropping system technologies to enhance soil health for their operation."
The Indiana NRCS chose the Rulon farm as a place to train its field staff on the principles of soil health. In addition to serving on a variety of conservation-related boards and committees, the Rulon family also opened its farm record books during a recent Purdue Farm Management Tour to demonstrate the economic benefits of conservation practices used on the farm.
Ken Rulon points out that the family has long seen an economic benefit to its approach. "We've found it to be almost a fact of life that, if you do the right things for the land, it's usually the correct economic thing as well," he says. "Conservation is the marriage between sustainability and profitability."
Headquartered in Hamilton County's White River township, Rulon Enterprises not only operates approximately 5,700 crop acres, but also runs a 600-sow, farrow-to-finish hog farm; performs custom engineering and installs drainage systems; custom-applies pesticides; and offers a website driven, subscription-based peer group (rulonenterprises.com) that has members from Asia, Europe and the Americas. There's also a satellite farm of 1,200 acres in eastern Ohio.
Even given the diversity, the family quite literally micro-manages its cropland. For more than 16 years, the family based its crop management decisions on a one-acre grid system, sampling soils on a four-year cycle.
"Back in the early 1990s, we started to research the costs and benefits of different grid sizes," Rodney recalls. "We decided that we really needed to go down to a 1-acre grid. So, since about 1993, we sample every field that we farm on 1-acre grids, with variable-rate applications of nutrients based on those results."
Such intensive data gives the Rulon family the information it needs to seed variable-rate soybeans, for example. They also variable-rate all P and K applications, as well as soil amendments such as lime and gypsum.
 "This level of precision allows us to do what is right environmentally, such as cut back nutrients where soil-test levels are high," Rodney adds. "That also helps economically, because we don't want to spend the money to put out unneeded nutrients."
The Rulon family made the commitment to no-till years ago. "By going to no-till, we not only have improved soil quality and reduced erosion, but also lowered our costs, and overall the agronomics have gotten tremendously better," Rodney points out. "It's a great thing when you can build the soils, build your farming system and at the same time, be more profitable."
The family continues to probe the leading edge of no-till methods. For example, Rulon Enterprises is home to a long-term continuous corn no-till plot that they started five years ago in cooperation with Beck's Hybrids.
"This plot looks at a continuous corn rotation versus a corn-corn-soybean rotation, versus a corn-soy rotation," Ken explains. "The ultimate goal is to be able to grow no-till continuous corn with no yield drag."
Like all the cooperative research plots that the Rulon family is involved with, this one is focused on growing a crop more economically, not just producing more bushels. "We think focus on cost control is important long-term in a commodity business," Ken says. "And with all the ethanol plants in Indiana, we think our state will have to grow more continuous corn. And we think there is no reason not to be able to do that as part of a no-till system."
 The five-year average for the continuous corn in this plot does continue to show some yield drag, but Ken points out that it is only running about 5 bu./acre; much less than many would expect.
"We're excited going forward," he adds. "We're looking at different cover crops to try to help manage residue breakdown and disease pressure. Another exciting aspect, is working with a lot of other industry players. It is an opportunity for us to bring in the best minds from around the country to find ways to make this system better."
The farm also is involved in research along with Purdue University and NRCS scientists, looking at a variety of cover crops. In this field scale (100-acre) study, scientists are tracking the impact that various cover crops have on the soil itself, as well as studying nitrogen (N) rates to see what effect these cover crops might have on subsequent nutrient needs.
A recent fertilizer storage building project on the Rulon farm also is aimed at being the right move environmentally and financially. An insulated, heated building now holds three, 12,000-gallon fiberglass tanks, but is designed to hold up to 11 such tanks, giving the family the flexibility to switch its fertility program to all liquid, if economics dictate.
It also sets up the farm to handle bulk liquid micronutrients. "We think this is an area that we will be spending a lot of time on over the next five to 10 years," Ken predicts. "Our one-acre grid sampling is shows us that we need to be watching for deficiencies in some of these micronutrients."
 By purchasing fertilizer at the most opportune times, plus being able to tailor-make fertilizer solutions for individual fields, the Rulons expect a positive return on the investment in only three to four years.
Jerry Rulon has seen the farm grow and change since he returned to the family operation in 1961. "We now have several miles of buffer strips," he observes. "The scientists tell us that there are big reductions in nutrients, such as N and phosphorus, getting to surface water when farmers use these strips."
Looking ahead, he sees a chance for the next generation of the family to continue to build a conservation legacy. "We have always tried to leave the land in better shape than when we received it from our fathers, and I think we are continuing to see that happen," he says. "We think there is a future in improving this ground from a soil health standpoint. That's what we're trying to do, and we're always learning."
Subscribe to receive top agriculture news
Be informed daily with these free e-newsletters
You May Also Like
---