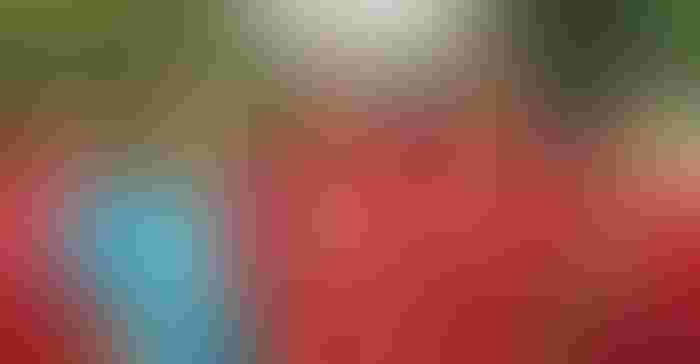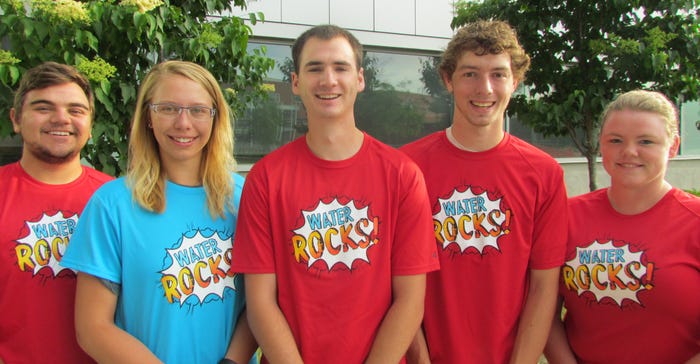 By Liz Juchems
Iowa Learning Farms celebrates 15 years of education, outreach and service to Iowa in 2019. Throughout the year, we will be sharing stories about the contributors, history and successes of ILF and its partner program Water Rocks!
Iowa Learning Farms and Water Rocks are program elements of the Conservation Learning Group at Iowa State University Extension. Both owe a lot of their successes over the past decade to the energy and enthusiasm of student Water Resources Interns.
Each summer the young people in these positions have become the faces and voices of water and land resource management, conservation and agricultural practices that benefit Iowa's environment. The programs are closely affiliated with the highly regarded ISU department of agricultural and biosystems engineering, which provides research opportunities and foundational science for the outreach efforts.
Interns come from different degree programs, backgrounds and even states. A common thread among them is enthusiasm for engaging with members of the community through different learning and demonstration opportunities. Over the years 45 individuals have served in this important role. We asked them to reflect on what they gained and learned from the experience, and we were quite pleased with the responses.
11 years and still going strong
From a relatively small beginning as student research assistantships in 2007, the internship program provided resources which enabled ILF to respond to research needs, programming opportunities and expansions of outreach.
From humble beginnings in 2007 with a single trailer-mounted rainfall simulator, to the addition of a second and the launch of the Conservation Station fleet in 2010, interns were integral to the program. Today there are three Conservation Stations in regular use, and the teams of interns go out with them for nearly every visit.
"My favorite intern memories were taking the Conservation Station to field days. It was a neat experience to see communities bonding over conservation and their love of the land." — Emily Steinweg, 2011
Jumping in with both feet
As summer interns, there is no warm-up period, the work starts day one and keeps going throughout the 10-week term. Research projects are ready to go, Conservation Station events are booked, and since the university summer overlaps with the primary and secondary school spring semester, lending a hand with Water Rocks school visits fill up the initial weeks.
Interns are expected to know some, learn a lot of new, and be able to put new knowledge and skills to work immediately. Flexibility and learning on your feet are fundamental requirements. Some interns have noted it's about learning how much you don't know and having fun filling the gaps. Over the years, many have contributed to the ILF blog sharing their experiences.
Intern duties include collecting water and soil samples, working under the direction of staff, faculty and grad students, tabulating data, driving (and parking) trailers, participating in video projects, and staffing the Conservation Station. As representatives of ILF in many venues, interns quickly become experts at listening, communicating and educating.
Conservation conversation
A common theme we heard from our former interns was their development of stronger public speaking and communications skills. Leading or participating in a public event, county fair or field day would bring them face-to-face with people of different ages and backgrounds. The audience diversity kept them on their toes in shaping the information to make sure they connected with the audience.
"The internship for me was a lot about public speaking and being able to interact with any age group or demographic." — Ryan Nelson, 2009-10
"The biggest, perhaps most important, skill I developed was communication with the public. As a farmer myself, it's relatively easy to communicate with other farmers. But with the public, one must explain the basics in a way a nonfarmer can understand." — Mikayla Edwards, 2015
Working with ILF provided many of our interns with valuable experience they continue to use in their careers — even in fields beyond conservation and water quality. From teachers to manufacturing engineers, being a part of a team and communicating information, ideas and solutions are universal skills.
"I was exposed to people ranging from a farmer who thought cover crops were ridiculous to a sixth-grader learning about soil and water interactions. Understanding how the message needs to be tailored or modified to a specific audience has greatly benefited me in my career." — Brett McArtor, 2012
"Most of the problems I work on in my career necessitate a team to be involved; however, the expectation is that I will be able to problem solve and troubleshoot to contribute toward the solution. The combination of teamwork and independence I exercised as a student intern for ILF prepared me well for this type of environment." — Patrick Kelly, 2012-13
"The biggest benefits of being a part of ILF for me professionally are the experience of giving short, informal presentations, and the importance of honestly saying, 'I don't know'. There is considerable skill in taking a message, condensing it into something manageable, wording it in such a way that others without background knowledge can understand, and presenting it in a manner to grab and hold the attention of your listeners. This is helpful for me as a software engineer. Pitching ideas to clients or management, you need to undergo this process to be effective." — Nathan Waskel, an intern in 2016-17
Making a connection
One thing we've repeatedly observed at Conservation Station stops is many of our adult audience members will seek out the interns just to talk. They seem drawn to the enthusiasm shown by these young adults in sharing their stories and connecting to people through excitement and hopeful messages. Many of these folks have a genuine interest in learning about the interns' backgrounds; how they are doing in school; and where they see themselves after graduation. In fact, older citizens seem to prefer watching the young people present than the ISU-based professionals. And the interns truly appreciate the conversations and audience interactions as well.
"The knowledge I gained from community members teaching community members helped me make the decision to continue in the course of community education and engagement."  — Megan Koppenhafer, 2015-16 and a 2018 AmeriCorps service member
"It always felt nice to have people come up and talk about their own experiences with conservation." — Nathan Waskel, 2016-17
"While visiting the Conservation Station one dad said to me, 'I want my kids to know about this stuff; a lot of people don't realize how important it is.' It was rewarding to make that connection." — Wyatt Kaldenberg, 2018
The other strong connection we see is with children in the audience. At field days and fairs young people are drawn to the goofy games and hands-on activities, but we see the parents and grandparents leaning in and learning along the way. And when they get into schools for Water Rocks assemblies and outdoor classrooms, the interns have a chance to teach — and sometimes get stumped — by the next generation.
"Teaching youth during outdoor classrooms opened my eyes to youth development and education. I loved seeing things click and watching their excitement grow as they understood how their actions could impact the environment either negatively or positively." — Brittney Carpio, 2012
"I was caught off guard when a fifth-grade student asked, 'What inspires you to do this?' After a long moment of panic, and a room full of fifth-graders staring up at me, I finally came up with an answer. The experience made me think and quickly translate my passion for conservation into words I hope made an impact on another generation." — Kaleb Baber, 2017-18
Hands-on research
When not on the road with the Conservation Stations, the interns also spend a good deal of time conducting hands-on research. Tasks range from taking water and soil samples to things such as counting earthworms. While these simple tasks are beneficial to ongoing research, there's also a lot of learning going on. Interns learn research techniques and gain an understanding of the importance of research processes and protocols to obtaining verifiable and repeatable results.
"Earthworm counting is exactly what it sounds like. We head to test plots all over the state to look at the number of earthworms within a 19-inch by 30-inch frame between the rows of crops, corn or soybeans." — Donovan Wildman, 2018
"Understanding the theory or research behind a process is an important first step, but a project is far from complete at this stage. Once the system is operating in the 'real world', such as the working bioreactors in the ILF program, there are many unpredictable factors that can arise." — Kate Sanocki, 2016
In addition to the field research, interns have also helped conduct various social science research through the years helping with survey mailings and data collection as well as event evaluations. The event evaluations demonstrate to the interns the importance of documenting impact on an event-by-event basis.
Water Resources Interns are crucial to the ongoing success of ILF and Water Rocks outreach and education activities. Every year they infuse the team with new energy, perspectives and ideas. The interns are there to learn and gain valuable career experience but their contributions over the years have also helped make the programming and content better and more impactful for all constituencies.
What does it take?
In a word, enthusiasm. Enthusiasm to learn, to teach, and to engage with Iowans from all walks of life. We can teach them the content, but the spark and passion for sharing what they know and learning what they don't is what makes for great interns and great experiences.
Interns will be challenged with new ideas, new tasks and some exhausting days. We seek people who are passionate about conservation, the environment, water or soil quality, and agriculture. The application process starts in January. To learn more about the Water Resources internship program, or to read intern reflection blogs, visit ILF.
Juchems is a conservation outreach specialist with Iowa Learning Farms. Contact her at [email protected].
Conservation Stations
Iowa Learning Farms partners with Water Rocks! to bring audiences the Conservation Stations: three mobile learning centers that educate audiences of all ages on different conservation aspects.
The Conservation Stations travel the state visiting field days, county fairs, farmers markets and outdoor classrooms. Each is staffed by the Iowa Learning Farms team and is available for single-day events. When visiting outdoor classrooms, the team uses age-appropriate learning modules about soil, water quality and wetlands for grade school, middle school, high school and college students.
The Conservation Stations house a rainfall simulator demonstrating the effects of rainfall on undisturbed soils with a variety of soil covers and impervious and porous surfaces.
To request a Conservation Station visit, complete the online form. For more information, visit waterrocks.org. The Water Rocks team reserves the right to select which trailer will be at your event.

DELIVERING THE MESSAGE: Today there are three Conservation Stations in regular use, as teams of interns help deliver the conservation message.
Subscribe to receive top agriculture news
Be informed daily with these free e-newsletters
You May Also Like
---