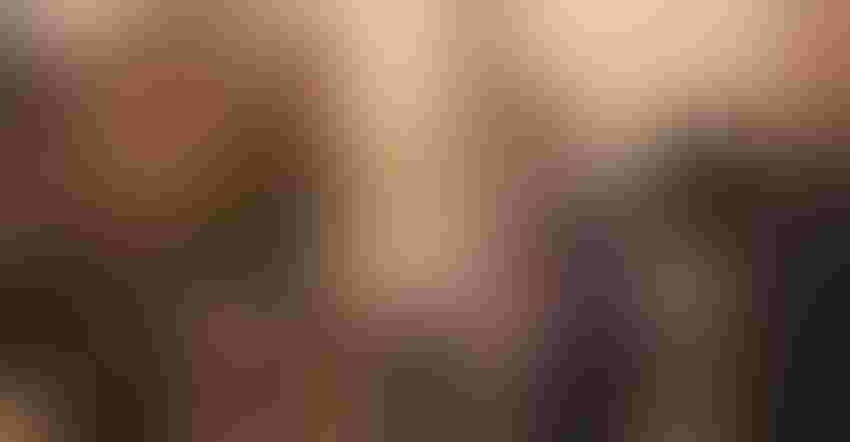 WATER PLANS: Col. Timothy P. Hudson (center), commander of the U.S. Army Corps of Engineers, Tulsa District, talks with Kansas Gov. Laura Kelly at the 11th annual Governor's Conference on the Future of Water in Kansas, in Manhattan, Kan., Nov. 16-17.
Courtesy of the Kansas Governor's Office
From cities large and small, to farmers and manufacturers, every Kansan has a stake in water issues in the state.
The 11th annual Governor's Conference on the Future of Water in Kansas brought together stakeholders, researchers and experts from around the state to Manhattan, Kan., Nov. 16-17, to discuss policy and research developments on water in Kansas.
Gov. Laura Kelly began the conference by touting her administration's updated State Water Plan. The plan had not been updated since 2009, and for the first time in 15 years it is fully funded. The plan, which took bipartisan effort to craft, takes a comprehensive look at water resources in the state and lays out goals and metrics for conserving and preserving them for future Kansans.
In her second term, Kelly pledged to make water a priority.
"For decades, politicians have kicked the can down the road when it comes to finding a sustainable solution to Kansas' water crisis," Kelly said in her opening remarks. "Protecting our water supply will remain one of my top priorities in Topeka over the next four years. I refuse to let the can be kicked down the road any farther."
Some of the highlights of water projects in the state, according to the Governor's Office, include:
a water injection dredging project to remove sediment at Tuttle Creek Lake, which serves more than 800,000 Kansans

spending $70 million to expand broadband, so farmers can take advantage of irrigation technology to reduce water consumption

expanded partnerships with agriculture producers to improve production practices and water conservation efforts using local enhanced management areas (LEMAs).
Roger Pulwarty, senior scientist in the National Oceanic and Atmospheric Administration, spoke about climate and where we go from here. While it's natural to be very focused on local issues, he reminded attendees that groundwater depletion, drought and devastating wildfires and floods have happened around the globe. It's the data we gather and the decisions we make today that will help our future, he said.
The two-day conference touched on water quality as well as quantity issues.
Source: The Kansas Governor's Office contributed to this article.
About the Author(s)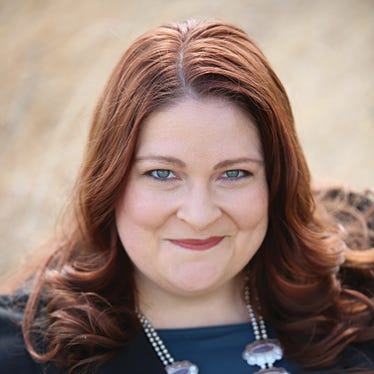 Through all her travels, Jennifer M. Latzke knows that there is no place like Kansas.
Jennifer grew up on her family's multigenerational registered Angus seedstock ranch and diversified farm just north of Woodbine, Kan., about 30 minutes south of Junction City on the edge of the Kansas Flint Hills. Rock Springs Ranch State 4-H Center was in her family's backyard.
While at Kansas State University, Jennifer was a member of the Sigma Kappa Sorority and a national officer for the Agricultural Communicators of Tomorrow. She graduated in May 2000 with a bachelor's degree in agricultural communications and a minor in animal science. In August 2000 Jennifer started her 20-year agricultural writing career in Dodge City, Kan., on the far southwest corner of the state.
She's traveled across the U.S. writing on wheat, sorghum, corn, cotton, dairy and beef stories as well as breaking news and policy at the local, state and national levels. Latzke has traveled across Mexico and South America with the U.S. Wheat Associates and toured Vietnam as a member of KARL Class X. She's traveled to Argentina as one of 10 IFAJ-Alltech Young Leaders in Agricultural Journalism. And she was part of a delegation of AAEA: The Ag Communicators Network members invited to Cuba.
Jennifer's an award-winning writer, columnist, and podcaster, recognized by the Kansas Professional Communicators, Kansas Press Association, the National Federation of Presswomen, Livestock Publications Council, and AAEA. In 2019, Jennifer reached the pinnacle of achievements, earning the title of "Writer of Merit" from AAEA.
Trips and accolades are lovely, but Jennifer says she is happiest on the road talking to farmers and ranchers and gathering stories and photos to share with readers.
"It's an honor and a great responsibility to be able to tell someone's story and bring them recognition for their work on the land," Jennifer says. "But my role is also evolving to help our more urban neighbors understand the issues our Kansas farmers face in bringing the food and fiber to their store shelves."
She spends her time gardening, crafting, watching K-State football, and cheering on her nephews and niece in their 4-H projects. She can be found on Twitter at @Latzke.
Subscribe to receive top agriculture news
Be informed daily with these free e-newsletters
You May Also Like
---