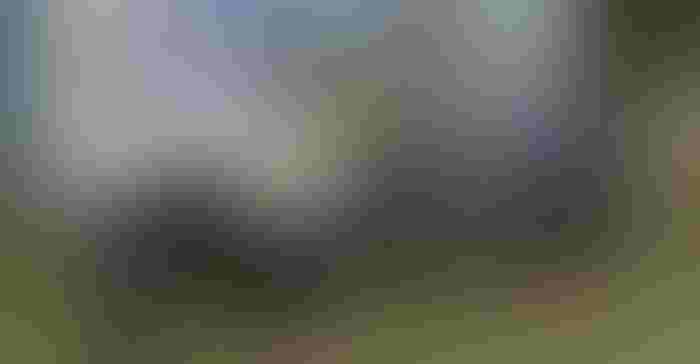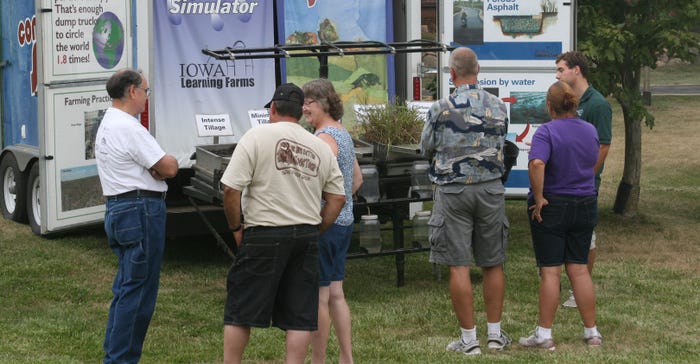 By Elizabeth Juchems
If you've been to an Iowa county fair or attended an Iowa State University Extension field day covering water quality, conservation, cover crops, edge-of-field practices or a range of other topics, there's a good chance you've seen or even visited a Conservation Station operated by Water Rocks! and Iowa Learning Farms.
There are three Conservation Station trailers in the fleet, and they are used across the state to support water quality, conservation education and outreach activities built on a foundation of science, research and best practices.
The idea for the first Conservation Station was germinated in the early years of Iowa Learning Farms, which is celebrating 15 years in 2019. The precursor was a trailer equipped with a simple rainfall simulator used to demonstrate soil erosion at field days. It was a good start, but in speaking with farmers at these field days, the team quickly realized they needed a more sophisticated rainfall simulator.
In addition, ILF saw the potential to expand its impact by providing a broad canvas for education through visual, interactive and multimedia displays.
Conservation education message
"The ILF leadership team and its advisers had numerous discussions and brainstorming sessions regarding ways to make the new trailer serve multiple needs," says Jacqueline Comito, executive director of Water Rocks and ILF program director. "We were awarded funding to purchase and develop a larger trailer. We knew how to make a better rainfall simulator. We just didn't know how to realize our vision of a traveling and flexible unit. Ann Staudt joined the team to help us, and with her fresh ideas and creativity, the Conservation Station was born."
According to Staudt, being given a broad outline for the project — to which she contributed the name Conservation Station—was both challenging and energizing: "From a science perspective I understood the requirements for effective and repeatable demonstration stations, and I was eager to enhance the entire experience with displays and content that encouraged visual learning to reinforce the science."
Rainfall simulator, visual learning
The trailer, dubbed the Big Conservation Station, allowed space for an improved rainfall simulator as well as a walk-through learning lab. To facilitate use in different environments, such as field days, outdoor classrooms and county fairs, the trailer accommodates interchangeable displays. Inside the learning lab, visual and multimedia presentations are designed to engage audiences in conversations and to elicit questions about conservation practices.
"Ann demonstrated her unique talent for visual communications and education," Comito says. "Her creative contributions to content and message presentation are fundamental to the success of the entire Conservation Station fleet."
ILF faculty adviser Matt Helmers developed the new rainfall simulator, which was designed to more accurately model both surface runoff and subsurface flow or drainage in tiled environments. Adding further veracity to the demonstration, soil blocks for the simulator are extracted from field environments to best parallel actual soil conditions in Iowa fields.
Delivering conservation information
"The complexity of the new rainfall simulator was a challenge, but it also enabled us to tell a much more realistic story that farmers in Iowa could relate to," Staudt says.
The simulator promotes conversations about nutrient runoff, which can be different under varied field conditions. For example, phosphorus moves with soil in surface runoff, and mitigation of surface erosion is critical for runoff reduction. But nitrates tend to dissolve in water and readily move in the subsurface layers, particularly in fields that have tile drainage. These different characteristics are highlighted in the education and presentation materials.
Wherever they are used, the Conservation Stations have become a focal point and platform for delivering information and facilitating conversations.
A smaller trailer referred to as Conservation Station 3 was built specifically for outdoor classrooms and other youth activities. Along with a rainfall simulator, it's also equipped with space to carry enough tables and chairs for students, as well as a full complement of displays and activities resources.
Conservation station on the edge
In 2018, the original rainfall simulator trailer (called the Lil' CS) was redesigned to become the Conservation Station on the Edge. This repurposed trailer is designed to address best practices for nutrient runoff mitigation at the edge of tile-drained fields.
Equipped with working saturated buffer and bioreactor models, this trailer takes the story of field runoff to a deeper level. The demonstration stations show the audience what happens within structures. You can't see that when looking at saturated buffers or bioreactors installed in a field, as they are completely underground and out of sight.
The feedback from field days in 2018 was extremely positive and event dates for the Conservation Station on the Edge are booking up for 2019.
The learning lab in the Big Conservation Station was updated in 2018 with mixed-media artwork and enhanced messaging with the purpose of eliciting visitors' hopes for Iowa. There are plans to rewrap the outside of the trailer this spring before it heads to its first community event.
Interactive, appealing to all ages
Each Conservation Station includes interactive demonstrations that appeal to all backgrounds, ages and walks of life. Games such as the Poo Toss tend to appeal to youngsters but provide tangible lessons about waste runoff that pertains to everyone, whether living on a farm or in a city. The Watershed Game is another highly visual interactive game that helps make the concepts of a watershed and how pollution moves with water easy to grasp.
"The Conservation Stations are filling a tremendous need by providing easy-to-understand information about water quality, conservation, agricultural best practices and other topics of importance to all Iowans," Staudt says. "We intend to continue to share this knowledge as frequently and in as many venues as we can."
The Conservation Stations travel the state visiting field days, county fairs, farmers markets and outdoor classrooms from April through October. To see the schedule of appearances or to request a visit,, go online to WaterRocks. In most circumstances, a Conservation Station can join an event at no cost, due to the generous funding received from our partners.
Juchems is a Water Rocks conservation outreach specialist with Iowa Learning Farms.
Happy birthday to ILF
Established in 2004, Iowa Learning Farms is celebrating its 15th birthday. The program is building a Culture of Conservation by encouraging adoption of conservation practices. Farmers, researchers and ILF team members are working together to identify and implement the best management practices that improve water quality and soil health while remaining profitable.
Partners of Iowa Learning Farms include Iowa State University Extension, Iowa Department of Natural Resources, ISU's Leopold Center for Sustainable Agriculture, Iowa Department of Agriculture and Land Stewardship, Iowa Natural Resources Conservation Service, Conservation Districts of Iowa, Iowa Farm Bureau, Practical Farmers of Iowa and Growmark Inc.
Water Rocks! is Iowa's unique, award-winning statewide youth water education program. Through a combination of STEM and the arts, especially music, Water Rocks educates, challenges and inspires young people toward a greater appreciation of Iowa's water, soil and other natural resources.
Partners of Water Rocks include Iowa State University Extension, Iowa Department of Natural Resources, Leopold Center for Sustainable Agriculture and personal gifts of support.
Source: ILF, which is responsible for information provided and is wholly owned by the source. Informa Business Media and its subsidiaries aren't responsible for any of the content contained in this information asset.
Subscribe to receive top agriculture news
Be informed daily with these free e-newsletters
You May Also Like
---