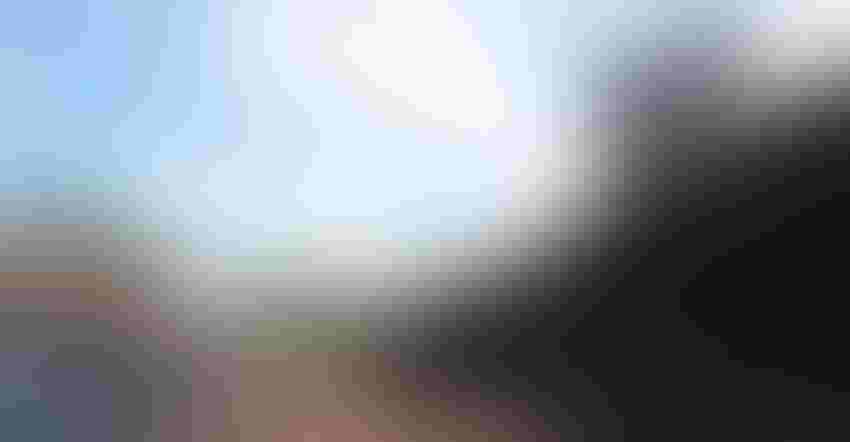 CONSERVATION PRACTICES. "We can help [farmers] figure out which practices offer the best chance for delivering both the environmental and economic benefits for their situation," says Mike Smith of CTIC.
With their deep knowledge of agriculture and their clients' fields, crop consultants can provide vital insight and inspiration to farmers who want to incorporate conservation practices into their farm operations.
That was the message Tim Recker delivered at a conservation training workshop for crop consultants in Des Moines in February. The half-day meeting, hosted by the Conservation Technology Information Center at the Iowa Agribusiness Showcase and Conference, drew about 60 crop consultants, as well as speakers like Recker, who farms near Arlington in northeast Iowa. He has also served as chairman of the Iowa Land Improvement Contractors Association.
"Crop consultants are in the ideal position to put conservation practices into context for their clients," said Mike Smith, CTIC project director. "They know the farmer's nutrient plan; they know the rotation; they know how he or she operates; and they see what's happening on other farms in the area. We are trying to help crop consultants find ways to use conservation to add value to the services they provide to their clients."
Culture of conservation
Iowa Secretary of Agriculture Mike Naig opened the conference with a warning to crop consultants and the farmers they advise. He emphasized that farmers must do their part in reducing nutrient releases into Iowa's rivers under the state's Nutrient Reduction Strategy, which calls for a 41% reduction in total nitrogen loads and a 29% reduction in total phosphorus from nonpoint sources, which include farms. The strategy is based on voluntary conservation, Naig noted, but public pressure is high. If voters and officials don't see progress with voluntary efforts, regulation is likely to follow.
"If we can't prove the success of this model and the voluntary approach, freedom to operate will be an issue long term," Naig cautioned. He called for crop consultants and farmers to create a "culture of conservation" that would prioritize improvements in water quality, soil health and protection of other natural resources.
Consultant Jason Gomes, a certified crop adviser with North Iowa Agronomy Partners in Janesville, echoed Naig's challenge. Showing a slide illustrating extensive soil erosion following a tillage pass, he said, "A culture of conservation means we have to get to a point where this is no longer socially acceptable, right?"
New math needed 
Gomes noted that most consultant-client conversations have focused narrowly on yield. He encouraged the audience to broaden the measures of success to include not just yield, but also soil loss and nitrogen efficiency.
"That's an easy calculation to do, but if we don't do it, it's just like soil loss. We won't have any context for comparing or understanding the difference between different farm operations and our performance over time as CCAs," he said. "If yield is all we care about, we won't solve the problem."
Speakers at the workshop highlighted many financial and technical tools for consultants to recommend to farmers. Robert Mier, conservationist with USDA's Natural Resources Conservation Service in Iowa, detailed a wide range of programs consultants could recommend to their clients that defray the costs of constructing or adopting conservation systems.
Keegan Kult, executive director of the Ag Drainage Management Coalition, said lawmakers' interest in water quality is high, so state and federal programs are providing powerful incentives for farmers to install systems like saturated buffers and bioreactors.
"These edge-of-field structural practices are moving forward with some additional funding from the water quality bill that got passed last year in Iowa," Kult noted. "So, the time is right, for people who are interested in putting these in. You can get a significant amount of the cost of these practices paid for by participating in the cost-share programs."
Plenty of resources
Every speaker at the half-day workshop emphasized the easy availability of resources to support crop consultants and their farmer-clients as they explore conservation options. NRCS and local conservation districts can provide technical and financial help on projects. Land improvement contractors bring the skills and machinery to the challenge, as well as growing experience with constructed edge-of-field systems.
Conservation-oriented groups like 4R Plus (4RPlus.org) offer online training modules, and CTIC posts an online treasure trove on topics ranging from cover crops to saturated buffers at ctic.org.
Crop consultants don't have to be experts on every aspect of conservation, noted Smith of CTIC but they can help their farmer-clients tremendously by pointing them toward opportunities to adopt practices that help them protect water quality and build soil health. "In turn, those conservation and water quality protection practices will not only help farmers maintain the freedom to operate as Secretary Naig mentioned, but can also improve their efficiency and profitability."
Online videos of each presentation from the Des Moines workshop, and an 11-minute summary video, are available free at ctic.org or on CTIC's YouTube channel, youtube.com/user/CTICComm.
Source: CTIC, which is responsible for the information provided and is wholly owned by the source. Informa Business Media and its subsidiaries aren't responsible for any of the content contained in this information asset.
Subscribe to receive top agriculture news
Be informed daily with these free e-newsletters
You May Also Like
---