You've been hearing more and more about specialty crops as the trend toward more locally produce food continues to intensify. Here's a capsulized look at the latest round of U.S. Department of Agriculture block grants to state ag departments in Connecticut, Maine, Massachusetts, New Hampshire, Rhode Island, and Vermont.
Specialty crop producers throughout the Northeast will benefit directly from most of the 139 projects of 739 approved nationwide. Specialty crops are defined as fruits, vegetables, tree nuts, dried fruits, horticulture, and nursery crops (including floriculture).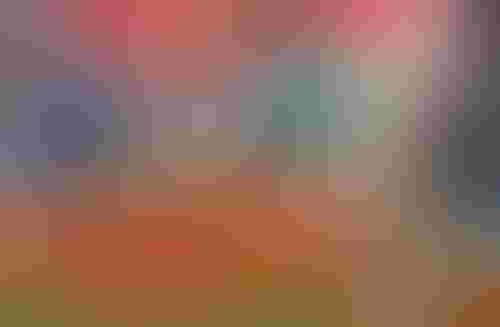 Food safety training is moving up the priority list.
Coupled with another $17.61 million recently funneled to Northeast for specialty crop research (see yesterday's story), serious money is being put up for development of specialty crops and markets.
In this round of block grants, substantial dollars are being committed to training farmers and small processors about the coming wave of food safety regulations, a consequence of the Food Safety Modernization Act, which begins to kick in this year.
Connecticut – $429,936
Food safety training to registered specialty crop farmers producing processed foods
Bilingual English/Spanish cookbook customized to promote Connecticut specialty crops, plus market incentives for Women, Infant and Children Farmers' Market Nutrition program
Wholesome Wave's double-value coupon program for SNAP, WIC and Senior Farmers' Market Nutrition Program recipients to redeem for fruits and vegetables at farm-to-market retail venues
Consumer study to encourage Nursery & Landscape Association growers to meet those expectations
Partner with Rhode Island Center for Ag Promotion and Education to provide Connecticut's specialty crop producers with training, marketing, and technical support services for agritourism development
CitySeed Inc to deliver a creative, buy local marketing campaign via free space on BuyCT Grown
Northeast Organic Farming Association to increase the sales and consumption of CSA-grown specialty crops
Work with Farm Bureau to identify barriers and opportunities to expand in-state fruit and vegetable distribution
Maine – $398,738
AgMatters' Good Agricultural Practices/Good Handling Practices (GAP/GHP) audit cost share program to specialty crop growers with annual farm reviews and certification
AgMatters' educational meetings, materials, and guidance to keep specialty crop growers abreast of new FDA food safety rules for handling and processing.
Cooperative Extension Potato IPM Program to ensure adequate pest-related monitoring and forecasting
Potato Board for new potato varietal development, emphasizing disease resistance.
Wild Blueberry Commission to develop IPM practices to manage mummy berry blight and Valdensinia leaf spot
Wild Blueberry Commission to develop a thrips IPM program
Massachusetts – $451,442
Cost-share for initial GAP/GHP audits to increase rate of adoption of food safety initiatives
Franklin County Community Development Corporation to establish a farm-to-institution market and value-added products outside the normal season
Farm and Winery Grower's Association to capitalize on unlimited potential of market opportunities such as a Massachusetts Wine Festival
University of Massachusetts to enhance grower opportunities to market crops in Central and South America
Nursery Landscape Association and Flower Growers' Association to create an environmental movement for specialty crops
Commonwealth Quality Program's education and outreach via promotional starter packages for specialty crop producers
Boston Public Health Commission and Boston Collaborative for Food and Fitness
to increase SNAP access to specialty crops at Boston Farmers' Markets via double-value vouchers
Promote specialty crops to the commuting audience by advertising featured seasonal specialty crops monthly
Host farmers markets in state parks and chef demonstrations of new ideas to
incorporate specialty crops into campground friendly meals and snacks
Northeast Organic Farming Association to offer classes to specialty crop producers with methods to forgo pesticides.
Agriculture in the Classroom to provide teachers with resources to educate students
on the benefits of growing specialty crops
Farm Bureau's Agricultural Preservation Corporation to provide an school education program on specialty crop snacks and specialty crop farm visits
Community Involved in Sustaining Agriculture to conduct a feasibility analysis and business plan for a new collaborative stand allowing specialty crop growers to sell on the new Boston Public Market
Cape Cod Cranberry Growers Association to create a database system where growers can track crop inputs plus water and create reports for handlers and regulatory agencies
Partner with the University of Vermont and State Agricultural College and Vermont's Agency of Agriculture to continue hops research
Partner with the Ag Department and New England Apple Association to develop long-term food service markets for fresh-sliced apples
New Hampshire – $249,921
Cheshire County Conservation District and University of New Hampshire Cooperative Extension to build farm-to-school and farm-to-institution programming via business management assistance for specialty crop growers
Southern New Hampshire Resource Conservation & Development Area to provide technical assistance to apple growers to aggregate apples for institutional and wholesale markets.
Fruit Growers Association to promote apple and tree fruit farms at events and providing promotional activities and materials
Plant Growers and Landscape Association to increase green industry networking
Division of Travel & Tourism Development to continue promoting purchase and benefits of local specialty crops.
Merrimack County Conservation District guidance for combining practices such as conservation rotations, cover crops, deep tillage, and biomass plantings
Small and Beginner Farmers Program to organize workshops to teach practical skills for successful production and marketing of specific specialty crops
Rhode Island – $221,007
University of Rhode Island to continue to provide GAP food safety training and consultation with growers and promote the program to consumers
Farm Fresh Rhode Island to update website to ensure data accurately reflects current specialty crop producer information and adapt listings to easily convert for mobile device usage.
Farm Bureau to develop videos Rhode Island-grown specialty crops through social media platforms
Kids First Group to increase locally grown fresh produce sales via development of a statewide farm-to-hospital program
Continue expanding Rhode Island's specialty crop promotional activities, which include "Rhode Island Grown, Get Fresh, Buy Local" initiative with celebrity chefs at all state farmers markets. and introduce electronic benefit transfer banking to Farmers Markets to allow USDA Food Stamp recipients to purchase fresh fruits and vegetables
Genesis Center to establish a community garden; develop curriculums for growing produce and launch a pilot horticulture/floriculture enterprise for students
North East Organic Farming Association of Rhode Island to train and advise farmers interested in organic specialty crop production
University of Rhode Island to conduct leek, onion and garlic variety trials and develop recommendations for varietal best practices
Vermont – $230,395
University of Vermont and State Agricultural College to develop a dual-track food safety training program, one for produce growers interested in obtaining a GAP certification, another for produce growers seeking practical food safety training to implement on their small or mid-scale diversified farms
Continue cost-share program to provide fruit and vegetable growers with the opportunity to gain GAP certification by offsetting audit costs
Northeast Organic Farming Association of Vermont to develop a marketing and outreach campaign to increase consumer purchases of certified organic fruits and vegetables
Vermont Foodbank to help source Vermont-grown apples for statewide distribution to hunger relief agencies and support "You Pick" apple programs
Continue funding Harvest Health Coupon program, for SNAP incentives at farmers' markets and explore streamlining the electronic benefits transfer at farmers' markets
University of Vermont and State Agricultural College to provide nutrition, cooking and food prep workshops to low-income residents of Caledonia County, and educate potential dry bean growers in the Northeast Kingdom about the opportunity
FEED to share USDA Fresh Fruit and Vegetable Program benefits with school food service personnel
Beekeepers Association to offer hands-on classroom experience to ensure a statewide cadre of successful beekeepers and pollination services
Grape and Wine Council to boost consumer awareness of wines made in Vermont
University of Vermont and State Agricultural College to establish an organic orchard of promising new disease-resistant apple varieties
Kingsbury Market Garden to design three wiggle weeder tools to control weeds in vegetables and berries
Mad River Food Hub to increase local farmers' salable crops by reducing wastage via a small blast freezer to freeze specialty crops that are harvestable, ripe, but unsold.
Subscribe to receive top agriculture news
Be informed daily with these free e-newsletters
You May Also Like
---