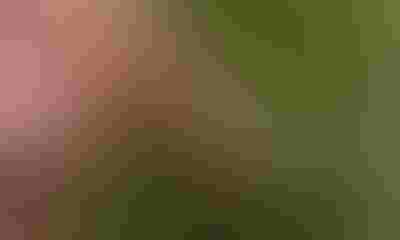 Yes, it was a cold weekend all across winter wheat country, with temperatures well below freezing for anywhere from two hours to six hours as far south as Wichita Falls, Texas all the way through Oklahoma, Kansas and Nebraska.
So the question is not whether the winter wheat crop was damaged but how bad was the damage?
Lane County wheat grower Vance Ehmke saidhe  talked with his Minnesota-based custom cutter on Monday morning and learned that farmers in Wichita Falls, Texas saw temperatures as low as 23 degrees in fields where the flag leaf had already emerged.

FREEZE DAMAGE: The best way to scout for winter wheat damage from freeze is to split the stemp of the plant and expose the developing lhead. Green color is good; whitish color with an order is bad. While the extent of damage won't be clear for several days, producers are worried that two consecutive nights of very cold temperatures have taken a heavy toll in some areas.
Don Hineman, who also farms in Lane County, said the coldest temperature he saw on his farm was 16 degrees. He said his fields were blanketed in snow and he believes they are probably relatively unscathed because of that.
Snowfall, however, was limited to a localized area south of Smoky River into Scott and Lane counties and areas where it is dry may have fared worse.
Justin Gilpin with Kansas Wheat said the most vulnerable winter wheat was in south central Kansas where primary tillers likely sustained severe damage and it will be a game of waiting and watching to see how well secondary tillers can respond.
That response will vary greatly depending on what the weather holds between now and harvest, Gilpin said. Cooler, wetter weather, such as the state experienced last year, will slow down the maturation of the crop and give secondary tillers a chance to make heads.
If it remains unseasonably warm and dry, the damage to primary tillers could mean significant yield losses as the crop roars toward a harvest start in mid to late May.
"There will be a lot of variability between planting dates and varieties this year," Gilpin said.
Sedgwick County extension agriculture agent Zach Simon said he is planning to be out scouting fields Thursday afternoon.
"It takes a while for the damage to show up," he said. "The wheat can look perfectly OK and you don't really know the extent of the damage until you slice open some stems."
Ehmke said the damage from the cold weather worries him less than the damage that is being done by unseasonably warm temperatures that have been present all winter. February's unseasonal warmth has pushed the crop far ahead of normal growth for this time of year and harvest may be as much as a month early.
In addition, warm, windy conditions have pushed stripe rust and leaf rust spores north from Texas far earlier in the season that most growers are used to scouting. Temperatures are forecast to hit 80 degrees today (Tuesday, March 22).
"The crop is so thick and growing, it's really using up moisture fast," Ehmke said. "In areas that haven't gotten rain or snow, that is becoming an increasing issue."
In Garden City, temperatures dropped as low as 11 degrees on Sunday morning and a lot of fields were already jointing, while Jeanne Falk-Jones reported it was 7 degrees at her house in Cheyenne County on Sunday morning.
Winter wheat can easily withstand temperatures that cold as long as the growing point is still under ground. Once the growing point is exposed, freeze can be very damaging. In Texas and Oklahoma many fields were not only well past that point, they had the flag leaf already emerged.In southern Kansas, many fields were jointing by mid-Februrary and are a week or so away from flag leaf -- maturation that is a good three weeks ahead of normal.
Subscribe to receive top agriculture news
Be informed daily with these free e-newsletters
You May Also Like
---