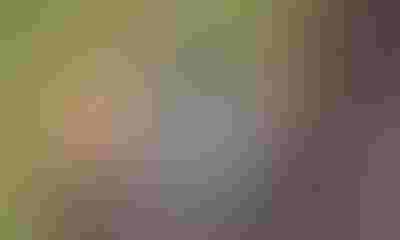 Grass Snap, a mobile-device app developed by Nebraska Extension to help ranchers track the condition of their grasslands, is now available for the Android Operating System.
The Android version joins Grass Snap's iOS version for Apple's mobile operating system.
Grass Snap is free to users, thanks to support from Nebraska Grazing Lands Coalition and Nebraska Extension. To download it, search for "UNL Grass Snap" at the Play Store (make sure to include the space between words "Grass" and "Snap").

MOBILE MONITORING: A rancher uses the Grass Snap app on his mobile device to monitor pasture conditions. (Photo courtesy of UNL Panhandle Research and Extension Center)
One method of monitoring is recording the condition of each pasture photographically after each growing season, and comparing changes from year to year. Grass Snap makes this process quick, repeatable and easy.
Features of Grass Snap include the following:
• An "overlay," or ghost image, allows a user to capture the same "look out" photograph, by laying the original landscape view over the screen. Silhouettes of the hills will easily line up year after year.
• It stamps each photograph with the pasture name, GPS location (in decimal degrees) and date. Up to six photographs can be taken per transect.
• The tool captures data that relates to the photographs, including grazing indexes for the Nebraska Sandhills and western native grasslands. Comments, such as rainfall amounts, grazing records, or other events, can also be recorded.
• It organizes photographs and data in in a separate folder for each pasture, which can be uploaded to a home computer.
• The app can be used with or without cell service on your Android smart device.
More information is at Grass Snap's website. The website has a user guide, photo downloading instructions, and videos to help with setup.
The Nebraska Extension team that developed the app includes Extension educators Bethany Johnston, Jay Jenkins and Jenny Nixon, and Jerry Volesky, Extension range and forage specialist.
A rancher can review Grass Snap photographs and data yearly, make adjustments to grazing management, and prepare for the next grazing season, according to Johnston.
Regularly monitoring the condition of each pasture is a practice recommended by grazing experts. For ranchers whose land is enrolled in the NRCS Conservation Stewardship Program (CSP), it might also be an obligation. CSP Monitoring Enhancement PLT-02 "Monitor Key Grazing Areas to Improve Management" can be fulfilled using the photograph and Apparent TREND Score features in Grass Snap. Folders can be saved on a CD or flash drive, and submitted to the NRCS office, instead of paper copies.
Grass Snap tips
Tips Johnston has for using Grass Snap? Users should practice at home. Test runs should be performed in the comfort of your home, before actually taking the app to a pasture for the first time. This will show new users how the procedure works and which buttons to push. Any test folders can be deleted before actually going to the field.
"Practice, practice, practice. Use the program before you go out in the field," she says. "You can take pictures of the wall or your floor to understand the setup. Problems are easier to address when you aren't on the top of a hill with spotty cell reception trying to call for help."
Another tip that Johnston has for new users: Manually enter the GPS location of each pasture, rather than letting the mobile device find it. Devices may not be accurate in some remote locations. Need to borrow a hand-held GPS? Many local Extension or USDA offices can lend units to ranchers.
The GPS location only needs to be entered on the initial monitor of a pasture; Grass Snap will remember the GPS coordinates for the pastures, which can be viewed as a map or printed in a list view.
Johnston says the team tried to make Grass Snap as user-friendly as possible, with a logical, step-by-step process, big buttons for "working hands," and a message when the pasture information is successfully saved.
Many new apps experience bugs, so the Extension team invites feedback from any user who runs into problems. They should contact Johnston at the Central Sandhills Extension Office, Nixon at the Sioux County office, Jenkins at the Cherry County office, or Volesky at the West Central R&E Center at North Platte.
The Android Grass Snap app is complemented by a NebGuide on pasture monitoring, "Getting to Know Your Pastures, Techniques to Enhance Monitoring."
Source: UNL Panhandle Research and Extension Center
Subscribe to receive top agriculture news
Be informed daily with these free e-newsletters
You May Also Like
---