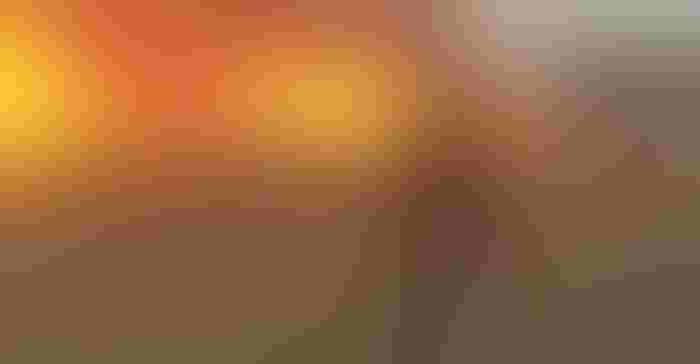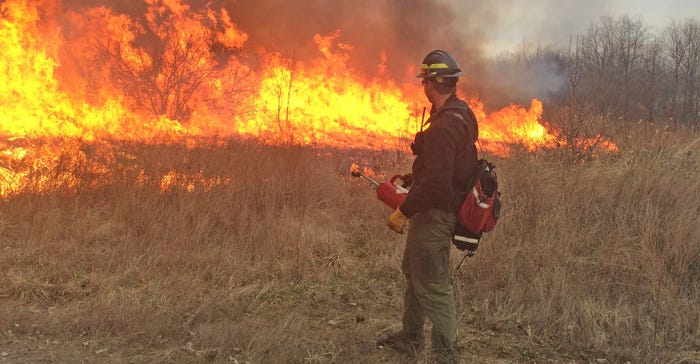 Wildfires in the Western and Southwestern U.S. have caused horrendous damage and loss of life over the past couple of years. On the other hand, carefully controlled burns of small acreages in Indiana done at the right time can lead to new, more desirable plant growth within an area.
"We utilize controlled burns as one of the options in the early establishment years of a pollinator planting," says Andy Ertel, executive director of the Jennings County Soil and Water Conservation District. The district has worked closely with Jenny Vogel, district conservationist with the Natural Resources Conservation Service, to establish pollinator plantings on farms, school grounds, industrial sites and even land owned by the city of North Vernon.
The Jennings County SWCD has become a leader in promoting and demonstrating the value of pollinator plantings, not only in southern Indiana but also across the country. A pollinator planting consists of various types of wildflowers that, when properly selected, bloom at various times over the course of the summer. The result is better habitat for pollinators, including honeybees and other insects.
"Part of our job is to educate people that these plants aren't just weeds, but can serve a beneficial purpose," Ertel says.
During the early establishment years, maintenance may be needed for weed control. There are various options, Vogel notes, including disking in strips and mowing. Controlled burning of the site is another alternative.
"After the fire, perennial wildflowers planted there have less competition and regrow," Ertel explains. "It's an effective way to refresh a site where burning is an option."
Inside a controlled burn
Joe Robb, a member of the pollinator committee of the Jennings County SWCD and project leader of the Big Oaks and Muscatatuck national wildlife refuges, shared photos from a controlled burn on the Big Oaks property to illustrate how such a burn is started and coordinated, and how it influences new growth afterward.
The Big Oaks National Wildlife Refuge encompasses parts of Ripley, Jefferson and Jennings counties in southeast Indiana. It makes up a large part of what was once the Jefferson Proving Grounds Military Base.
Robb and his team burn up to 1,500 acres per year in controlled burn scenarios. Controlled burns require specialized equipment to start the fire and always necessitate fire department personnel being on-site to control it. It's not a practice meant to be taken lightly or tried by someone without experience, Ertel emphasizes.
At the same time, the results can be rewarding, he concludes. It allows nature to refresh itself and gives beneficial plants an edge in getting ahead of unwanted vegetation.
Depending upon where you live and which government entities have jurisdiction over your property, you may need to obtain a permit before planning a controlled burn.
Click through the slideshow below to see photos from the Big Oaks burn.
Subscribe to receive top agriculture news
Be informed daily with these free e-newsletters
You May Also Like
---