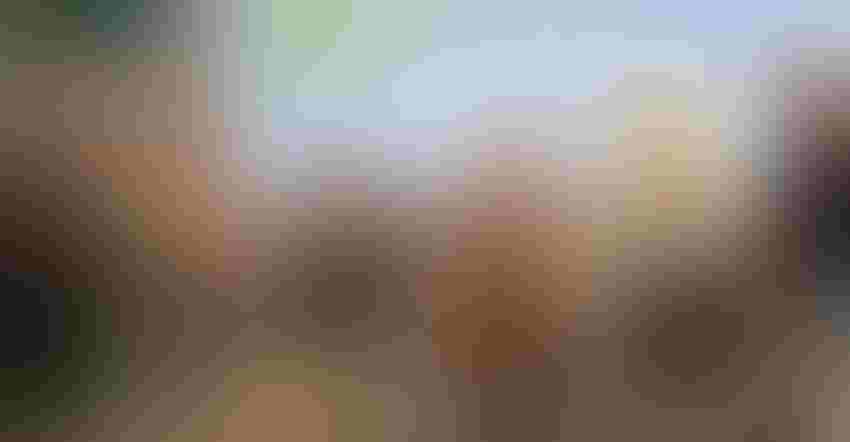 COMMON LANGUAGE: A Future of Farming Summit panel includes commentator Chris White (left) of Fruitnet Media; Damon Knobloch of Riverview LLP in the U.S.; Marco Parzaniello of Parzianello Agro in Brazil; Annie Dee of Dee River Ranch Inc. in the U.S.; MBS Sandhu of Sylvan Harvests in India; and Leon Noordam of Novifarm in the Netherlands.
It's been said that those in agriculture speak a common language. In some cases, even thousands of miles can't completely separate that commonality among those in agriculture. Recent panel discussions at Bayer's Future of Farming Summit in Germany were a clear illustration of this.
In September, farmers from the U.S., U.K., the Netherlands, India, Germany, Brazil and all around the world gathered in Monheim to discuss the ongoing challenges facing agriculture and what those involved can do to address them. Chief among them is striking the balance of sustainability — and that includes environmental, economic and social sustainability.
While technology adoption definitely plays a role in driving sustainability, panelists agreed that a strong commitment to soil health and the resiliency of the land is a top priority when it comes to long-term sustainability.
One grower and panelist, Annie Dee from Alabama, noted soil health — including no-till and cover cropping — as a key opportunity to feed the world. "I think that's the real way we're going to improve our ability to feed 10 billion people by 2050," she said.
Dee has been farming in Alabama since the late 1980s, but she noted as one of only a few women farmers in Alabama, she ran into some cultural hurdles when she first got started. Over time, however, more growers in the region have adopted soil health-building practices she's established on her own farming operation.
"In the late '80s when I would go to farming meetings, some of the men would bring their sons, but I was the only woman there. They always looked at me like, 'What was I doing there?' Slowly I gained their respect by sharing some of the innovative things I've done with cover crops," Dee said. "Now they're calling and asking, 'What are you going to plant? When are you going to do it? What are you using for a cover crop, and who did you buy it from?'"
Of course, land ownership and access is another challenge to long-term sustainability.
MBS Sandhu, who farms in the Punjab region of northwest India, noted the average farm in the region is about 3 acres. However, Sandhu, who is a larger farmer in the area, is planning to expand. His oldest son will soon be joining the operation, and with the next generation coming home, Sandhu plans to the double the size of his operation in the next three years.
An ongoing challenge in Punjab is that many farmers are competitive, Sandhu noted, adding there are opportunities for farmers to form cooperatives and work together. "Farmers in cooperatives could work together rather than look at one another as a competitor," Sandhu said. "They could look at each other as partners, bring in appropriate technologies, and see it as another input."
There are also opportunities to plant genetically modified and high-value crops, which Sandhu is an ardent supporter of.
And while technology holds promise for improving crop yields, Sandhu and other panelists noted nothing will replace the boots-on-the-ground approach of knowing what's happening in your field.
"For me, there's a proverb that says the farmers feet are the best fertilizer," said Sandhu. "You have to be on the field. You have to be on the farm every day. You have to be looking at what the crop needs."
Subscribe to receive top agriculture news
Be informed daily with these free e-newsletters
You May Also Like
---