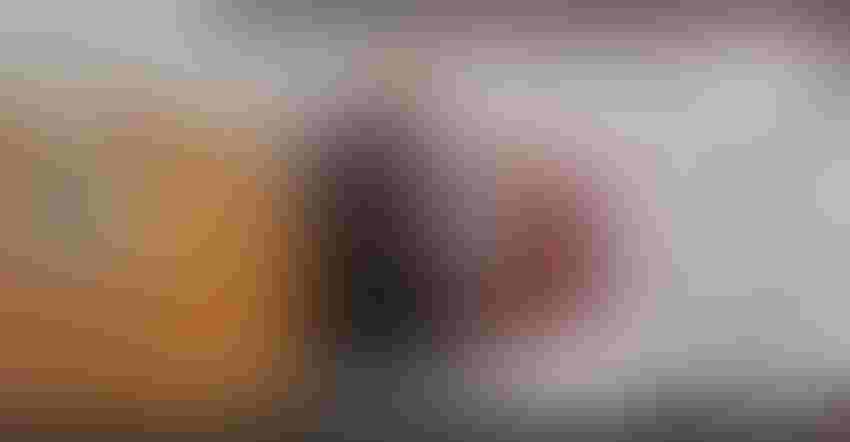 Kevin Cochran presented the Friend of Conservation Agriculture Award to Debbie Moreland at the Arkansas Soil and Water Education Conference awards luncheon at Arkansas State University.
Photo: Chris Cameron/Arkansas State University
Nevertheless, she persisted. That phrase could be used to describe many determined women, but none more so than Debbie Moreland, program administrator with the Arkansas Association of Conservation Districts.
Moreland, who is based in Little Rock, has been the driving force behind many conservation projects in her state. For those efforts she was recognized with the Friend of Conservation Agriculture Award at the Arkansas Soil and Water Education Conference in January.
"Debbie works as the program administrator for the Arkansas Association of Conservation Districts, but that title does not do her work justice," said Kevin Cochran, district conservationist for the Natural Resource Conservation Service's Lonoke Field Service Center and acting ASTC (FO) NW.
"Debbie facilitates collaborative conservation efforts across the state, bringing organizations and people together to create effective conservation partnerships," said Cochran, who presented the award during ceremonies at Arkansas State University. "Through her efforts, Debbie has fostered communication, education, and cooperation across the conservation network at all levels — local, state, and national."
Among those partnerships is her work with the Arkansas Discovery Farm program. Moreland has helped recruit sometimes reluctant farmers who have become ambassadors for conservation stewardship efforts in the state.
"The first time they asked me to participate in the Discovery Farm I said no," said Steve Stevens, a producer from Tillar, Ark., who was recently named winner of the High Cotton stewardship award from Delta Farm Press. "The second and third times I said the same thing."
Stevens said he was concerned that if researchers found something wrong on his farm, it would invite the attention of the Environmental Protection Agency, recognition that most producers try to avoid.
"That really concerned me," he said. "But Debbie Moreland told me my farm was the last place the EPA was coming. She said, 'If you do have a problem, we'll help you fix it, because I know you'd want to fix it.' I said, "Well, yeah, I agree with that."
Stevens turned a portion of his acreage over to the Arkansas Discovery Farm Program and has logged thousands of miles describing the benefits of its soil and water conservation practices around the country.
"Debbie is highly respected by all natural resource conservation partners in Arkansas," said the NRCS' Mike Sullivan. "As state conservationist in Arkansas, I and my staff, call on Debbie regularly to assist us in getting conservation on the ground. Without fail, she has answered with immediate response and action to NRCS's every need."
Sullivan said Moreland has helped NRCS get new "Boots on the Ground" by encouraging AACD, individual conservation districts, and Resource Conservation and Development Councils to sponsor cooperative agreements that "allow us to extend federal funds to hire district technicians and NRCS retirees. She currently administers eight of these agreements through her office to get more people in NRCS field, area, and state offices.
She has provided valuable leadership to state and local partners resulting in Arkansas receiving National Conservation Initiative funding, including Cooperative Conservation Partnership Initiative, Mississippi River Basin Initiative, Discovery Farms, and several others.
"As a result of Debbie's leadership and motivation, millions of dollars above and beyond normal NRCS funding levels have accelerated the rate of getting conservation on the ground through these initiatives," said Sullivan. "She willingly and tirelessly goes about promoting conservation in Arkansas at every level, including Washington, D.C.; Arkansas' state legislators; and local Conservation District boards.
"She supports Arkansas' Conservation Partnership by preparing meeting agendas and hosting meetings as well as promoting everyone working together as a team and expanding the Partnership. She serves as an active member of the NRCS State Technical Committee participating in all meetings and providing support for sub-committees."
Moreland also has been instrumental in the success of the Local Work Group process by which Environmental Quality Incentives Program and other USDA program funds are allocated to each county, providing training and sometimes one-on-one advice to districts when needed, Sullivan noted. She also serves as an active member of the Pulaski County Conservation District Board.
"She has provided essential leadership and direction in planning and promoting conservation forums and workshops in Arkansas such as a bi-annual Wildlife Workshop, Cover Crop Workshops and an Irrigation Expo."
Subscribe to receive top agriculture news
Be informed daily with these free e-newsletters
You May Also Like
---