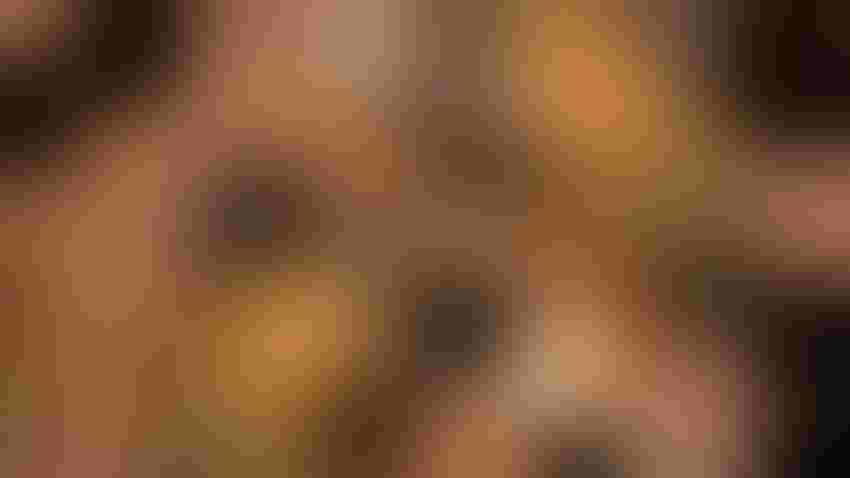 A new series of California grants will help farmers develop and maintain pollinator habitat.
USDA ARS
California has distributed $12.2 million among 10 organizations chosen to carry out a new state initiative -- the Pollinator Habitat Program, which will work with farmers to develop and maintain habitat.
The PHP was established by the Budget Act of 2021, in which the state Department of Food and Agriculture was given $15 million to provide grant funding to establish pollinator habitat on agricultural lands throughout California.
Legislators directed CDFA to prioritize the planning of native habitats for the benefit of native biodiversity and the use of locally appropriate native plant seed mixes when feasible. 
"CDFA is pleased to make this investment in pollinator habitat on California farms and ranches," state Food and Agriculture Secretary Karen Ross said. "Pollinators are not only vital to our ecosystems, they are essential to over a third of our crops, helping to produce a wide variety of California-grown fruits, nuts, and vegetables."
"The Pollinator Habitat Program demonstrates how working lands can help safeguard California's diverse ecosystems," she said.
CDFA accepted applications last fall. Resource conservation districts, non-profit organizations, the University of California, California State Universities, California community colleges, and Native American tribes were eligible to apply for up to $2,000,000 in funding to work directly with farmers and ranchers to install habitat and implement management practices that support pollinators. 
A bad year for bees
The projects come as a Washington State University researcher has warned storm damage in California and Florida and winter colony collapse will make 2023 a bad year for honeybees.
Among the challenges facing the industry, the steady series of atmospheric rivers dumping significant rain on California has limited the number of flying days bees have had to pollinate, cautioned Tim Lawrence, a recently retired WSU Extension associate professor who worked with the insects.
Bees generally fly when temperatures are above 54 degrees and winds aren't too strong. The limited flying days also impact honeybee queens because they mate in the air. Less flight time means less mating, which means fewer and delayed bees and queens for sale that beekeepers rely upon.
"It's been brutal," Lawrence said. "Beekeepers are used to adapting, but getting hit from so many angles is a huge challenge."
To find out more about PHP and to review a list of the awarded organizations, visit https://www.cdfa.ca.gov/oefi/php/.
Source: California Department of Food and Agriculture, Washington State University
Subscribe to receive top agriculture news
Be informed daily with these free e-newsletters
You May Also Like
---