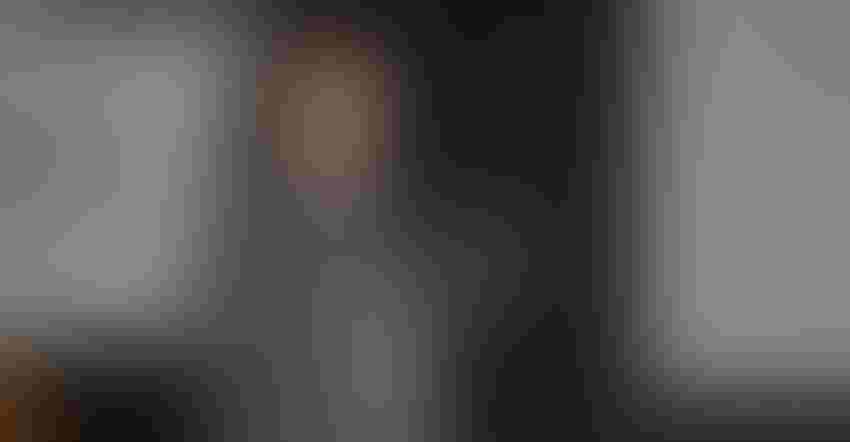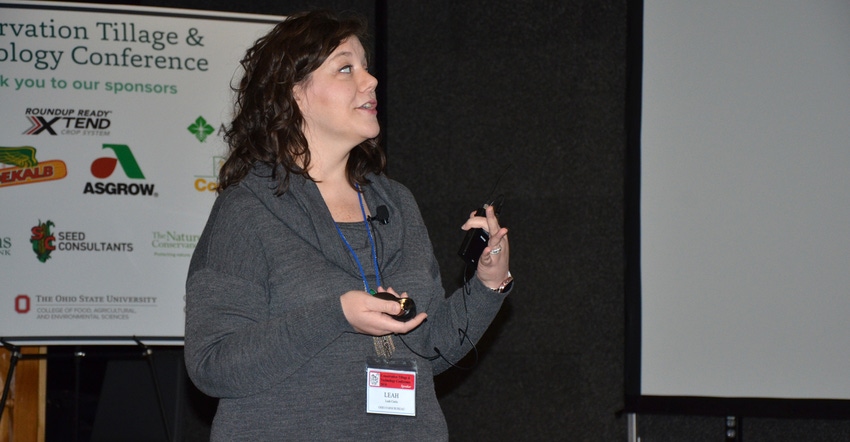 AG DISTRICTS: Leah Curtis, Ohio Farm Bureau policy counsel, told attendees at the Ohio Conservation Tillage and Technology Conference that enrolling in an ag district would provide a level of defense to nuisance claims.
With the Feb. 26 passage of the Lake Erie Bill of Rights (LEBOR) and the ensuing threat of lawsuits against farmers, LEBOR has brought special attention to the state's agricultural district law as a potential affirmative defense.
LEBOR states that Lake Erie, and the Lake Erie Watershed, have the right to "exist, flourish and naturally evolve …" and give any Toledo resident the right to file a lawsuit on the lake's behalf against any government or business entity in the Lake Erie Watershed.
"It essentially gives the lake the standing as a person in the court," said Leah Curtis, Ohio Farm Bureau policy counsel, who spoke March 5 at the Ohio Conservation Tillage and Technology Conference.
LEBOR gives Toledoans authority over nearly 5 million Ohio residents, thousands of farms, more than 400,000 businesses and every level of government in northern Ohio — plus parts of Michigan, Indiana, Pennsylvania, New York and Canada.  
There is cause for concern, but not necessarily alarm, as there are many legal obstacles in the way.
Provisions in LEBOR conflict with longstanding constitutional principles that address the relationship among federal, state and local governments.
"From a state law standpoint, cities do not have the ability to enforce laws outside their jurisdictions," Curtis said. "This claims to trump state and federal law. And, of course, that's not really how things work here in America; there's a supremacy clause in the U.S. Constitution. It's hard to make sense of non-sense. I'm not sure how these lawsuits will be styled — nuisance or something else."

Counties shown here in red could be impacted by LEBOR, but many questions still surround the constitutionality of the Toledo charter amendment.
The LEBOR was challenged immediately. The day after it passed, Wood County farmer Mark Drewes of Drewes Farm Partnership filed a lawsuit. Then, on March 18, U.S. District Judge Jack Zouhary issued a preliminary injunction pausing LEBOR until litigation is completed.
In the meantime, Ohio's Agricultural District Program, which is sometimes called the right to farm law, provides a defense against nuisance claims filed by non-farmers for farming activities on land enrolled in the program. The agricultural activities must not be in conflict with federal, state or local laws and must be carried out in accordance with generally accepted agricultural practices.
"If you are zoned agriculture and in CAUV [the Current Agricultural Use Value program], those are wonderful things — but it doesn't get you into an ag district," Curtis said. "You must be enrolled with the county auditor and have it renewed every five years. There is a penalty if you remove before the contract is up."
Many of the ag district qualifications are the same as the CAUV program, and being in an ag district also provides an eminent domain review and deferral of certain types of assessments.
"It is one of the best and underutilized tools here in state of Ohio," Curtis said. "It does give a lot of good benefits for just a little bit of your time."
Failure of government
Putting LEBOR on the ballot is a response to the American legal system's failure to protect the environment, according to Crystal Jankowski, an organizer with Toledoans for Safe Water, the group that worked with the Community Environmental Legal Defense Fund to draft LEBOR. "The legal system has depended on big government to come to the rescue for the longest time," she explained. "This is a way for areas to speak up and respond to the failures."
The Ohio EPA and U.S. EPA are not doing their job to enforce existing clean water regulations, she said. Passing LEBOR sends the message that Toledo citizens want action. "The biggest thing we've accomplished is spreading awareness," she added.
The concept of recognizing rights of nature is not new, Jankowski said. The idea is recognized by many indigenous peoples around the world, and it is included in the constitutions of Ecuador and several other countries.
LEBOR was not meant to target farmers who are doing their part to protect water quality, according to Jankowski. "We knew a lot of the mom and pop farmers were following the guidelines. There's no risk for them." The group recognizes that most farmers have been protecting water quality. However, she added, "some of the corporate farmers, the ones with no face to the company, were the issue."
Even before LEBOR was passed, water quality advocates have been turning to the legal system to push for stricter water quality regulations and enforcement of existing laws. For instance, Advocates for a Clean Lake Erie filed a suit in early February against the U.S. EPA claiming that the EPA is not properly enforcing the Clean Water Act to protect Lake Erie from phosphorus pollution. And one of the leaders of that group, Vickie Askins, along with her husband, filed a suit in 2014 against the Ohio Department of Agriculture, the Ohio EPA and the U.S. EPA over enforcement of the Clean Water Act. That case was dismissed, but Askins said that loopholes remain in the permitting process for concentrated animal feeding operations in Ohio.
OFU sees no threat
The Ohio Farmers Union does not see LEBOR as a threat to most farmers. "This doesn't really move the ball in regard to the liability that farmers experience," said Joe Logan, who farms near Kinsman, Ohio, and serves as president of the Ohio Farmers Union.
Most farmers are already doing a good job protecting the watershed, Logan said. On the other hand, LEBOR might make some farmers think twice about their practices. "Maybe that's a good thing," he said.
The Ohio Farmers Union favors a localized approach to water quality throughout the state. "Farmers need to lead in their communities," Logan explained. If everyone looked around their own communities and addressed the water quality problems in local watersheds, problems could be stopped before they reach the lake, he pointed out.
How LEBOR will be handled by the courts remains to be seen, but if anyone does sue a farmer on behalf of the lake, it will likely be a hard case to prove, said Peggy Kirk Hall, associate professor and director for Ohio State University's Agricultural and Resource Law Program. "In reality, if someone brings a complaint, it's likely to be thrown out," she explained. For one thing, LEBOR violates several different constitutional provisions, and the courts have already ruled against similar proposals. The attorneys who crafted LEBOR are probably well aware of its constitutional limitations, but putting forth LEBOR is a way of communicating their concerns about water quality, she added.
LEBOR activists also would have a hard time making a case against an individual farmer because of the difficulty and expense of providing evidence of a particular farmer's harm to the lake. "It's an evidentiary nightmare," Hall said, because of the many variables that affect water quality.
In addition, farmers have several affirmative defenses to lawsuits related to agricultural practices. "The law is on the side of good farmers," Hall said. The Fertilizer Applicator Certification Training (FACT) law, which requires certification for farmers who apply fertilizers on parcels of 50 acres or more, provides a defense for certified farmers who have records showing they are following an approved nutrient management plan.
Ohio's agricultural pollution abatement law also provides an affirmative defense for farmers who are following an approved nutrient management plan, and the Ohio Department of Agriculture's permitting program for CAFOs provides an affirmative defense for farmers who are operating in accordance with the provisions of their permits.
OSU's agricultural law program has a fact sheet explaining these defenses at farmoffice.osu.edu.
Keck writes from Raymond, Ohio.
Subscribe to receive top agriculture news
Be informed daily with these free e-newsletters
You May Also Like
---