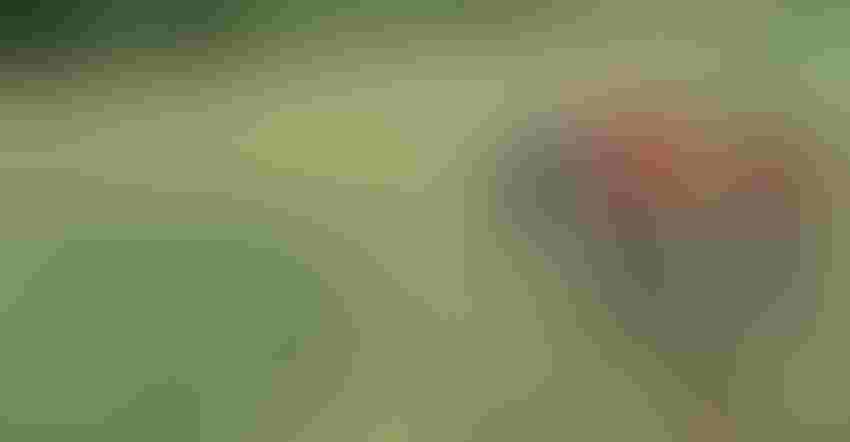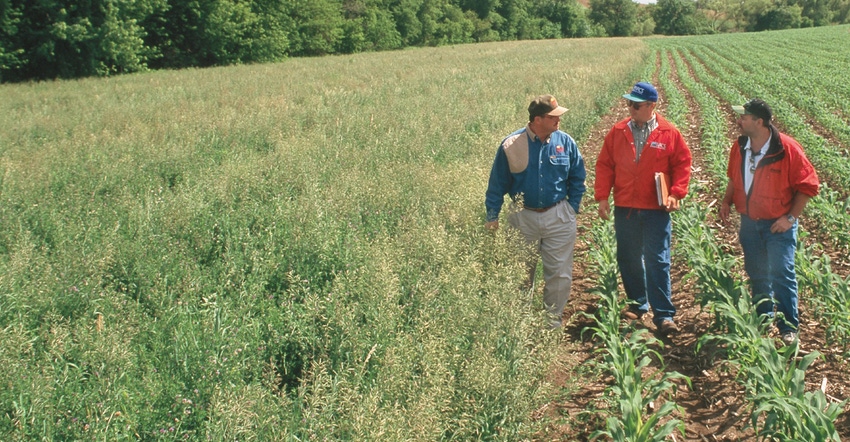 DIGGING DEEPER: New legislation provides some changes for soil and water conservation programs.
The National Sustainable Agriculture Coalition is posting a series of articles on its website analyzing some of the programs and policies of the new 2018 Farm Bill. These posts will detail how the new farm legislation recently signed into law is likely to impact conservation programs and other sustainable ag programs administered by USDA.
Subsequent posts will focus on local and regional food systems, nutrition incentive and anti-hunger programs, and beginning and socially disadvantaged farmers.
The farm bill's Conservation Title affects numerous programs and policies that play a critical role in supporting farmers' efforts improve water quality, soil health and other natural resources on agricultural land across the country.
With the 2018 Farm Bill now law, farmers committed to improving their farms' resiliency and profitability now need to understand how changes in federal conservation programs might impact them. The farm bill's Conservation Title affects numerous programs and policies that play a critical role in supporting farmers' efforts to improve water quality, soil health and other natural resources on agricultural land across the country.
CSP, EQIP reach for sustainable goals
Conservation programs help farmers to enhance the sustainability of their operations while keeping land in production. The two primary farm bill programs that support these efforts are the Conservation Stewardship Program and the Environmental Quality Incentives Program. Together, CSP and EQIP provide  financial and technical assistance to farmers and ranchers looking to maintain or improve their land stewardship. Working lands conservation programs not only improve natural resource stewardship, but also help farmers to increase their profitability.
Despite their myriad benefits, working lands conservation programs were at the center of major conflicts during the 2018 Farm Bill debates. In the final bill, conservation advocates in Congress were able to secure level-funding for the Conservation Title overall, but working lands conservation programs took a significant hit, particularly CSP.
Conservation programs 
While complementary, the farm bill's two core working lands conservation programs (CSP and EQIP) are fundamentally different both in their approaches to advancing conservation and in how they target support and funds to farmers.
During the 2018 Farm Bill debate, one of the biggest points of contention was around a proposal from the House to eliminate CSP and fold a limited number of its functionalities into EQIP. Thanks to advocacy farm and conservation groups, this attempt failed.
The final version of the 2018 Farm Bill retains CSP and EQIP as stand-alone programs and preserves their unique functions and objectives. CSP's focus is to provide comprehensive conservation assistance to address multiple resource concerns across an entire operation, whereas EQIP offers cost share payments for individual conservation practices.
Ideally, EQIP would serve as a stepping stone program that would allow producers to start with targeted conservation efforts and then graduate into the whole-farm and longer-term conservation activities supported by CSP.
In addition to protecting CSP and EQIP's integrity as unique programs, the 2018 Farm Bill also made important structural reforms to increase coordination between the two working lands programs. NSAC was a vocal advocate for increased coordination between these two programs  and helped to advance this language in several farm bill marker bills, including the GROW Act and SOIL Stewardship Act.
The final 2018 Farm Bill directs NRCS to increase coordination between CSP and EQIP applications, contracting planning, practices and administrative processes. However, the final bill did not include a provision to allow for automatic graduation from EQIP to CSP where eligibility requirements are met. Automatic graduation from EQIP to CSP would have dramatically increased the number of farmers transitioning to advanced conservation practices by further reducing paperwork and administrative burdens.
The bill did increase payments for high-level conservation activities like resource conserving crop rotations, advanced grazing management and cover crop activities. Additionally, the bill authorizes for the first time a payment for comprehensive conservation planning, which will ensure participants have the support they need to take their stewardship efforts to the next level. 
Both of these provisions were included in the GROW Act and SOIL Stewardship Act thanks to the tireless work of our congressional champions and the conservation advocates who worked alongside them throughout the farm bill process.
Major funding cuts, however, were made to working lands conservation programs over the next 10 years, which will ultimately reduce the impacts of these positive policy changes by dramatically reducing the number of farmers able to take advantage of them. 
Funding same 2014 bill
Conservation Title spending in the 2018 Farm Bill totaled nearly $60 billion over the 10-year scoring window of the bill. Overall, this funding level is the same as what was provided in the 2014 Farm Bill; however, there were some major shifts in funding distribution within the title.
Several farm bill conservation programs were granted at the expense of funding for CSP. Because there was no net increase in funding (and likewise no restoration of the $6 billion cut that the Conservation Title took in the last farm bill), funding increases for smaller conservation programs were provided by taking money out of CSP.
However, the cuts to CSP will not be immediately apparent. Because CSP contracts operate in five-year blocks, the funding for new and existing contracts will not see an overall decrease during this five-year farm bill cycle. The 2018 Farm Bill does, however, create a $5 billion hole in the total amount of funding that will be available for working lands conservation programs. If these shortsighted cuts are not reversed in the next farm bill, farmers will feel significant effects in future years.
Thanks to the combination of funding for existing contracts plus new CSP contracts, CSP funding will not see an overall decrease during this five-year farm bill cycle. However, when Congress sits down to write the next farm bill, they will have $5 billion less in working lands conservation funds to work with (2018 Farm Bill cuts are spread out over a 10-year period). 
Implementation timeline 
For fiscal year 2019, the new farm bill directs USDA's Natural Resources Conservation Service to continue operating EQIP and CSP (and a majority of other farm bill conservation programs) under the rules of the 2014 Farm Bill. This delay is necessary so that NRCS can solicit and receive public feedback as part of their development of rules and implementation guidance.
At present, detailed timelines for FY 2019 conservation program enrollment periods have not yet been released. Initial EQIP sign-ups did begin late last year (because the program had available funds), but NRCS has yet to initiate the FY 2019 CSP sign-up process.
What to watch for
As a result of the partial government shutdown, no one knows exactly when USDA will be able to begin the rulemaking and implementation phases of the 2018 Farm Bill.
Following the passage of the last farm bill in February 2014, the CSP interim final rule was released in November and the EQIP interim final rule published in December 2014 — roughly 10 months after farm bill passage. Interim final rules are effective immediately but do allow an opportunity for public comment following their publication. The final rule for CSP was released in March 2016, with the final rule for EQIP following shortly after in May 2016.
Assuming a similar timeline, NSAC anticipates the interim rules for EQIP and CSP would be released later this year. As opportunities arise, NSAC will work with NRCS to ensure that rulemaking and implementation decisions allow for maximum conservation benefits and accessibility. With much about this "second stage" of the farm bill still unclear, the following two sections outline key issues that NSAC will be watching as these processes move forward.
Farmer and stakeholder input
As NRCS moves forward with implementing the 2018 Farm Bill, farmers and other stakeholders will play a critical role in ensuring that working lands conservation programs are accessible and effective. The public will have an opportunity to weigh in on the specifics of these programs throughout the rule-making process, and NSAC will publicize all opportunities for submitting comments and recommendations. 
When new opportunities to participate in EQIP and CSP are finally available, it will also be critical for all stakeholders to help get the word out so that all qualified farmers looking to advance conservation on their operations have a chance to access these resources.
For more information, see A Closer Look at the 2018 Farm Bill: Working Lands Conservation Programs.
Source: National Sustainable Ag Coalition, which is solely responsible for the information provided and is wholly owned by the source. Informa Business Media and all its subsidiaries are not responsible for any of the content contained in this information asset.
Subscribe to receive top agriculture news
Be informed daily with these free e-newsletters
You May Also Like
---