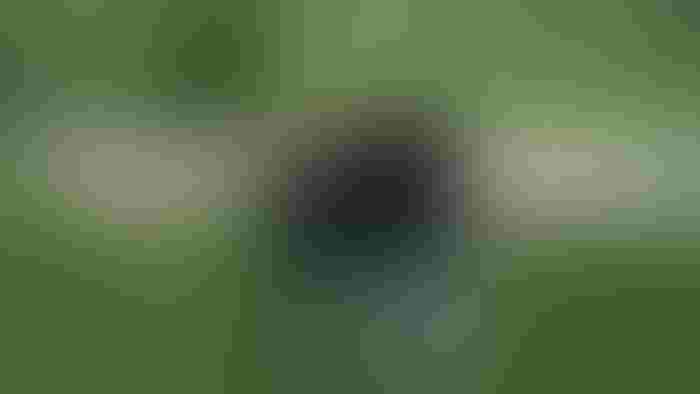 To have an appreciation for the land Julius (Jules) and Jodee Verhovec are farming, you need to know its history.
Both now 70 and retired — Jules a steelworker and Jodee a middle school science teacher — they have been and still are active, busy people. They both have roots in agriculture, but it wasn't until Jodee's father, Fred Straus, passed away in 2005 that they considered becoming farmers.
Jodee's mom, Helen, loved the 64-acre homeplace, with its majestic white farmhouse and nostalgic, yet functional, red barn nestled in the rolling hills in Smithfield, Ohio, in Jefferson County. 
Dotting the landscape are white Charolais beef cattle — a breed her father beloved at his first acquaintance in Europe while serving in World War II.
Jules bought the equipment and the cattle from Helen and continued working the home farm, which had traditional perimeter fencing and cows on pasture.
As picturesque as this vision is, the land next door was just the opposite — strewn with debris and refuse and swallowed up by invasive multiflora rose bushes and other overgrowth. It literally became a dumping ground after the farmer-owner passed away.
In 2007, that junk-ridden 60-acre parcel came up for sale. The Verhovecs knew it was bad, but they also knew it was perfectly adjacent to the home farm. They bought it.
What they didn't know was the sprawl and depth of the rubbish.
Strewn was everything from mattresses and toilets to couches and bathtubs, but especially tires — a lot of them. They recycled 2,000 of them through their local, annual recycling program, and a program though Clean Ohio took another 2,000 tires.
And they're not done. "As we get to the ravines, there's even more tires. … We're still finding them," Jules says. And there was the scrap metal, which has value, but there also were about 100 gas tanks, which the scrap yards would not take unless they were shredded. "I made a deal with a guy that he could have all the scrap metal and whatever income, but he also had to take the gas tanks," Jules says.
In the end, the scrap metal filled 14 industrial-sized dumpsters. "Our kids thought we were nuts, but it adjoined the farm and made sense for us," says Jules, who recounts standing up on his tractor while brush hogging to see where he was going. "You could not see the front of the tractor, and the front tires did not touch the ground," he says.
This was no weekend project; they spent the next several years and countless hours bringing the land back to life. Their vision remained steadfast, even though their will was sometimes challenged.
"Over the last 15 years, they have transformed the property, so much that you can't tell where the original pastures end and the additional acres begin," says Mark Nelson, board chair of the Jefferson Soil and Water Conservation District Board, which nominated them for the award. Jodee served on that board for 15 years and also on the state board for quite a few of those years.
Regenerative agriculture
Regenerative agriculture with rotational grazing was a new way of thinking for the Verhovecs, but one that intrigued and coaxed them into many conferences and pasture walks to learn more.
With ideas from the Eastern Ohio Grazing Council (EOGC) and guidance from the Jefferson County Soil and Water Conservation District and the Natural Resources Conservation Service, they were able to install an extensive gravity-fed watering system that helped with subdivision of the paddocks. Bale feeding, rotational grazing and fertilizer application have helped to regenerate the fields into pasture.
"When we were first starting into it, we'd spend a whole week after a pasture walk talking about what we saw, what we liked and how to incorporate it into our farm," Jodee says.
"The ticket is to do soil samples and fertilize your pastures," says Jules of his nine paddocks. "It's just fabulous how that grass is growing and how it's growing our cows, who are very healthy."
He puts cows in when forages are 8 inches. "You want them to eat half and leave half — ideally leaving 4 inches. And when you're rotating cattle like that, they only eat the good stuff, so once I move them, I go in and brush-hog the weeds."
At one informational meeting, Jules remembers the speaker saying, "You never want your cow to have a bad day." He says, "That really stuck with me. I really want them to be healthy and happy."
Getting started
Water. It's a key component to successful rotational grazing. On the land they purchased, a spring was located on one of the hills and developed to create a water source for a newly formed adjacent paddock.
With the high elevation, they used underground piping to develop four additional watering sources that were each split between two paddocks.
Overflow is then routed to the pond, which is fenced in to keep cattle out, and surrounded with filter strips to keep runoff contained. Fruit trees, protected from deer with 4-foot-high woven wire, were planted to attract pollinators.
Jodee's dad had developed a spring on the original property, which they piped to create a water source for two paddocks.
Temporary polywire is used to split the hayfield toward the end of the season and early winter.
The cattle are bred and in good condition going into the winter season. One paddock has access to a lean-to in the winter, but Jules says they rarely go there. "They prefer the protection of the trees in high winds and stormy weather," he says.
With a hay bale roller, he unrolls round bales for the first freezes or inclement weather.
 "They love to lay out on that, and I will strategically place it in a field with weak fertility," Jules says. "I only unroll it for two days of feed, so they don't waste too much when they're doing their business on it. By targeting a weak spot in fertility, I'm pinpointing fertilization."
For high-traffic areas, Jules went down 12 inches, installed geotextile fabric, and then applied heavy limestone and topped it with fines. A heavy use pad was also installed. "It really cuts down on erosion because once you start making ruts, it's never-ending," he says. "When it rains, you get more ruts."
Looking ahead, the Verhovecs like to continue to share their ideas and what they have done. Numerous landowners, business leaders, elected officials and conservation professionals have visited and toured their farm during such events as the EOGC's pasture walks, and the soil and water district's countywide bus tour.
Their two daughters are now grown, married, living in Columbus and each has a daughter.
They are frequent visitors to the farm, especially during holidays, and "I told them I would take them anywhere they wanted to go on vacation, and they said, 'We want to come to the farm,' "Jules says.
Farming and conservation go hand-in-hand, Jules says, and if you put the effort in, you can see the results and be proud of it.
Jodee adds, "We don't believe in the degradation of our land. We believe in being good stewards to what God has given us, and that's not just our farm, but also our village. Whatever you choose to do, do it with respect and show pride in it."
Subscribe to receive top agriculture news
Be informed daily with these free e-newsletters
You May Also Like
---