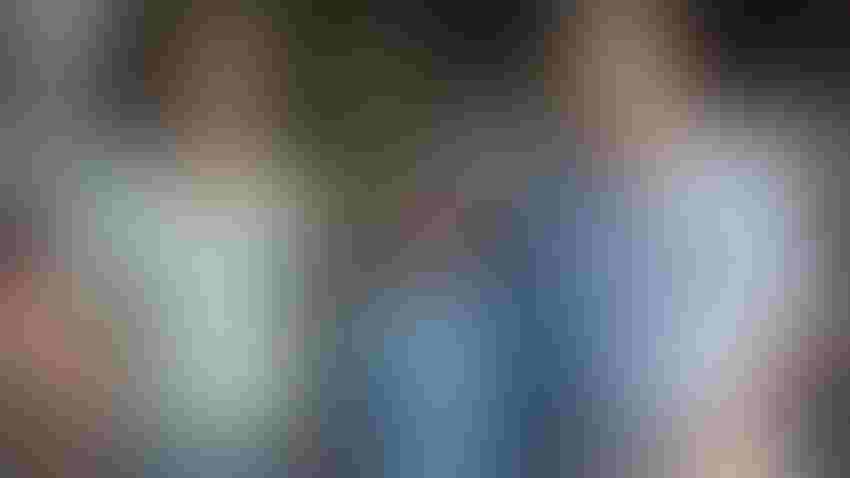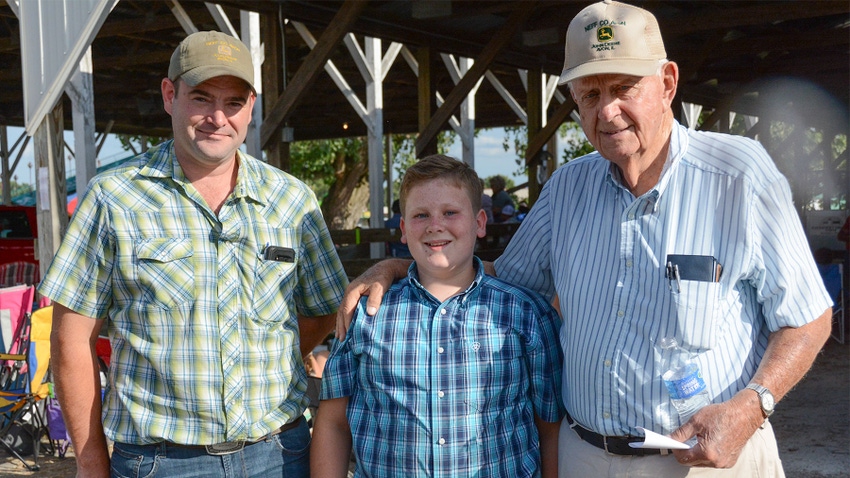 ALL SMILES: Neff Co.'s Mark Smith (left); my son, Nathan; and Bill Maloney lined up for a picture right after Bill bought Nathan's steer at the 2018 Fulton County Fair. It wasn't the first or last time he'd do that. "I always remember Bill saying, 'Well, you keep us in business, I want to help you out, too,'" Nathan says.
Photos by Holly Spangler
A few years ago, my husband and son stood in the doorway of Bill Maloney's office at Neff Co. Brown paneling, lots of John Deere green, a little dust and a view out onto Main Street, Avon, Ill. Bill had owned the place since the 1970s, worked there since the '50s, and loved talking to kids.
Nathan was maybe 13 years old at the time. Bill was pushing 90.
"Young man," he said to Nathan, "why don't you come on in here and sit down? We can get to know each other better. You and I are gonna need to do business when your dad retires!"
It's my favorite story because it's exactly how Bill Maloney thought. Always thinking about the future, and always investing his time and talent in the next generation. He never let age overcome his optimism.
Bill Maloney passed away last month at 93 years old and larger than life. He was a redwood — a giant in his community — selling millions of dollars of farm equipment for nearly 70 years and buying hundreds of 4-H and FFA animals.
Bill grew up on a farm south of Jacksonville, Ill., with horse-drawn equipment and without running water or electricity. He married Lois, built roads in Korea under combat conditions, and then in 1956, answered an ad in Prairie Farmer magazine: "Wanted — Machinery Salesman." He came to Avon, met Clarence Neff and went to work for Neff Co. Bill became store manager in short order, and he and Lois bought the dealership in 1973.
Bill ran his dealership in a few ways that set him apart. For one, he did business the way it was done long ago, cutting through layers of management and offering credit apart from John Deere financing. He was known for taking fantastic care of people, and it showed in his sales. And he resisted the push to multisite dealerships, maintaining a single store for nearly seven decades.
Chad Hensley is a territory manager for John Deere who also happens to farm up the road from Neff's. He'll smile and tell you Bill believed in inventory. He carved out a niche renting older used equipment, and everybody for miles knew if they needed a part, Neff probably had it. Bill didn't care if he carried parts that didn't sell for years; he wanted 'em on hand so customers could count on it.
"We frequently joke that when John Deere doesn't have a part, we'll go to Neff Co. for one," Chad says, laughing.
Once Bill told my husband he could always tell when he'd accidentally lowballed an equipment price. "There'd be two guys sitting in the office, and I'd give them a price. One would look at the other and say, 'Well, I guess we oughta just go ahead and do it.' That's when I knew I priced it too cheap!"
Bill also hired good people and told them family came first. So they stayed. Folks like Frank Craver, who's been the service manager since 1994. He started 38 years ago as a college intern.
"So many employers think of themselves first, and Bill Maloney never did that," Frank says.
Or in other words, he did right by people.
Sold! Over and over
We saw that when Bill showed up at 4-H and FFA livestock sales, bidding on our kids' calves. He bought my husband's calves, too, a generation before. I imagine someday he would buy my grandchildren's calves, too, if he had the chance. That's who he was.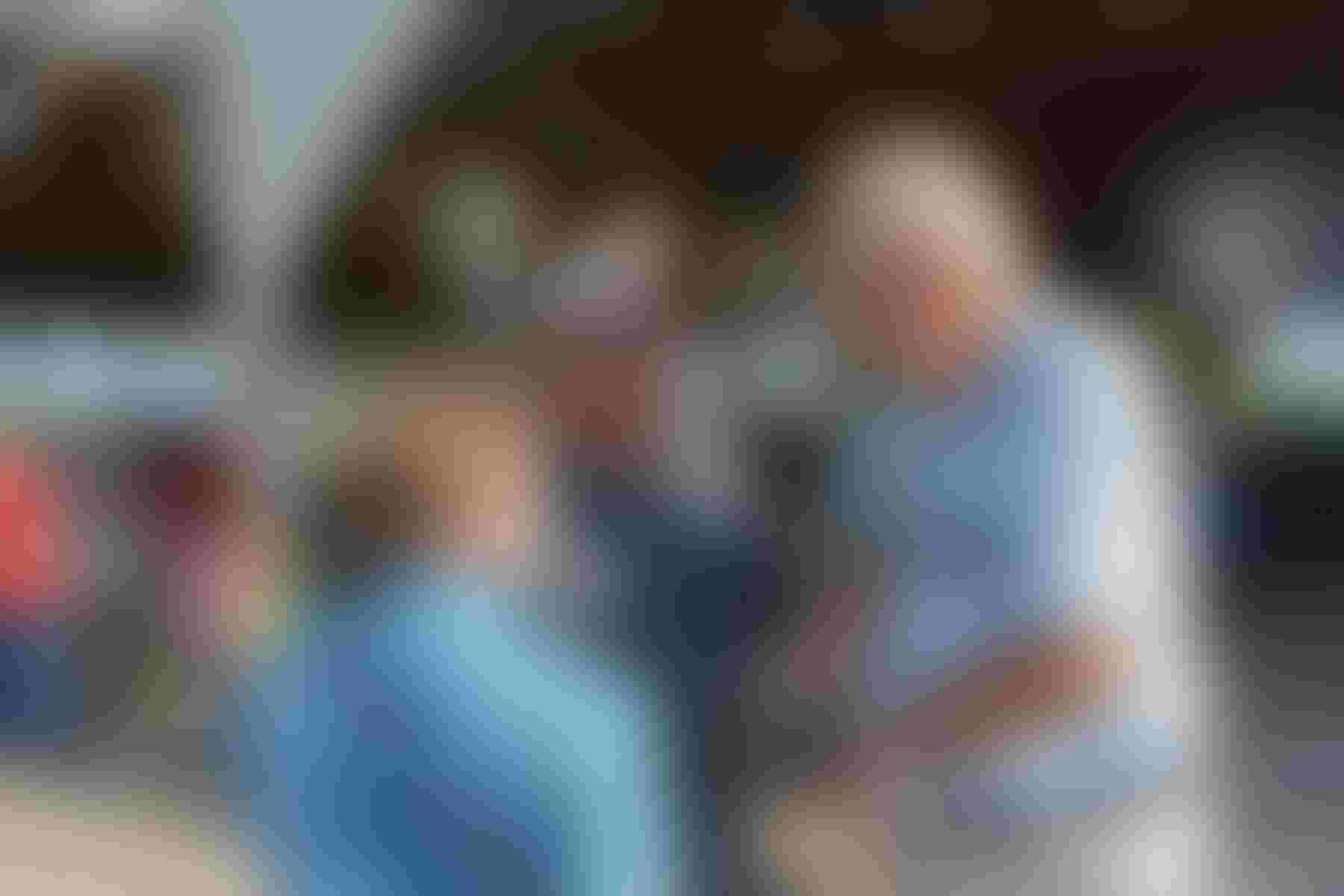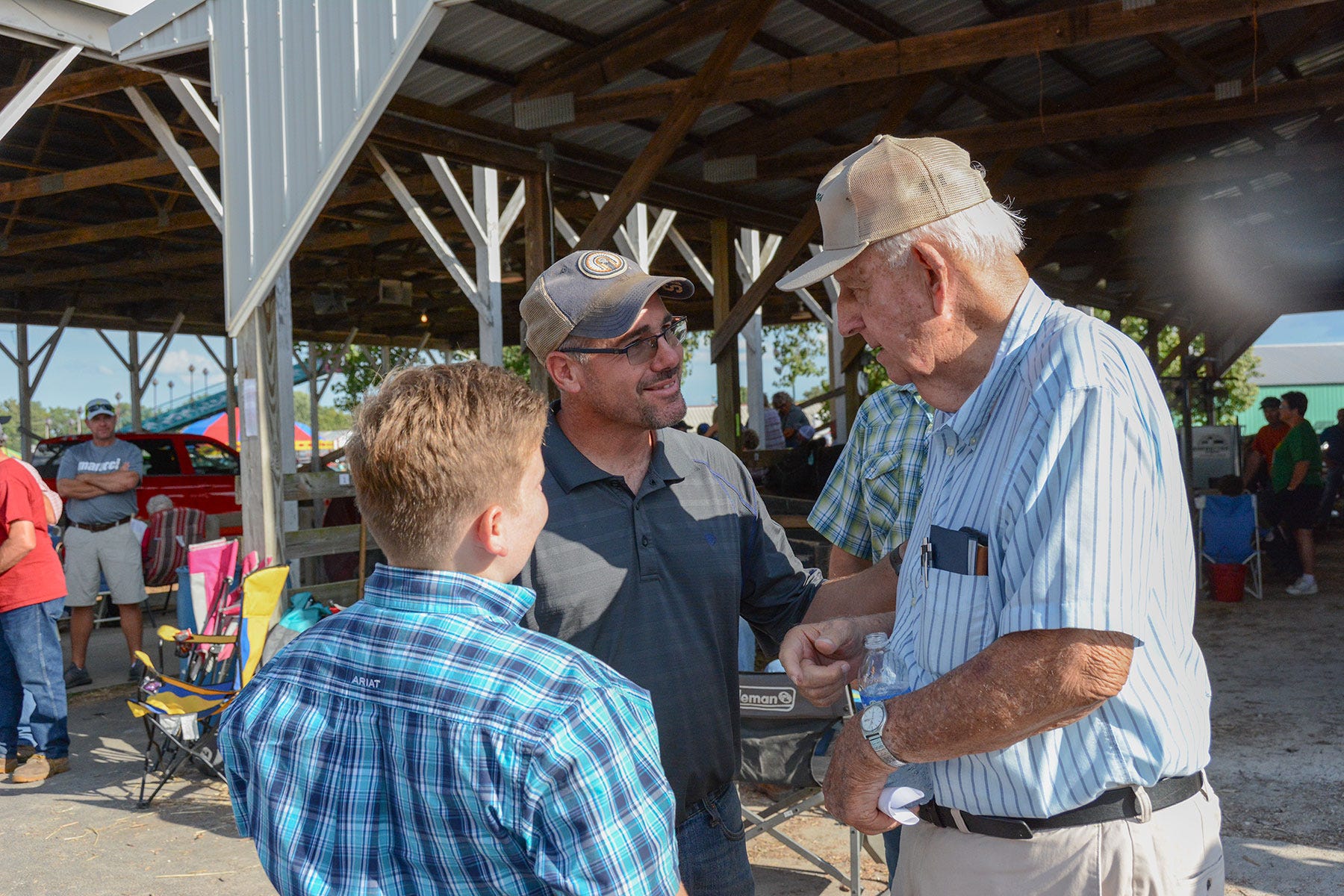 BEST MANAGEMENT: Bill Maloney and Neff Co. have bought Spangler calves dating back to the 1980s — offering multigenerational support, just like he did for a lot of families. Bill had a great line he loved to tell about Neff Co.: "People always come in and tell me we've got great service, great parts, great salesmen, but management's really lacking!"
Frank laughs when he remembers the year Bill bought his daughter's steer for a whopping $6.40 a pound. Frank went to him after and offered to give half back. Bill wouldn't have it.
"I bid that because I wanted to!" Bill told him.
Frank's daughters were 10 years apart and spent 20 consecutive years in 4-H. Bill bought their calves, every single year. "He probably paid for half their college," Frank says.
Those livestock auctions pump dollars back into young people's hands, sending them to college or funding a future cattle herd. The fundraisers and the cake auctions make community festivals happen. The St. Jude fundraisers save kids' lives. Bill and Lois Maloney gave and gave.
They came to town with so little. And the only thing that matched their endurance in the equipment business was their generosity to the community.
Be a legend
There won't ever be another Bill Maloney. But a lot of communities have a Bill and a Lois — legends in their own time who give back to such a degree they'll never be matched. Sometimes that's with money; think of the businesses that give every time the school or ball team or park fundraiser comes calling. Sometimes it's with time; the folks who serve on the school board or the county board or the fair board. Semi-thankless jobs that make the community better. And in nearly every case, those are people who care deepest about the people around them.
"Bill's a legend," Frank says. "Always willing to help out."
So the question for every one of us: How can you help out?
Comments? Email [email protected].
Subscribe to receive top agriculture news
Be informed daily with these free e-newsletters
You May Also Like
---