A lot of people talk about soil health and conservation these days. The trend is catching on. Federal officials say they're bombarded with far more requests for cost-share funding than they can grant. But they want the requests to keep coming, and the interest to grow.
Why are so many people not just talking about soil health but trying more cover crops and doing more no-till? Maybe it's because they perceive the people who are promoting it are also doing it, not just talking about it.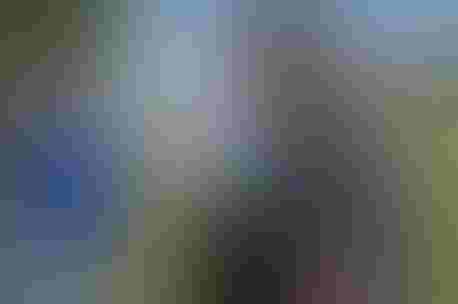 WALK THE TALK: Mike Starkey (far right) shows employees of the Nature Conservancy how cover crops help soil health during a visit to his farm.
Many years ago an ag teacher asked me to come take a picture to promote the school's FFA safety campaign. The heart of the program was placing safety stickers on tractors. I obliged. He took me to a farm, and one of his students pulled his tractor out of the shed. The teacher got out a safety sticker, and the student held it up as he stood in front of the tractor. I snapped the picture. As soon as I did, they put the sticker away. And the student put the tractor back in the barn. They didn't put the sticker on the tractor.
I wrote the story, but it has always haunted me. How sincere was their safety program if they weren't willing to put a sticker on their own tractor for whatever reason? Maybe that incident is one reason why I like to watch what people do, not just what they say.
Two people who host meetings and talk a lot about no-till, cover crops and soil health are Mike Starkey, Brownsburg, and Roger Wenning, Greensburg. Why do so many people show up at their farms for field days? Why do people listen to them?
Maybe it's because they don't just talk. They do it. And they show people what they do. They show the successes, and the failures. And if there is a failure, they talk about what they will do to prevent it next time. And there is a next time. They don't just jump off the bandwagon because they ran into one detour.
Starkey loves to get people to his farm to see what he is doing, not just what he is saying. He recently hosted a large group of international visitors. He's also hosted EPA officials, a U.S. senator and employees of the Nature Conservancy. It's pretty obvious he has nothing to hide.
Wenning puts cover crop plots out every year, besides covering the majority of his acres with cover crops each fall. Every time he holds a field day, he digs a pit. He already knows what he will find. Roots will be growing several feet deep. But he wants others to see the roots, not just hear about roots.
Maybe Starkey and Wenning are two reasons why the Natural Resources Conservation Service is flooded with requests for cost share for soil health practices. Maybe it's them, and dozens of other farmers around the state who also walk the talk. If you want people to listen for a while, you can talk a good game. If you want them to change what they're doing, you've got to carry out a good game yourself.
Congratulations to all Hoosier conservationists who walk the talk. It's why Indiana is the leader in the ever-growing soil health movement.
Subscribe to receive top agriculture news
Be informed daily with these free e-newsletters
You May Also Like
---