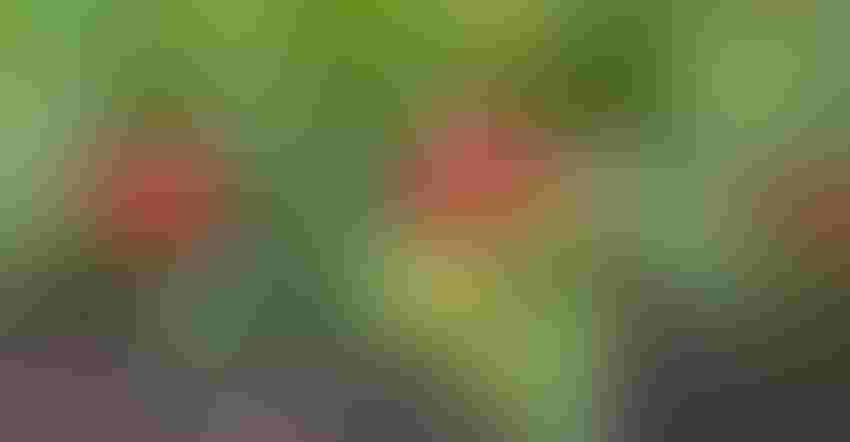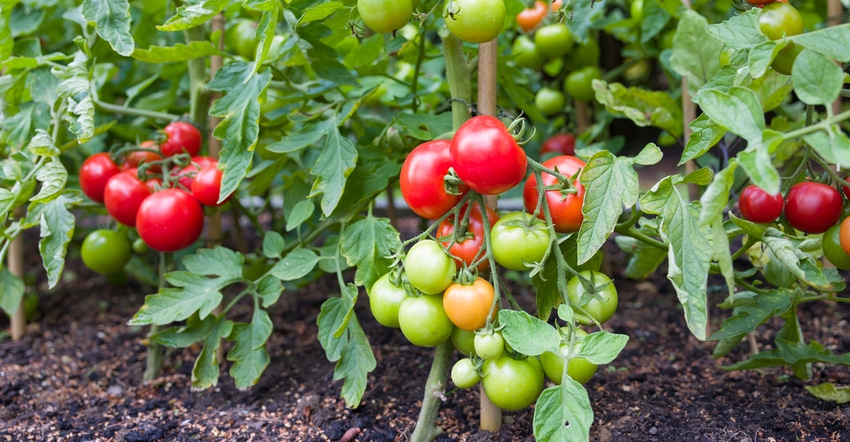 TOMATOES, TOMATOES, TOMATOES: Decide how many tomato plants you want to grow in your salsa garden. Three or four tomato plants will produce plenty of tomatoes for salsa.
PaulMaguire/Getty Images
If you'd like to grow some vegetables but you don't want all the work and responsibility that comes with a big garden, consider growing a salsa garden.
A salsa garden is a small garden that includes the main ingredients you would find in salsa — tomatoes, peppers, onions, garlic and cilantro or parsley. If you love salsa, planning your garden around salsa ingredients is a smart idea. Following are tips to plant a salsa garden that will provide plenty of ingredients for fresh salsa all summer long.
Select an area that receives at least eight hours of sunlight per day. Make sure it is well drained, or plant your garden in a raised bed. Your salsa garden can be any size or shape you like, but it should be at least 4 feet by 4 feet. If you like more space between plants, make it 8 feet by 8 feet. Use a tiller to till the soil, or if you prefer, you can till your garden by hand with a shovel, a pitchfork, a hoe and a metal rake. Mix in one bag of dry manure or compost and a few bags of topsoil from your local garden center.
Decide how many tomato plants you want to grow. Three or four tomato plants will produce plenty of tomatoes for salsa. I prefer a meaty variety of tomato for salsa like Roma. Red or yellow cherry tomatoes also make excellent salsa. Yellow cherry or plum tomatoes will add color to your salsa.
Plant the tomatoes on one end of your garden, 18 to 24 inches apart to allow for growth. I prefer to use homemade tomato cages made from woven wire fencing that is 4 feet tall. I usually anchor the cages with U-shaped metal clips that push into the soil to keep the cages from falling or blowing over. Try to plant the tomatoes on the north side of the garden so they don't shade the rest of your garden. Tomato plants will grow at least 4 feet tall. Tomatoes are very sensitive to cold. Make sure you plant tomatoes after the threat of frost has passed in your area.
Hot or mild?
Do you like your salsa mild or hot? For a mild salsa, opt for red, green or yellow bell peppers to add color to your salsa. If you like hot salsa, select jalapeno, habanero or chili peppers. Banana peppers are another option that can be used in hot or mild salsa. If you plant four different varieties of peppers, you can experiment with what mix works best in your salsa. You can purchase pepper and tomato plants at your local garden center. Plant peppers at least 1 foot apart.
Onion sets are sold in bulk by the pound and come in yellow, white or red. Grab a handful or two of each for some variety of flavor and color. Store extra onion sets in a cool, dark location, and plant whenever a spot opens up in your garden. Space onions 4 inches apart.
Garlic is usually planted in the fall for larger bulbs, but it can be planted in the spring. Spring-grown bulbs will be smaller but will taste the same.
Cilantro adds a nice zing to salsa. Cilantro matures quickly, especially in warm weather, so to keep a continuous supply available for fresh salsa, keep seeding some every three weeks. If you don't like cilantro, parsley is a good alternative. Parsley plants are available at your garden center.
Water your garden regularly. Plants need about an inch of water every week once they are actively growing.
Growing a salsa garden doesn't take as much time as a big garden and will provide you with the fresh ingredients you need to whip up a batch of salsa in no time.
Comments? Email [email protected].
Subscribe to receive top agriculture news
Be informed daily with these free e-newsletters
You May Also Like
---