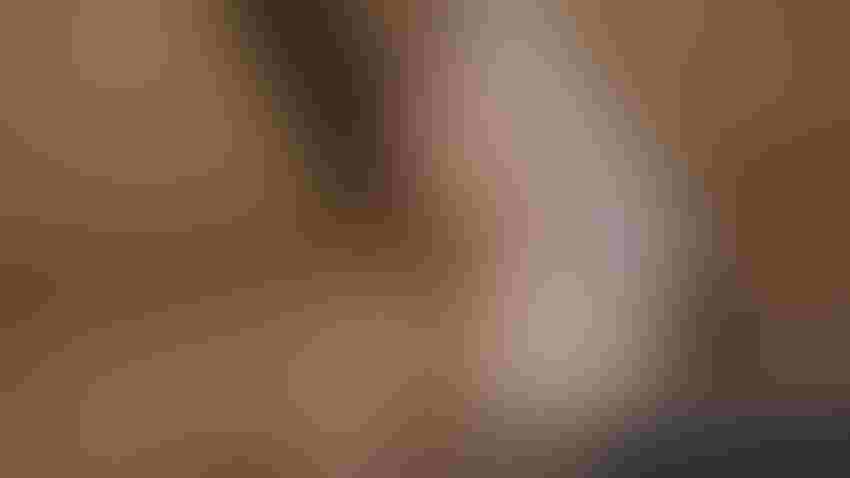 1ST FISH FRY: New Purdue President Mung Chiang arrived at the Purdue Ag Alumni Fish Fry in the back of a UTV.
Tom J. Bechman
Karen Plaut got down to business in her role leading a conversation with new Purdue University President Mung Chiang during the 2023 Purdue Ag Alumni Fish Fry. Plaut, former dean of Purdue Agriculture and now the university's executive vice president for research, asked Chiang to share his vision of the future for Purdue.
"My vision for Purdue's future has much to do with the two flags on the stage today," Chiang began. Chiang was named to succeed Mitch Daniels as president after serving as dean of the Purdue College of Engineering.
"The American flag is on the stage, and I believe in our freedom as individuals and as a country," he said. "I worked in the U.S. State Department for a year, learning about the role of the U.S. in the world. I believe in the freedom of higher education and to pursue making it even better."
Chiang pointed toward the flag of the state of Indiana on the stage and continued: "Besides being an American university, the other half of our DNA at Purdue is wrapped up in the state of Indiana. I believe in the future, we will create, document and deploy knowledge in students and for agribusinesses in this country. What we can do here is fundamental to the future of Indiana and the U.S."
County visits
While visiting and speaking during the Purdue Ag Alumni Fish Fry was one of Chiang's first official appearances before Purdue ag alumni, he has interacted with Indiana farmers and rural residents since he was tapped to be the next president of Purdue.
"I pledged that I wanted to visit all 92 counties by summer of my first year as president, and we are working toward that goal," he told Plaut during their conversation. As of Feb. 1, he had visited 40 of Indiana's 92 counties. When he visits a county, he is usually accompanied by Plaut or someone well-versed in Purdue Agriculture. Part of his visit each time involves touring Purdue Extension offices, and visiting with various Extension educators and ag and business leaders in each community.
"These are our neighbors, and we must know what they expect from us," Chiang said. "I'm learning that each county is unique, and that our clients have unique experiences interacting with Purdue Extension. Every one of those interactions is important."
CANDID CONVERSATION: Purdue President Mung Chiang (left) and Purdue Executive Vice President for Research Karen Plaut discuss Chiang's goals for his administration during the Purdue Ag Alumni Fish Fry. (Photo by Tom Campbell)
Before their conversation ended, Plaut asked Chiang to explain what he expected from Hoosiers in relationship to Purdue.
"It boils down to a couple of things," he said. "First, tell your friends and neighbors that Purdue will continue to do all it can to support ag business and its practices in Indiana. What we need to hear from you is what you need us to do — how can Purdue help? What resources can we provide? What problems can we help solve? That is what we are here for!
"Second, send us your students, not only your sons and daughters, but your nieces, nephews and cousins. We need you to keep sending us good students so that we can continue to shape the next generation."
Subscribe to receive top agriculture news
Be informed daily with these free e-newsletters
You May Also Like
---