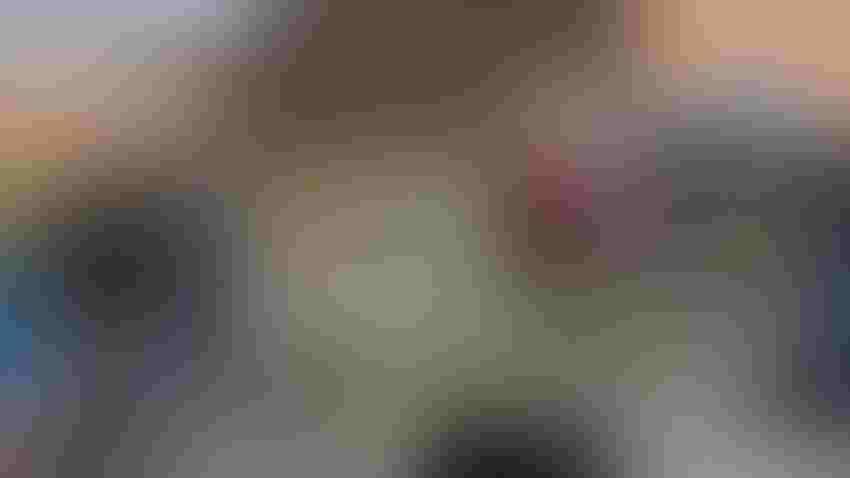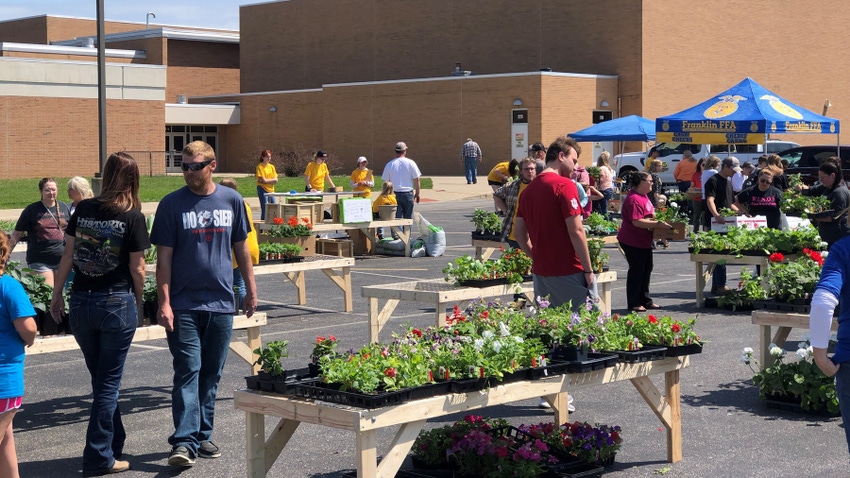 WORTH EVERY DOLLAR: Tables at the Franklin FFA plant sale were designed and built by vo-ag students. CTE funds help keep vo-ag and FFA programs strong across Indiana.
Tom J. Bechman
Ask Jeff Cummins about accomplishments achieved by Indiana Farm Bureau during the 2023 Indiana General Assembly, and sooner or later he will talk about state budget achievements. Yet one victory isn't about getting more funding. Instead, it was simply keeping the Legislature from dropping funding for technical education, which has been ongoing for a long time.
In Indiana, school corporations that offer state-approved courses in career and technical education receive money per student to help defray costs, including teacher salaries. CTE includes but is not limited to agricultural education.
There was an effort in the General Assembly to drop line-item funding for CTE in the 2023-24 budget, explains Cummins, director of state government relations for Indiana Farm Bureau Inc. In fact, the Senate cut it from the budget. Fortunately for ag programs everywhere, House leaders pushed to add the CTE funding back in conference committee, and it was restored.
"Some members of the Senate favored putting the money elsewhere where they thought it would do more good, but it would not have worked out as they thought," Cummins says. "If schools received the same funds but it wasn't earmarked for CTE courses, it would go into the general fund and could be used for anything. We worked to make sure it was restored, and we will work to educate everyone as to why it is important to provide CTE funding."
Thanks for pushback
Unfortunately, this isn't the first time CTE funding has been on the chopping block. In fact, it's not even just the second time. It seems on its way to becoming a habitual occurrence.
This time, as before, concerned ag teachers and FFA supporters rallied their troops, and legislators received many contacts urging funding be restored, Cummins says. Many INFB members were among those asking that technical education, including vocational-agriculture education, be supported.
The scary part? What happens if this ugly trend continues, and next time the ax somehow falls? Why play around with something as important as training young people in employable skills?
One could argue that if ag education is so valuable, school systems would continue to support it and retain teachers whether it was supported by earmarked funding or not. In the real-life world of public education today, in a society where farmers make up such a small percentage even in rural communities, that's not how it would turn out in every school — maybe even in most schools.
"We all need to do a better job of communicating how valuable this funding is to rural Hoosiers," Cummins says. "One issue is that agriculture-related jobs tend to be underreported in state employment numbers. So, if legislators look at those numbers, it may not seem that it's as important a part of the state economy as it is."
Second, many legislators don't understand the tie between ag education and FFA. They love seeing young people in blue jackets in the statehouse every year. But if vo-ag programs go away, FFA goes away. Only vo-ag students can be FFA members. It's likely many legislators don't get that connection.
It looks like we all have some educating to do before the 2025 Indiana General Assembly budget session.
Subscribe to receive top agriculture news
Be informed daily with these free e-newsletters
You May Also Like
---