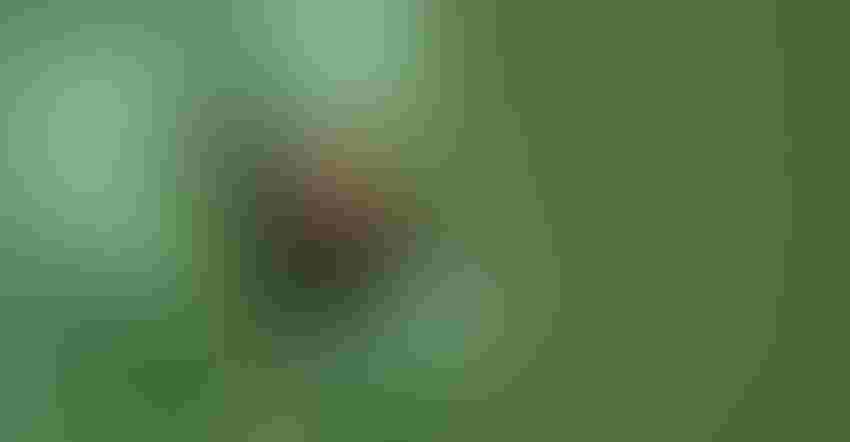 PESKY PESTS: Japanese beetles can be very abundant in some years and less in others.
Justin Tahai/Getty Images
Japanese beetles feed on the leaves, flowers or fruit of more than 350 species of plants, shrubs and trees, according to Kaitlyn Davis, La Crosse County, Wis., Extension ag educator. Some of the species Japanese beetles like feeding on the most include rosebushes, birch trees, linden trees, apple trees, plum trees, raspberries, hollyhocks, marigolds, corn silks, basil, cherries, grapes and soybeans.
Japanese beetles were first found in the United States in 1916, after being accidentally introduced into New Jersey. Until that time, they were restricted to Japan, where they are not a major pest. Here, they are considered an invasive species. Japanese beetles are now found throughout the eastern U.S., except for Florida, and are continuing to move west.
Scout at dusk
Davis says if you are scouting for insects and find damage on plants, trees and shrubs but no bugs, she recommends you scout at dusk.
"They will be hiding under the leaves of plants, trees and shrubs," Davis explains, "especially Japanese beetles. They will migrate from one plant to another."
So, if you see Japanese beetles on your rosebushes, for example, and you spray them, the beetles will move from your roses to your walnut trees or another tree or plant, Davis says.
She recommends using an insecticide called Sevin to kill Japanese beetles. The product comes in a spray bottle or in a powder. According to Davis, the spray works best.
"The spray is going to be more direct," she says. "It will either kill them on contact or it will get into their digestive systems and kill them."
Davis advises following label directions. "The directions will tell you the proper protective gear you should be wearing," she says. "Avoid spraying on windy days. You also may want to spray 12 hours before a rain."
Davis recommends seeking treatment for both the grub and the adult beetle. It could take awhile to bring populations down to a manageable level. In the meantime, you can use insecticides like Sevin or others that contain the active ingredients of acelepryn, bifenthrin, zeta-cypermethrin or others that specifically state they target Japanese beetles.
Healthy, mature trees and shrubs can tolerate a lot of feeding without significant, long-term injury, while young or unhealthy plants may be stunted, injured or even killed from severe feeding.
Healthy flowering plants, such as roses, can survive Japanese beetles. But the blossoms are often ruined by the insects.
Fruits, vegetables and herbs can tolerate limited leaf feeding, but severe damage may affect plant growth and reduce yield. Regular harvesting during July and August can decrease feeding on edible parts of the plants.
Comments? Email [email protected].
Subscribe to receive top agriculture news
Be informed daily with these free e-newsletters
You May Also Like
---