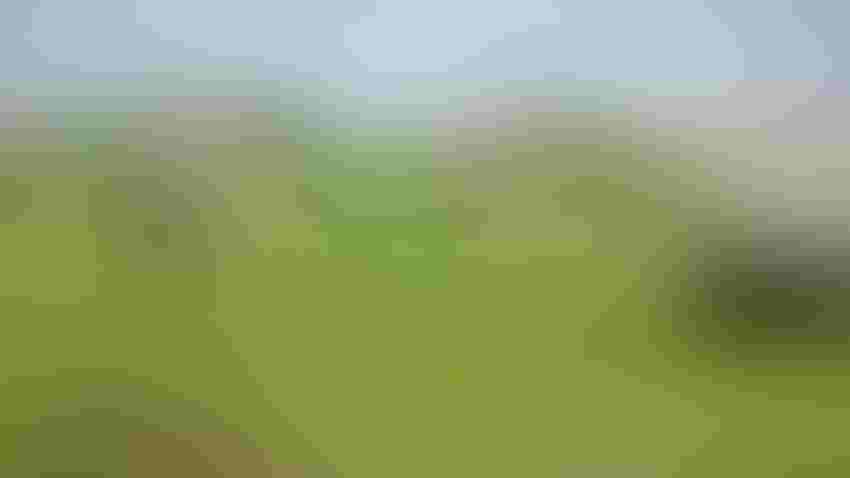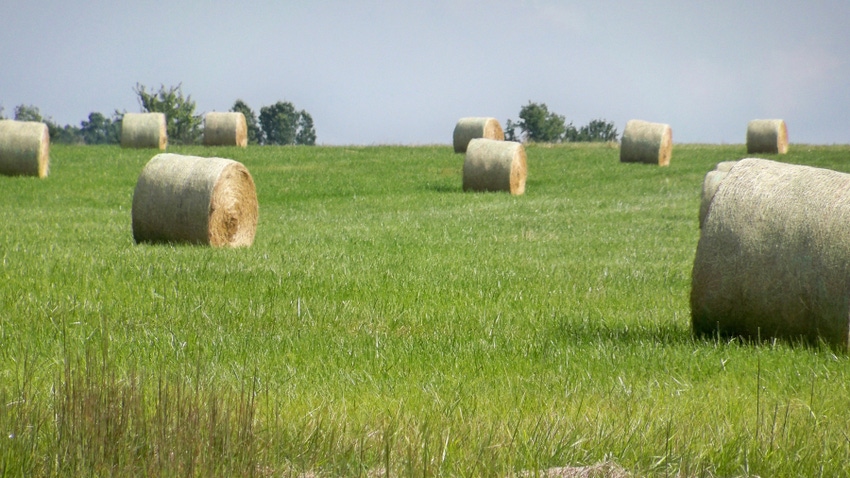 SUMMER LANDSCAPE: Large round bales dot the field, waiting to be gathered and stored for feed.
Carol Ann Gregg
Farmers who make hay cherish blue skies and gentle breezes.
My experience with haymaking is much different than how it is made today. When I got called on to help many years ago, I put bales on the elevator that was set up on the barn bridge. Someone I was on the wagon with was moving bales to where I could reach them.
Several teens were in the barn taking the bales and stacking them for winter feed. That barn is no longer there.
Now, large round bales have become dominant. Some are wrapped in netting, others in white or black plastic. These bales are moved mechanically. The day of finding enough teenagers in the neighborhood who want to work is gone. Like always, farmers change as the times change, and they adapt.
I took a couple of minutes recently to watch a YouTube video of a farmer using a Haybine while paying special attention to the new crusher rollers he and his father had installed. His review was that the new rollers crimped the alfalfa stems so that the alfalfa was ready to bale after three drying days compared to the five days in the past. He also used a moisture tester to see what the actual moisture was before he started baling.
It wasn't too long ago that watching a video produced by a farmer wouldn't be available.
Learning from our phones or computers provides information in our hands as we need it. If you want to learn how to do something, there is a YouTube video out there to help you. I know I have used several to learn how to do new stitches for my knitting.
Helping kids read
Volunteerism can put new energy in your step. Our local Grange has taken on a partnership with a learning support teacher with students in fourth and fifth grade. Her goal is to have them become active and proficient readers by the time they move on to middle school.
The program, "Books for Bucks," provides money for the teacher to procure reading-level and age-appropriate books that are given to each child to have as their own.
Visiting with the teacher has proved to us that this project is a perfect fit. The teacher has selected books that are of interest to each student. Each month, they have a book to take home. The hope is that they will read these books to their parents and siblings.
Two of us went to the school to meet with some of the kids and to have pictures taken with them. The students were so excited to show us their books and to share a thank-you poster they each made to share with the Grange members.
We have been invited to come back to the school sometime in May to listen to the students read their books. If it is a nice day, we will be able to enjoy the outdoor classroom that has been incorporated into their school.
My husband and I enjoy reading. We have shelves and stacks of books everywhere. It has become a daily activity during our retirement.
Most farmers don't really retire; they just slow down a bit. Hopefully, they have made plans for the future of the business that they have loved.
I recently heard some interesting advice for new retirees: "You now have eight hours to do with what you want. Take 20 minutes to exercise, then enjoy the rest of your day."
Stretching in the morning to get yourself moving is a great idea, but it just never seems to happen for me.
The crabapple trees are blooming and flowering shrubs are bringing beauty to the season.
Enjoy, and please be safe during this planting season.
Gregg writes from western Pennsylvania. She is the Pennsylvania 2019 Outstanding Woman in Agriculture and is a past president of American Agri-Women.
Subscribe to receive top agriculture news
Be informed daily with these free e-newsletters
You May Also Like
---