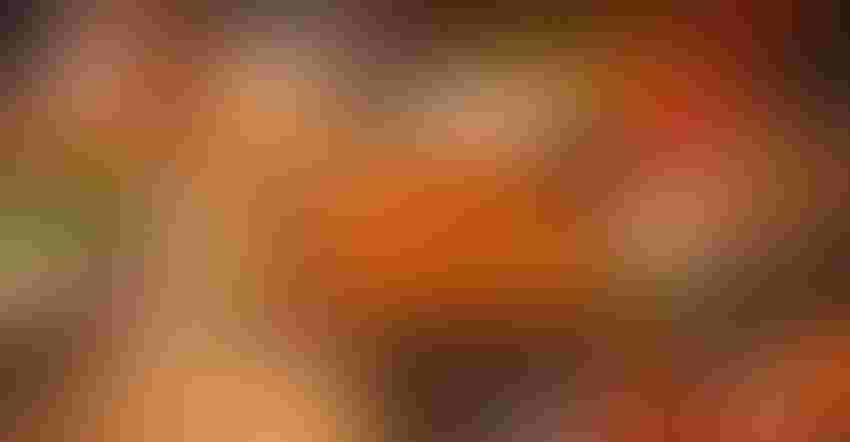 HOLIDAY FEAST: When planning your Thanksgiving menu, don't forget great products from Wisconsin like cranberries, apple pie, pumpkin pie, potatoes, carrots, green beans and, of course, turkey.
AlexRaths/Getty Images
Fall brings celebrations with family and friends that many of us have looked forward to all year. As the turkey, mashed potatoes, cranberries, vegetables and dessert are being passed around the table on Thanksgiving Day, remember to say "thank you" to the many Wisconsin farmers who make this meal so special.
For many families, the star of the meal is the turkey, but for others, it is all about the sides. From the green bean casserole to the pumpkin pie, many of our traditional Thanksgiving sides come from specialty crops. Specialty crops are "fruits and vegetables, tree nuts, dried fruits, and horticulture and nursery crops, including floriculture," according to USDA.
Green beans and pumpkins are not the only specialty crops covering Thanksgiving tables. There is often sweet corn, potatoes, cranberries, sweet potatoes, squash and more. These Thanksgiving goodies are extra special because Wisconsin is a top producer of many of them.
The tart, tangy cranberry has strong ties to our state. At 5 million barrels, Wisconsin produces more cranberries than any other state in the nation and more than half of the entire world's supply of the bouncing berry. Cranberries have several health benefits, and about 20% of the annual cranberry crop is consumed during the holiday season. I recently made a delicious cranberry orange bread that I incorporated ginseng powder into, which is another Wisconsin specialty crop. This recipe will certainly be making an appearance at our family Thanksgiving celebration.
The Badger State is among the nation's leaders in the production of many vegetables. Wisconsin ranks first in the U.S. for producing green beans, third for sweet corn and third for carrots. You can use any of these Wisconsin specialty crops in your Thanksgiving dinner.
Wisconsin is also No. 3 in the U.S. in the production of potatoes. Potatoes are naturally fat-free, cholesterol-free, low in sodium, an excellent source of vitamin C and, when eaten with the skin, a good source of potassium, making them a healthy choice for Thanksgiving dinner.
Don't forget dessert
Now of course, we cannot forget the best part of any Thanksgiving dinner — the dessert. In the Schaefer household, we like to have options for our final course, so we have both pumpkin pie and apple pie. With more than 300 commercial apple orchards in Wisconsin, there is a ready supply of apples for your home baking needs. If pumpkin pie is on the agenda, head to your local pumpkin patch and look for small, round sugar pumpkins, sometimes called pie or sweet pumpkins. When picking right from the field, the stem should be brown but still firmly attached, and check for blemishes and bruising.
These specialty crops can come together to make a delectable Thanksgiving dinner, especially when they are from local producers and businesses. Browse the directory at somethingspecialwi.com or look for the red and yellow logo in your grocery store to be sure you are enjoying Wisconsin-made items from "Something Special from Wisconsin" members.
Schaefer is the 75th Alice in Dairyland.
Subscribe to receive top agriculture news
Be informed daily with these free e-newsletters
You May Also Like
---