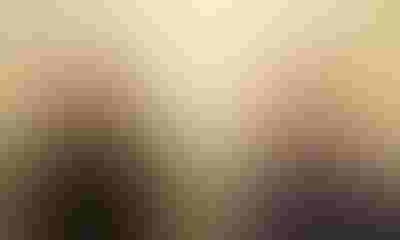 You've heard of Google Glass, Apple Watch, and Fitbit. How about wearable technology for cattle? Brian Schupbach, Chief Technology Officer at Quantified Ag, says that's the next step in monitoring animal health in the feedlot. Recently, Quantified Ag, a Lincoln-based startup company, has taken that step. "We're in the 'Internet of Things' space. For us, the thing is cattle," Schupbach says.

INTERNET OF COWS: Vishal Singh (left) and Brian Schupbach. "We're in the 'Internet of Things' space. For us, the thing is cattle," Schupbach says.
The term, "Internet of Things," has been used since the late '90s to describe the network of objects embedded with electronics, software, and sensors that let them connect and exchange data with a central operator. Of course, cattle can't communicate through the Internet, and they can't tell producers when they're sick. Until recently, the only way to detect sick cattle early on was visual identification.
However, Andrew Uden, Chief Operations Officer at Quantified Ag, who formerly managed the data and technology services of Darr Feedlot Inc. near Elwood, adds it can be hard to identify sick cattle, "even for cowboys that are well-trained. A lot of people coming into the business don't have the experience and knowledge to determine which animals are sick."
Quantified Ag President and CEO Vishal Singh notes when sick cattle aren't identified soon enough it can be a problem for the cattle and the producer. "In the case of BRD (bovine respiratory disease), if you don't detect it early on, it seems like we see the same pattern: an animal gets sick, it gets lesions in its lungs, and at that point, the animal will never fully recover and will never have the production efficiency it would have had," Singh says.
Since this spring, Quantified Ag has been developing electronic ear tags to monitor certain behavior and biometric markers that indicate when cattle are sick to help detect sickness early on. Here's how it works: A receiver in the feedyard takes signals from multiple ear tags – a single receiver can take signals from all cattle in the feedyard – and sends the data to a central system, the cloud, where the data is aggregated. Algorithms flag animals showing signs of illness, and alerts are sent to penriders on their smartphones, tablets, email, SMS, or secure website.
Quantified Ag is currently beta testing the ear tags, gathering data to associate behaviors and biometric markers with healthy and sick animals, and fine-tuning these proprietary algorithms. Ear tags will likely be commercially available by the end of 2015, and services will be provided through subscription on a per animal basis, Schupbach says.
However, Schupbach says it won't displace the penrider's job, but enhance it. At the end of the day, someone still needs to be in the pen. "We're hoping we can identify behavior and symptoms of illness early on. If you're identifying sick cattle earlier, you're saving money on treatments. Someday, we might even be able to identify certain diseases based on certain behaviors," he says. "You want to make the penrider's job as efficient and safe as you can. It's a win for animals and the penriders and managers."
To learn more, visit quantifiedag.com, and check out the accompanying video. Read more about Quantified Ag in the September issue of Nebraska Farmer.
Subscribe to receive top agriculture news
Be informed daily with these free e-newsletters
You May Also Like
---