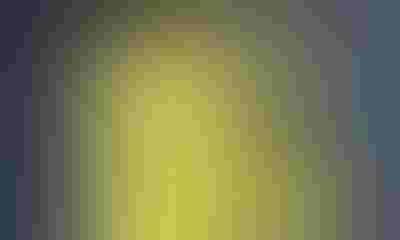 Check out an older piece of farm equipment and you may have trouble finding many safety stickers or warning information.
Related: Indiana Farmer Turns Accident into Way to Talk About Safety
Most manufacturers today go out of their way to provide large, hard-to-miss safety stickers, sometimes multiple stickers, on farm equipment. It may be as a result of lawsuits and because the liability insurance provider requires it, but it's there also to provide a message for you – understand the piece of equipment that you are using and how to use it safely.

Safety first: Even this Pro-Box for bulk seed delivery carries a large safety sticker with both written and picture-type warnings.
Even bulk seed boxes, like the one pictured here, have warnings. This one is cautioning against stacking boxes and the dangers associated with handling them.
Deaths due to farm accidents have decreased dramatically during Bill Field's career as farm safety extension specialist at Purdue. It's a career that now spans nearly four decades. One reason for fewer deaths and injuries is that there are fewer people working on the farm. However, he believes another reason is safe equipment and more warning labels on that equipment.
Field recently announced that the Indiana Rural Safety and Health Council celebrated its 70th birthday this year. At a recent meeting, the membership decided to hold a celebration based around a field day promoting safety. It will likely be held in Farm Safety Week, which occurs in mid-September.
Previous field days have included everything from tractor rollover rescue demonstrations by rural fire department personnel to a live landing by a rescue helicopter that typically transports accident victims to a hospital which can handle the patient's particular injuries.
Other safety events have demonstrated the power of electricity when not managed properly, how to extinguish fires with the proper fire extinguisher and how to safely handle anhydrous ammonia. Various grain bin safety demonstrations have also been held.
The agenda for this year's field day and exact date have not yet been set. Look for more details later in the summer.
Plans have been made for another farm safety day honoring a young man who lost his life last year. See more details about that event, scheduled for June 23, here.
Continued reading: Saving Lives and Limbs: Why Farm Safety Is An Important Cause
Subscribe to receive top agriculture news
Be informed daily with these free e-newsletters
You May Also Like
---