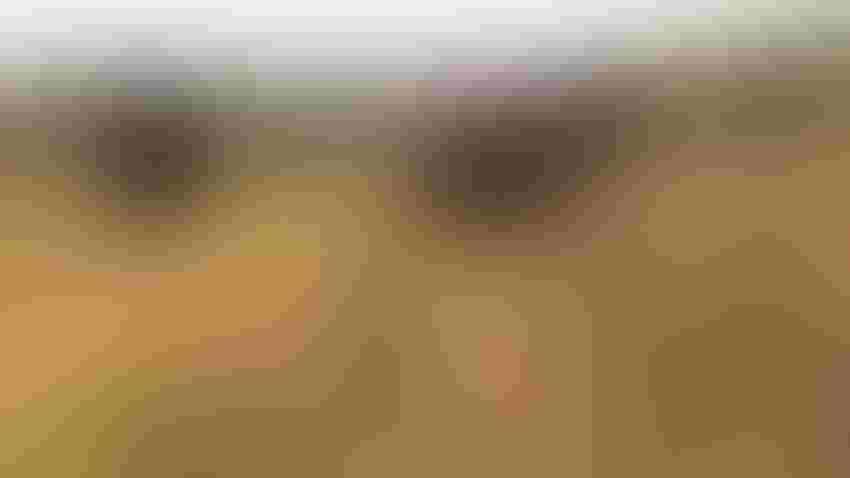 FEEDING COWS: Buying feed and supplements is not cheap, especially when the lack of precipitation has knocked forage yields backward.
Farm Progress
by Adam Hartfiel
It may still be the middle of summer, but in no time, fall will arrive. Maintaining your beef herd's nutritional needs is essential for continuing success in the future. Forage quality and availability are often the main hindrances to keeping cows and calves on a straight and narrow path when drought, difficult weather and other unforeseen circumstances occur. Summer pastures will normally meet protein and energy needs for cows and calves, but during drought years, it's more challenging.
Buying feed and supplements is not cheap, especially when the lack of precipitation has knocked forage yields backward. However, testing forages, limiting feeding and finding alternative feed options are a few practices that can help you through tough situations and set you up for success.
Forage testing. Testing forages and other feedstuffs on your operation is a vital task that identifies the possible need for additional supplementation for your herd. It also helps you best use the different forage qualities you have in stock.
Multiple samples should be taken from every crop of hay or other forage to identify key nutrients present or absent in the feedstuff. A basic forage analysis report should contain the amount of dry matter, energy, crude protein and neutral detergent fiber, as well as essential macro minerals. Drought-stressed corn, sorghum, millet, etc., should also be tested for nitrates.
Details for collecting forage samples to get accurate testing can be found in a University of Wisconsin-Extension forage and feed sampling publication titled Sampling Hay, Silage and Total Mixed Rations for Analysis.
Limit-feeding. Limit-feeding is a practical way to reduce your forage needs and minimize forage waste during times of reduced availability. Limit-feeding essentially limits the cows' access to the forage to a few hours per day. It can help reduce waste by encouraging animals to finish all the feed they are given.
Studies done at Purdue University found that forage intake was reduced by as much as 75%, 60% and 25%, respectively, when access to hay was limited to one, two and four hours per 24-hour period. Limit-feeding can be done both outdoors on pasture and in a drylot setting.
No matter what practices are implemented to stretch feed supplies, it is critical that the animals' nutritional needs are met.
Feeding energy and protein. Energy and protein are two key nutrients often absent when drought-stricken pastures fail to provide adequate amounts of forage. One option for supplementing cows and calves is providing them with protein-rich, high-energy concentrates like distillers grains. Dried distillers can be convenient to use, as it comes in various forms such as a pellet, cubed or meal. Cows put out on cornstalks or being fed poor-quality hay or other low-quality forages can be supplemented with these energy- and protein-dense supplements to balance nutritional needs.
Feeding higher rates of byproducts and supplements may reduce forage digestibility, so it is important to work with a nutritionist and look at the cost of feeding the cattle. Keep in mind that other essential nutrients like water, vitamins and minerals are also important during times of drought.
Wrapping up
While spring-calved cows do not require high-quality forage through most of the winter, they will require it as spring and calving season approaches again. Supplementation with hay or concentrates can be costly, and sometimes producers may pay more for the convenience of the product and the time and labor that goes into feeding it. But those options can also be a savior, keeping your animals on a forward path in production.
Planning for months ahead is critical; it is a lot easier to buy feed ahead of time rather than a week or so before you need it.
Hartfiel is a regional University of Wisconsin Extension livestock educator for Adams, Green Lake and Waushara counties.
Subscribe to receive top agriculture news
Be informed daily with these free e-newsletters
You May Also Like
---