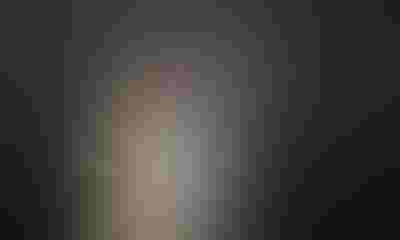 Editor's Note: Mathias Peters is an intern for the Iowa Cattlemen's Association.
The Iowa Cattlemen's Association handed out several annual awards at its 2015 Iowa Cattle Industry Convention held December 8-9 in Des Moines. The awards included Seedstock Producer of the Year, won by Douglas and Glenda Schroeder of Clarence in eastern Iowa, and Commercial Producer of the Year, won by Larry Johnson, who farms with wife Mary Lou at Maquoketa in eastern Iowa.
Seedstock Producer of the Year Award—Douglas & Glenda Schroeder

SEEDSTOCK WINNER: Doug and Glenda Schroeder were honored as Seedstock Producer of the Year by the Iowa Cattlemen's Association.
Doug and Glenda Schroeder of Clarence are winners of the Iowa Outstanding Seedstock Producer Award for 2015. This award honors outstanding seedstock producers in the cattle industry each year. Record keeping, industry participation and leadership, merchandising programs, and herd improvement are some of the areas essential to the seedstock industry and also criteria that go into the seedstock producer selection process.
For Doug and Glenda, a successful seedstock operation goes beyond genetics and sale results. It's a way of life. Being involved in the seedstock industry for over 33 years, the farming-couple have had the opportunity to fine-tune their operation and use practices that add value to their cattle herd. Schroeder Angus is home to 125 Angus cows and over 1,000 acres row crop, but it's the Angus cows Doug and Glenda are especially passionate about.
For Schroeders, breeding cattle for quality beef is top priority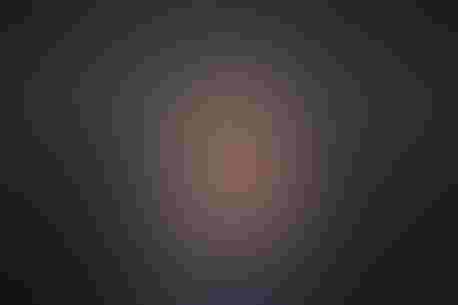 COMMERCIAL WINNER: Larry and Mary Lou Johnson were honored as Commercial Producer of the Year by the Iowa Cattlemen's Association.
Married in 1982, Doug and Glenda added to their cow herds by purchasing five bred cows from Sydenstricker Genetics, and together started Schroeder Angus. Over the years, Schroeder Angus has marketed bulls at the Denver National Western Bull Sale, Iowa Beef Expo, Eastern Iowa Angus Sale, and the Iowa Angus Bull Test Sale, as well as private treaty. For the Schroeders, quality is top priority.
Using weights, ultrasound data, phenotype, feet structure measurements, and data from the National Breed Sire Summary, Schroeder Angus is able to effectively manage their herd and make genetically decisions that move their program in the right direction. The use of embryo transfer and recently in-vitro fertilization has also helped Schroeder Angus advance their herd. The result of this is producing exceptional seedstock, with bulls such as Schroeder's New Look, Schroeder's Direction, and Schroeder's Precision all being involved in the National Sire Evaluation Program.
~~~PAGE_BREAK_HERE~~~
Leadership by providing help with various education programs
Doug and Glenda's leadership is also seen through a variety of educational programs and breed associations. Doug served on the American Angus Association board from 2008 to 2014 and was chair of the Certified Angus Beef committee in 2014. While having served as the President of the Iowa Angus Association and Eastern Iowa Angus, Doug is now treasurer of the Cedar County Cattlemen's Association and sits on the ICA board as cow calf representative. Glenda has served as president of the Iowa and Eastern Iowa Angus Auxiliary and currently serves as treasurer for the latter. Doug and Glenda were both Iowa Jr. Angus Advisers for 13 years and had the opportunity to be chairs of the 2000 and 2008 National Junior Angus Show.
When reflecting on past years, Doug and Glenda say they would do it all over again, and the same way. With their children and four grandchildren farming and owning cattle, it is easy to see the love of agriculture that has been passed to the next generation. Looking to the future, Doug and Glenda plan to use all the data "they can get their hands on" to produce better and more predictable cattle, and plan to start their own bull sale with their sons. Asked what they most love about the seedstock industry, Doug and Glenda agree: "The most rewarding thing about the seedstock business is no matter what breed, it's the people you get to meet and the friendships that last forever."
Outstanding Commercial Producer of the Year Award—Larry Johnson
Every year, the Iowa Cattlemen's Association recognizes an outstanding commercial producer that continually goes above and beyond and "gives their all" to make the beef industry the best it can be. This year, ICA is proud to recognize Larry Johnson of Maquoketa, Iowa. Larry and his wife Mary Lou run a diversified operation focusing on cow-calf and finishing cattle, as well as maintaining around 2,500 acres of corn, soybeans, hay, and pasture ground.
Larry's love for cattle and the beef industry began at a very young age, growing up on his family's farm. In high school, Larry began his own operation by renting his first farm and purchasing hogs and cattle. It was in 1986 after Larry and Mary Lou were married that they purchased a farm of their own right down the road from Larry's parents. Since then, the farm has grown immensely as Larry finishes over 7,000 head of cattle per year and maintains a 450 head cow herd. The addition of two confinement barns and application of practices such as artificial insemination and rotational grazing help Larry to stay on the cutting edge of the cattle industry, and run a successful operation.
Dedication to the cattle business and passion for family farm
Larry has served as a board member and vice-president of the Jackson County Cattlemen and as the Northeast Regional Vice President for the ICA. He has won several awards and hosted legislators from Washington, D.C. on his farm, as well.
Today, Larry can be seen instilling his love of cattle and passion for agriculture in his two boys, Joe and James, and his daughter, Janell; as well as four grandsons, Carter, Caden, Ty and Lane. All four grandchildren love their time at the farm, whether spent in the tractor or in the pastures, making the future of Johnson Family Farms look bright!
For more information about the 2015 ICA convention and awards, visit iacattlemen.org.
Subscribe to receive top agriculture news
Be informed daily with these free e-newsletters
You May Also Like
---