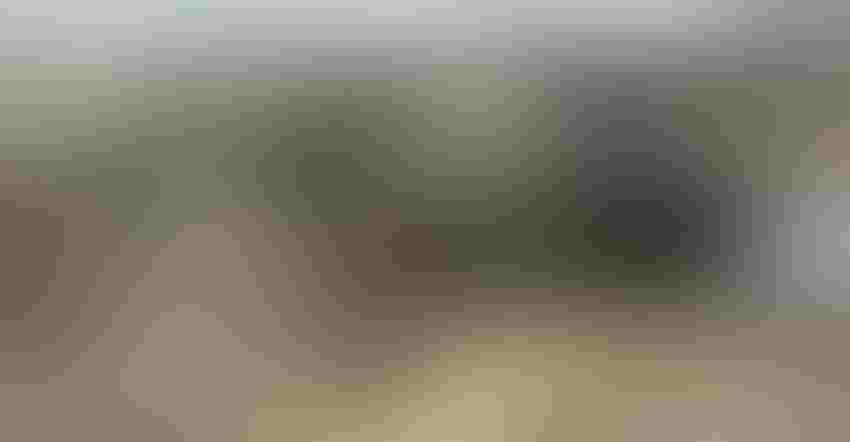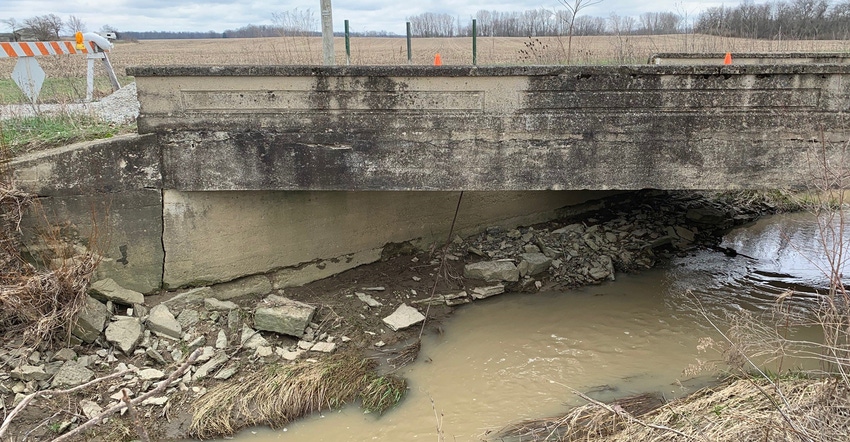 BRIDGE TO NOWHERE: Because this old, now-collapsed bridge in Randolph County, Ind., is considered historic, it's not feasible for the county to replace it right now.
Tom Chalfant
There is a bridge on a 1-mile stretch of road in Randolph County, Ind., that is no longer functional. Tom Chalfant, a farmer and county commissioner, says the decking fell out of the bridge, forcing county highway officials to close the road. It's located near the Davis-Purdue Agricultural Center near Farmland.
"Nobody lives on the road, but now some local farmers must drive a few miles out of their way to reach fields they could access through this road before," Chalfant says. "They understand the situation and why the county can't afford to fix the bridge right now, but they're still frustrated. It adds extra time to their day when they're planting and harvesting that could be better spent in the field."
Chalfant says the problem with this bridge is that it was declared a historic bridge and is included in Indiana's Historic Bridges Inventory, a function of the Indiana Department of Transportation. He says this small concrete bridge was built in the early 1900s. "They tell me it was declared historic because of the unique way the rebar is positioned within the concrete compared to how it was typically done," Chalfant says.
A few other bridges in Randolph County are also designated as historic. Across Indiana, there are hundreds of historic bridges, many in rural areas. The listing of historic Indiana bridges, with short descriptions, that are eligible for the national registry consists of well over 200 pages.
"The county replaced one historic bridge in the city of Winchester next to a historic site, and it took 12 years and cost lots of money to complete the project," he explains. "If it's a historic bridge, it must be returned to original condition, and that typically increases the cost significantly."
Unintended consequences
Chalfant understands why people would want to preserve bridges of historic value. What he and farmers who can't use a road are dealing with are the unintended consequences of well-intended actions. The estimate to replace the bridge near the Davis-Purdue Ag Center is about $800,000, he reports. He says if the county could replace it using its normal procedures, the cost shouldn't be more than $180,000.
Rep. J.D. Prescott, R-Union City, sought to resolve the issue by introducing legislation into the 2020 Indiana General Assembly to make it feasible for counties to replace these bridges. The proposed legislation didn't get traction.
"Legislators soon discovered that this is a complex issue which involves local, state and federal agencies," says Jeff Cummins, Indiana Farm Bureau's associate director for policy engagement. "State action could jeopardize federal funding for road and bridge projects. We will have to seek other solutions."
Chalfant has reached a similar conclusion. He's found INDOT receptive to his county's plight and is also working with Rep. Greg Pence's office on some specific bridges in the county.
"It's clear now that it probably can't be resolved with state legislation," Chalfant says. "We will likely need to address it on a case-by-case basis, working with all agencies involved to try to reach a solution."
About the Author(s)
Subscribe to receive top agriculture news
Be informed daily with these free e-newsletters
You May Also Like
---