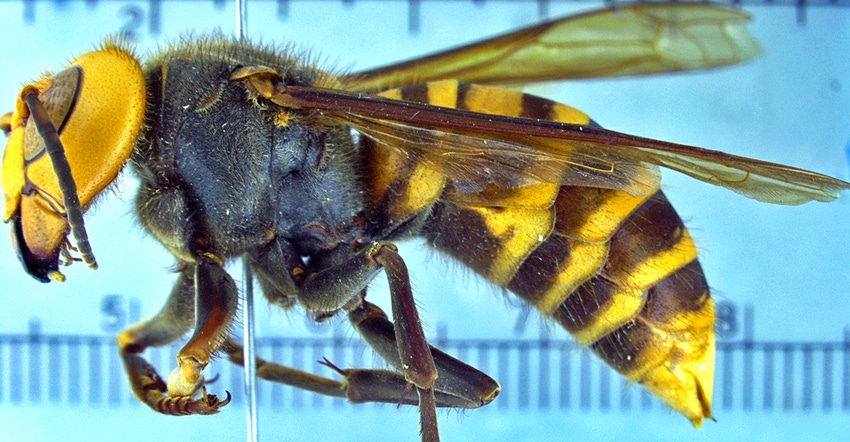 HUNTING A BEE KILLER: Washington state is asking for help in the hunt for an invasive species that can decimate honeybee populations.
Allan Smith-Pardo, USDA APHIS PPQ, bugwood.org
It's almost a scene from a science fiction movie. Scientists are on the hunt for a giant invader — one that could wreak havoc on the population if left to its own devices. But in this case, the invader's target is honeybees; and in Washington, state scientists are raising an alarm.
The threat is the Asian giant hornet, which was first found in Washington in 2019. This is no tiny wasp; it measures 2 inches long and is considered the world's largest hornet. It carries a painful and sometimes lethal sting, and it likes to dine on honeybees.
Known as Vespa mandarinia, the wasp is unmistakable, according to Susan Cobey, bee breeder with Washington State University's Department of Entomology.
The invasive insect was found late last year in northwest Washington. Cobey says the hornet is "like something out of a monster cartoon, with this huge yellow-orange face."
Adds Todd Murray, a WSU Extension entomology and invasive species specialist: "It's a shockingly large hornet. It's a health hazard, and more importantly, a significant predator of honeybees."
Cobey, Murray and other WSU scientists are on the lookout for the emergence of the wasp this spring. Sighted last December, the hornet will start to become active in April. WSU scientists and researchers are teaming with the Washington State Department of Agriculture, beekeepers and residents to find the Asian giant hornet, study it and help prevent its spread.
Invasive hornet challenge
The Washington sightings are the first ever in the United States. WSDA verified two reports of the hornet late last year near Blaine, Wash., and received two probable but unconfirmed reports from sites in Custer, Wash.
Officials don't know how the hornet first made the trip to North America. Insects are often transported in international cargo, and they are sometimes transported deliberately.
The hornet is at home in the forests and low mountains of eastern and Southeast Asia. It feeds on large insects, including native wasps and bees. In Japan, it devastates the European honeybee, which has no defense.
The bug's life cycle begins in April, when queens emerge, feed on plant sap and fruit, and look for an underground den in which to build their nests. An established colony will grow and send out workers to find food and prey.
The hornet has a long, sharp stinger. It can sting through most beekeeper suits, can deliver nearly seven times the amount of venom of a honeybee and can sting multiple times. Those multiple stings are strong enough to kill a human, even if the human is not allergic.
Hornets are most destructive in the late summer and early fall, when they're on the hunt for sources of protein to raise next year's queens. V. mandarinia attack honeybee hives, killing adult bees and devouring bee larvae and pupae while aggressively defending the occupied colony.
Significant threat
Honeybees play an important role in pollinating key crops across the Northwest including apples, blueberries and cherries. Tim Lawrence, Island County Extension scientist, notes that with the threat of the giant hornets, "beekeepers may be reluctant to bring their hives here."
Murray adds, "As a new species entering our state, this is the first drop in the bucket." He notes that once established, invasive species like spotted wing drosophila fruit fly or the zebra mussel make "forever changes" to local crops and ecologies.
"We need to teach people how to recognize and identify this hornet while populations are small, so that we can eradicate it while we still have a chance," Murray says.
WSU scientists are now working to spread awareness of the hornet and developing a fact sheet to help people identify and safely encounter these insects.
As partners with the Washington Invasive Species Council, they also urge citizens to download the WA Invasives smartphone app for quick reporting of sightings.
To report an Asian giant hornet sighting, contact the Washington State Department of Agriculture Pest Program at 800-443-6684, at [email protected] or at agr.wa.gov/hornets.
Source: Washington State University, which is solely responsible for the information provided and is wholly owned by the source. Informa Business Media and all its subsidiaries are not responsible for any of the content contained in this information asset.
Subscribe to receive top agriculture news
Be informed daily with these free e-newsletters
You May Also Like
---