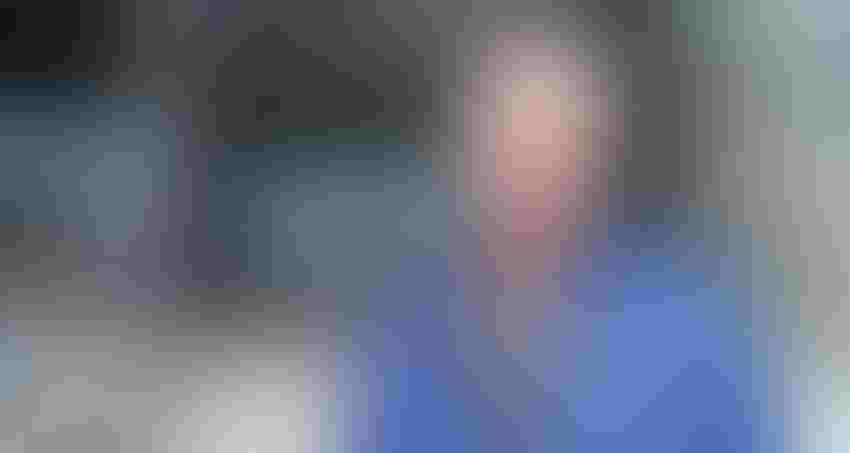 Paul Snyder, the Tillamook County Creamery Association's executive vice president of stewardship, wants to make Tillamook cheese and ice cream a trusted national brand.
Tim Hearden
It's been a year since Oregon's Tillamook County Creamery Association won recognition as a Certified B Corporation for its sustainable and worker-friendly farming practices. Now the dairy cooperative wants to use that designation to build credibility and trust beyond the West Coast.
The brand well-known to Western shoppers – it claims as much as 80% household penetration in the Pacific Northwest – is pushing east. It's now in every U.S. state with Costco, Walmart, Target and Kroger, and hopes its burgeoning reputation for sustainability will help it increase distribution.
"As we push east, people know us as a product and package, but unless you live in Oregon you probably don't know we've been a values-based company," said Paul Snyder, Tillamook's executive vice president of stewardship. "The B-Corporation lets people know that, whether they grew up in Bend (Ore.), Redding (Calif.) or Poughkeepsie, N.Y.
"I think people care about how you do business," Snyder told Farm Progress. "We pride ourselves being a very transparent company. We're right out there."
Tillamook has long marketed its ice cream on its high-quality ingredients, using more cream and less air than the industry standard with no artificial flavors or sweeteners, no synthetic colors and no high fructose corn syrup.
Committed to stewardship
A B Corporation is a third-party certification that recognizes stewardship in a range of areas, including environment-friendly practices, animal welfare and ethical treatment of workers. To achieve this status last fall, Tillamook went through a laborious process that involved third-party review of practices and approaches for the co-op.
The process took months, and Snyder has noted that some companies need to alter what they do to meet requirements.
While Tillamook officials believe that striving for sustainability and social responsibility is the right thing to do, there's also a marketing benefit. Tillamook's board is modifying product packaging to include the B-Corporation label, and the media attention surrounding the certification has enabled the co-op to publicize its story, Snyder said.
Related: Tillamook recognized for stewardship work
"First and foremost, getting the designation really validated what we've been doing for years," he said. "Getting the external validation meant a lot to our employees and our growers."
As part of its sustainability effort, Tillamook recently announced a goal of using 100% recyclable, reusable or compostable packaging by 2030.
"There's a tension between food safety, food security and sustainability when it comes to packaging," Snyder said. "We're committed to figuring all that out by 2030. Technology is going to help us a lot. We have great partners with our packaging suppliers who are coming up with innovative things.
"We will work with them to hit that benchmark," he said. "It's something we have to do. We have to find a way to feed ourselves without generating all this waste."
Ambitious plans
The B-Corp designation was a key part of an ambitious effort by the co-op to expand its reach. Another was the 2018 renovation of its visitor center, which is adjacent to the company's flagship manufacturing facility and headquarters near Oregon's northern coast.
More than 1.4 million tourists visit the creamery each year, or as many as 10,000 per day during the busy season. The new center was expanded by more than 50% to handle the crowds, and it includes a larger dining area and expanded ice-cream counter, a new retail market and an enhanced viewing area for guests to watch the co-op's cheese production and packaging operations.
The viewing loft now includes more signage to explain to visitors what the workers are doing, and a new theater area shows short videos about how Tillamook products are made.
Related: Tillamook touts stewardship as food prices rise
In March, the TCCA unveiled a report on its stewardship activities titled, "Good is Something We Make Together," which highlights its six-pronged commitment to thriving farms, healthful cows, enduring ecosystems, inspired consumers, fulfilled employees and enriched communities.
Among the 2020 initiatives the co-op cited was a $4 million COVID-19 relief fund that provided support for businesses in Oregon's rural Tillamook and Murrow counties; $1.6 million in donations to farmers across the country; $1.2 million in product donations to food security organizations; 500 free to-go meals given to first responders during wildfires; and 8,516 paid volunteer hours by employees for various causes.
"I'm very proud of the fact that even as we called back operations (during the pandemic), not one person lost their job," Snyder said. "With a lot of people who work here, we put them in other parts of our manufacturing."
As the company seeks to expand, what is "vitally important" to its member farmers is that it remains true to its commitment to "dairy done right," he said.
"We've got pretty big ambitions," Snyder said. "Right now, we're laser-focused on eastward expansion. When that is done, we anticipate being everyone's favorite cheese and ice cream brand in the United States. Beyond that, there are lots of possibilities for us."
Subscribe to receive top agriculture news
Be informed daily with these free e-newsletters
You May Also Like
---