S.D. Farm Bureau celebrates its 100th anniversary with $100,000 in grants
S.D. Farm Bureau celebrates its 100th anniversary with $100,000 in grants
With a community grant program, the South Dakota Farm Bureau helped start a new FFA chapter, furnish a hospital room waiting room, upgrade county fairgrounds and provide first responders with grain entrapment rescue tubes.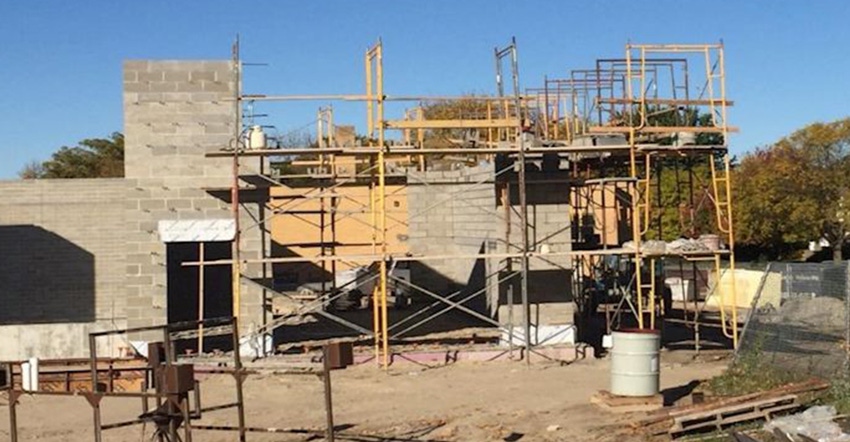 HELPING HAND: An expansion of the hospital in Burke, S.D., was one of the projects that won a grant from the South Dakota Farm Bureau, which is celebrating its 100th anniversary this year. SDFB helped furnish the new reception area.
Community Memorial Hospital
South Dakota Farm Bureau turned 100 years old in 2017 and marked its centennial by donating $100,000 to community projects across the state. In many cases, local county Farm Bureau chapters matched the SDFB's donation. Among the projects:
• Expansion of Community Memorial Hospital in Burke. SDFB helped furnish the new waiting room. "This project will continue to help our small, but mighty communities grow by offering quality healthcare, new jobs and keeping current jobs," ays Suzette Brychta-Johnson, Gregory County Farm Bureau. "This is a win for all involved!"
• New apartments in Herreid, S.D. "Herreid Area Housing Development, Inc. has been working to provide housing for individuals moving to the community as new and expanded agriculture business opportunities are bringing more people to our area to work," says Dick Werner, president, Herreid Area Housing Development. "We are very appreciative to SDFB for making these dollars available to help our community grow!"
• Ten beef cow-calf pairs for McCrossan Boys Ranch, Sioux Falls. McCrossan is a group home for boys age 9-20 who have experienced conflict in their lives. It wanted to start a cattle program to complement its horse therapy program, which has helped improve boys' confidence, self-esteem and work ethic.
• Two archery ranges in Wall and Webster.
• New facilities for Sanborn, Turner, Perkins, Butte and Lawrence county fairgrounds.
• Basketball shot clocks in Armour, Corsica, Dakota Christian and Stickney school districts. "High school athletics are a big part of our area communities," says Calvin Deboer, Douglas County Farm Bureau president. "The addition of Shot Clocks for area gyms will allow our local schools the chance to continue hosting many of these competitions, which is a win-win for our communities."
• Grain bin rescue tubes for Clay, Brookings and Kingsbury counties. "There are a lot of grain bins being added to farms in our area," says Craig Weber, Brookings - Kingsbury County Farm Bureau President. "With the donation of rescue tubes and supporting equipment, members of the Arlington, Bruce and Sinai Fire Departments will have the tools and training they need to provide a higher level of service to our community."
• Youth 4-H programming equipment in Grant, Aurora, Union and Grant counties.
• Emergency response equipment in Brown County.
• Touchscreen tablets for a children's agriculture displays at the Corn Palace. "This is the beginning of a larger project that will make ag information available year-round to reach not only tourists, but also school children," says Cindy Foster, of the Davison-Hanson County Farm Bureau.
• New playground equipment in Platte. "Platte recently put in a new swimming pool, followed by a baseball and softball complex," says Lyle Nepodal, president, Charles Mix County Farm Bureau. "New playground equipment was the next step this area needed to continue to provide entertainment and enjoyment for area families."
• A new FFA chapter in Yankton. "The addition of two new ag classes in this recent school year got our students wanting more," says Jennifer Johnke, principal, Yankton High School. "They now wanted to start an FFA Chapter. Yankton County is one of the few counties who have seen an increase in the number of farms over the years. Many of our students come from agricultural backgrounds and have an interest in pursuing a future in agriculture. We felt this was the perfect fit."
South Dakota Farm Bureau contributed to this article.
Subscribe to receive top agriculture news
Be informed daily with these free e-newsletters
You May Also Like
---