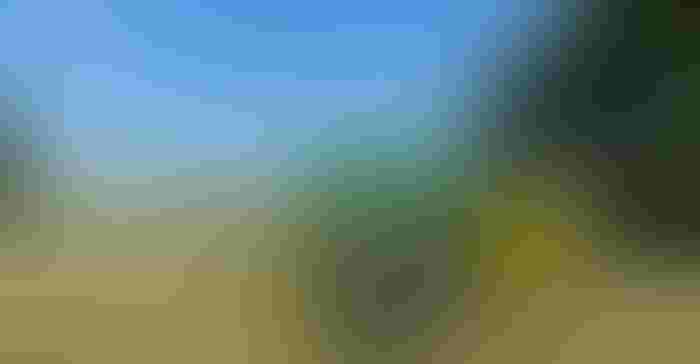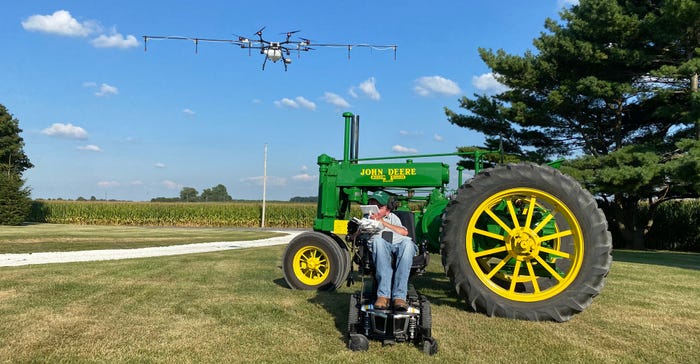 There's a new ag business in Indiana. Albertson's Drone Service, LLC, was doing business even before the owner, Kyle Albertson of Fowler, completed his agribusiness management degree from Purdue University. Albertson is turning what some consider a hobby — flying drones — into a business.
"I started out taking lots of videos with drones," the 2017 Benton Central High School graduate explains. "I was exposed to agriculture at a very young age by my uncle, Jeff Albertson, who farmed and now hauls ag commodities, and through John Kretzmeier, a farmer who has helped me in many ways.
"In 2020 I saw a podcast featuring Rantizo, a start-up company using drones to spray and seed cover crops, and I really became interested. It looked like an opportunity for me to establish my own business and be independent."
Rantizo, started by Michael Ott in Iowa, is now licensed to spray with drones in 17 states. The company's business model consists of setting up contractors who work on a custom basis. Rantizo takes a percentage for supplying customer leads, and the contractor earns the rest.
Currently, Albertson is the only contractor for Rantizo in Indiana. He seeded cover crops on 130 acres last fall and hopes his business will really take flight in 2021. "I purchased my drone so I could spray and seed last summer," Kyle says. "Before I could fly it, I earned my FAA part 107 license you need if you're using a drone commercially. I also passed tests to earn my regular pesticide applicator's license and a commercial pesticide applicator's license from the Office of the Indiana State Chemist. If you do your homework and study, the tests aren't that difficult."
Where does Albertson see a niche for his business? "If you've got an 80-acre field and there are only weed patches in 10 acres, you can hire me to spray with a drone instead of spraying the whole 80 acres," he explains. "It saves you money and you don't put more chemicals than necessary into the environment or add to weed resistance development issues."
There are also fields near trees and other obstacles where it's safer for him to spray or seed than an aerial applicator.
Behind the scenes
The fact that a young graduate has set up his own business involving new technology and striking out on his own is a story by itself. But there is far more to this story. Albertson, who has muscular dystrophy, has been in a wheelchair since he was 3 years old. It didn't stop him from showing sheep in 4-H and open shows, and he says it won't stop him from operating his own business.
Today, he drives a van modified so he can steer it with a joystick-type device. His goal is to install the same technology in a pickup truck so it's easier to pull a trailer.
Rantizo can supply standardized trailers, but Kyle is opting to put his own trailer together. He says it's cheaper and will be more suited to his needs.   
He and his family purchased the van. Vocational Rehabilitation, a state government agency, helped with the expenses to modify it. He also developed a frame, similar to what he used when showing sheep, to help balance the controls so he can fly his drone. An assistant accompanies him and helps fill the drone with products.
Vocational Rehabilitation also provided help in developing his business plan. Learn more about the business at albertsondroneservice.com. You can also follow Albertson Drone Service LLC on Facebook, Twitter, Instagram and You Tube.
About the Author(s)
Subscribe to receive top agriculture news
Be informed daily with these free e-newsletters
You May Also Like
---