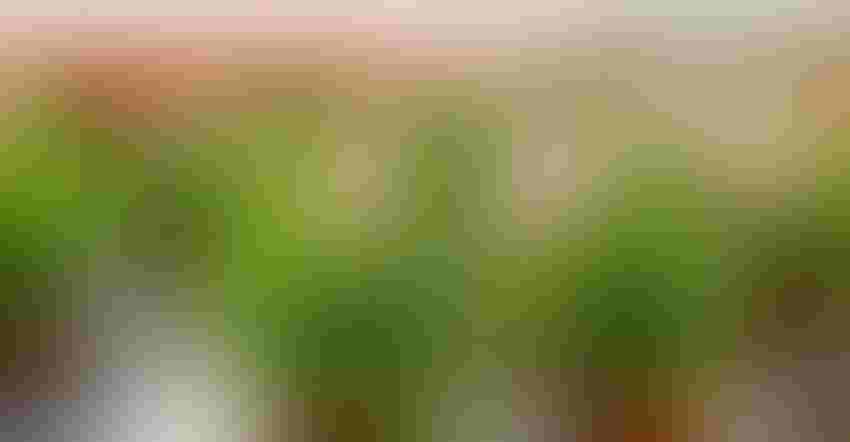 PICKING A WINNER: Nursery crops edged out cattle to take become No. 1 in the Oregon list of the top 20 crops in the state.
romrodinka/iStock/Thinkstock
Ranking the crops and livestock raised in a state paints a picture of the health of agriculture. For Oregon, the annual lists saw a change at the top, and a few mix-ups in between for its top 20.
For the past two years, cattle and calves held the top position in the state as beef fortunes rose with higher prices. For the 2016 list released recently, however, there's a new No. 1 — nursery crops.
Of course, nursery and greenhouse products aren't so new to the top spot; that's where they were before cattle took over two years ago. This marks a return to the top for those high-value products. Officials from the Oregon Department of Agriculture report that the top 10 list got no new players, just some rearranging of the order of those products. The results come from a USDA National Agricultural Statistics Service look at 2016's crop, livestock and fisheries value of production.
Oregon has 220 commodities raised in the state, and as officials note, there will always be winners and losers in any given year. The 2016 results do show that a majority of the state's leading ag sectors grew, though a few saw a decrease.
Here's a look at the top 10 and their sales in 2016.
1. Greenhouse and nursery products, $909 million
2. Cattle and calves, $701 million
3. Hay, $661 million
4. Milk, $469 million
5. Grass seed, $436 million
6.Potatoes, $187 million
7. Wheat, $185 million
8. Pears, $181 million
9. Winegrapes, $143 million
10. Onions, $125 million
While Nos. 1 and 2 swapped places, in this top 10 list Nos. 6 and 7 also swapped in 2016, pushing potatoes above wheat. The state has 12 ag commodities topping $100 million in production value. Two of those — hazelnuts ($118 million) and blueberries ($104 million) — just missed the top 10 cut.

TOP 20: Oregon ranks crops by sales; here's a look at the latest list from 2016. The list shows the diversity of crops in the state.
Officials report no surprise in the change at the top. They note that cattle and calves are a cyclical business, and the strong prices in 2014 and 2015 slid in 2016, resulting in a 23% drop in production value. Greenhouse and nursery crops continue their recovery from the 2008 recession, which cut into sales just as this group topped $1 billion in 2007. In 2016, production value rose nearly 2% from 2015.
Some of the other crops to see value increases include pears (up 19%), grass seed (up 14%), hay (up 9%) and potatoes (up 6%). Besides cattle, others that showed a drop include wheat (down 15%), winegrapes (down 3%) and milk (off 1%).
The next tier
A deeper look at top crops — into the top 20 — shows a new crop has made it into the list: hops. The big rise in craft brewing and strong prices last year pushed hops into No. 15 on the list, with a $65 million production value —nearly a 90% rise from 2015. And corn made it into the top 20 in 2016, too.
Here's a look at the rest of the top 20:
11. Hazelnuts, $118 million
12. Blueberries, $104 million
13. Christmas trees, $90 million
14. Cherries, $79 million
15. Hops, $65 million
16. Apples, $59 million
17. Dungeness crab, $55 million
18. Eggs, $42 million
19. Mint for oil, $41 million
20. Corn for grain, $38 million
Big movers in this part of the list include Dungeness crab (up 66%), hazelnuts (up 37%), apples (up 34%) and cherries (up 16%). There were some slips, with eggs down 64%. Others that slid include Christmas trees (down 27%) and mint (down 21%).
Those 2016 stats also show a slight drop in the number of farms in the state, which is now at 34,400, with a total acreage of land in farms at 16.3 million.
And on a national basis, those top 20 are part of Oregon's heritage of being the top producer of a number of items, including Christmas trees, hazelnuts, grass seed, blackberries, boysenberies, rhubarb, sugarbeet seed and potted florist azaleas. The state is second in production of pears, blueberries, sweet cherries, black raspberries, hops, peppermint and snap beans.
Oregon has a diverse population of crops, with 17 that have value of at least $50 million.
Source: Oregon Department of Agriculture
Subscribe to receive top agriculture news
Be informed daily with these free e-newsletters
You May Also Like
---