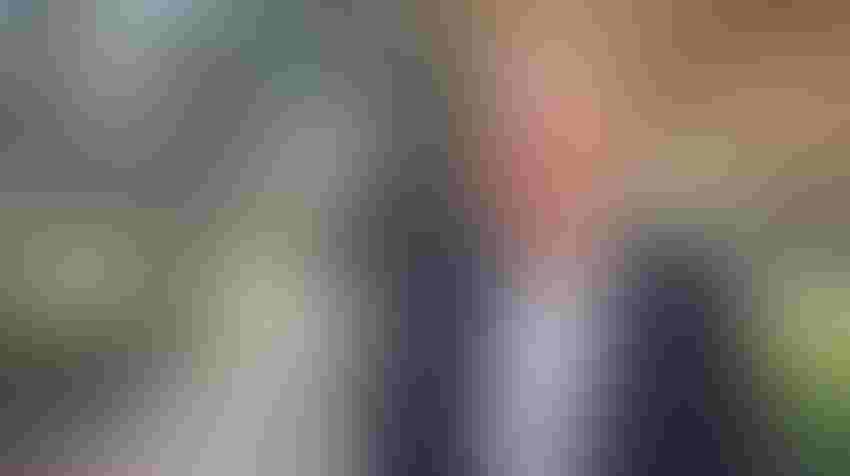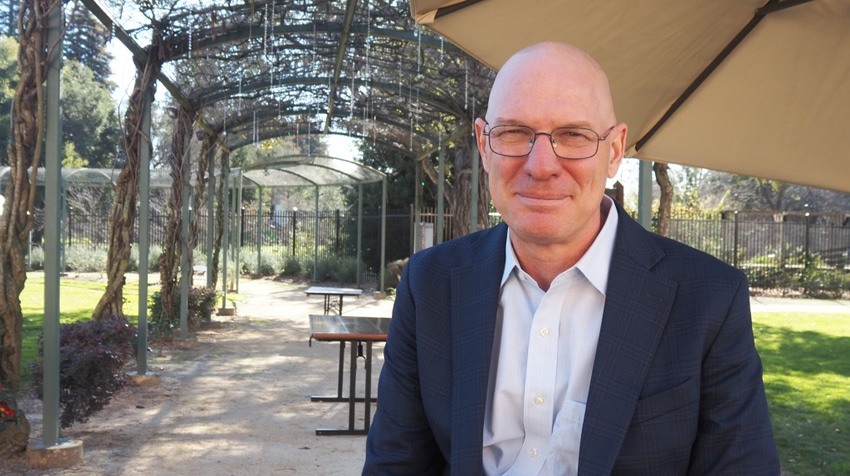 Beer wholesalers' executive Lester Jones stands in a courtyard at the Hyatt Regency Sonoma Wine Country, where he gave a keynote speech for the American Hop Convention in late January.
Tim Hearden
Washington economist Mike Veseth says hard seltzers are disrupting the wine and beer industries the way smart phones upended board games.
It's not that traditional beverages like wine and beer are going away, notes Veseth, editor of The Wine Economist and professor emeritus at the University of Puget Sound in Tacoma. But wine, like Monopoly, is becoming smaller and filling a niche.
"The game endures, and wine endures," Veseth said at the Unified Wine and Grape Symposium in Sacramento, Calif., in late January.
Beer wholesalers' executive Lester Jones is more optimistic, echoing some Wall Street analysts' belief that the hard seltzer craze may be a passing fad. But the drinks are on his radar.
"I'm just waiting for the Tang guys to come out and add vodka, because those guys grew up with that stuff," said Jones, vice president of analytics and chief economist for the National Beer Wholesalers Association in Washington, D.C. "Why wouldn't they want to have vodka in their Tang?"
Hard seltzers are among a variety of lower- and no-alcohol ciders, vodka sodas and other alternative drinks that are competing mightily against beer and wine for the next generations of consumers. Their ascent was a key topic at two recent West Coast conference for producers of wine and hops, respectively.
Hard seltzer is a canned beverage that's made with seltzer, alcohol, and no-sugar-added fruit flavoring, according to White Claw, one of the leading brands. The Distilled Spirits Council of the U.S. reported Feb. 9 that spirits supplier sales across the country were up 5.1% in 2022 to a record $376 billion, while volumes rose 4.8% to 305 million 9-liter cases.
Gaining ground
Spirits have gained market share across all alcohol sectors for the 13th straight year, rising to 42.1% of supplier sales, according to the Distilled Spirits Council. This marks the first time that spirits supplier revenues have surpassed beer, which holds a 41.9% market share.
"Year after year, the spirits sector has slowly gained market share by staying focused on our consumers, delivering innovative, high-end products, and advocating to level the playing field for spirits, beer and wine products in the marketplace and legislative arena," said Chris Swonger, the council's president and chief executive officer.
The expanding ready-to-drink, or RTD, beverage market has been a boon to places like Colorado, where companies are coming out of the woodwork and experimenting with offerings such as gin-and-tonic mixes and absinthe root beer, the Denver Business Journal reports.
But on the West Coast, the new drinks have caused consternation in a wine industry already grappling with a dearth of Generation Z and Millennial consumers buying its products.
"There's a shrinking number of core and marginal wine drinkers," said Danny Brager, owner of Brager Beverage Alcohol Consulting in Mission Viejo, Calif. "Younger drinkers are choosing beverages other than wine, and there's a growing number of abstainers."
Consumers ages 21-34 represent one-quarter of the U.S.' drinking-age population but consume only 19.2% of the volume of wine sold, according to a 2022 NielsenIQ survey. The age group accounted for 29.4% of beer sales and 28.7% of spirits sales, the survey found. A full 45% of Gen Z consumers don't drink alcohol, Brager said.
Cocktails growing
Among all Americans who drink, more than half purchase hard seltzers, and spirit-based cocktails have grown bigger than whiskey and other traditional spirits and have been gaining on beer, he said.
"The growth has invited competition across beer, wine and related industries," Brager said at the wine symposium, noting that wine, beer and soda companies are investing in the drinks. "One of our big challenges with younger consumers … is to have them choose wine for more occasions."
Beer wholesaler Jones – the keynote speaker at the 67th annual American Hop Convention in Santa Rosa, Calif. – calls the RTD beverages "liquor in a can." He said they're part of a long-term strategy by the spirits industry to better compete against beer and wine, but he believes their profitability will fade.
"As an economist, I look at efficiency," Jones told Farm Progress. "What is the highest, most profitable use of a 750-mililiter clear bottle? Once they figure out how hard the distribution of cans can be, they'll want to go back where they were."
Wall Street analysts appear to agree, as they signaled earlier this year they were growing weary of falling hard seltzer sales, Yahoo Finance reported. "The unexpected rapid slowdown" of sales last summer "significantly impacted our business," Boston Beer Co. CEO Dave Burwick said, according to the news service.
The problem was that people were "irrationally exuberant" about "bubbly water with sugar," Jones told the hop convention in late January. The rosy sales expectations were fueled by COVID-19-related stimulus funds, which increased consumers' disposable income, and unreliable supply and demand reports, Jones said.
"Forty-two million cases of mostly seltzer got flushed" last year, he said. "They just got way ahead of themselves."
Challenges ahead
The spirits industry has been trying to bolster its economic position by promoting legislation to lower sales tax on RTD products so that they're on par with wine and beer. Liquor is currently taxed at a higher rate because it's stronger, Jones noted.
So far, the effort has had mixed results. In North Dakota, which produces barley, a bill to lower the tax rate of RTD spirits was defeated in early February. A bill in Washington, a key producer of hops, would create a new taxing category for so-called "low-proof beverages," spirit-containing drinks of 16 ounces or less with an alcohol-by-volume content of between 0.5% and 7%, the Spokane Spokesman-Review reported.
Beer and wine face other challenges, too, including a public health community in the U.S. and elsewhere that has grown hostile to alcohol, Jones said. "Our education system scared a lot of kids, and I think it's appalling," he said, noting that many 21-year-olds are "scared of alcohol."
Wine may be positioned better to respond to the scare tactics, as a Wine Market Council survey recently found consumers believe the drink is healthier than others, consultant Brager said.
But Jones notes that alcohol sales in the U.S. have consistently grown since 1940, although spending sometimes shifts. Last year, 14,112 new breweries and 732 new brewers were approved, and the number of wineries has risen consistently since 1997, he said.
"If you go back to 1939, the occasions to have a drink have been pretty consistent," Jones said. "Beer's fight is going to be hard. But I think it's a challenge we can win."
Subscribe to receive top agriculture news
Be informed daily with these free e-newsletters
You May Also Like
---