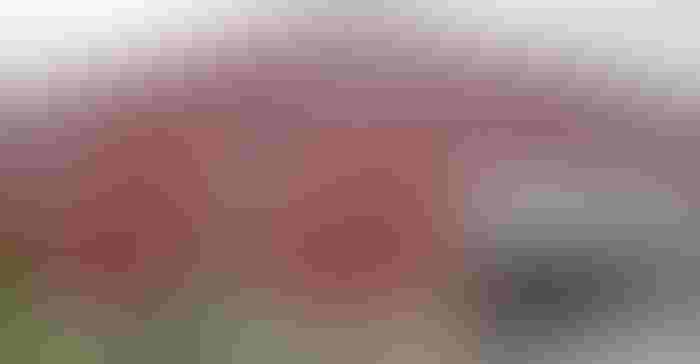 Jim Douglas and his family and employees worked out of a modest-size farm shop for years, with no office space except in the house. As the operation expanded and Jim's son James came home to farm, it was obvious they needed to create more space to work, both in a shop and in an office.
The Douglas family, Flat Rock, Ind., built an 80-by-120-foot shop and office complex in 2015. The rectangular building includes a 30-by-40-foot office and second-story loft in one corner of the building. The rest of the building is open for working on machinery.
Related: New report offers farm shop insight
"We put as much thought as we could into this building so we would have as much usable space as possible," Jim says. "We also wanted a flow pattern for moving equipment in and out that made sense."
James returned to the farm when shop planning was beginning. "You could always do more, and you always think of other things later, but we spent quite a bit of time planning before we built it," he adds.
Farm shop highlights
Here are key elements of the shop:
• Traffic flow pattern. Two 24-foot-wide doors on either end are lined up so semis or other equipment can pull straight through if necessary. "If you need to pull a planter or other tool in and unfold it, you can pull off to the side in the bigger space," Jim says. "We really like the ability to pull straight in and drive out the other end when we're ready to move a truck or piece of equipment out."
• Door size. "We decided right away that we couldn't outguess how big machinery would get in the future," he says. "So we went with 24-foot doors and the larger space in the L-shaped part of the building. If you go to bigger doors, it adds lots of expense."
• Storage access. Orange storage racks accessed by forklifts for items not used every day are located along the outside wall near the main drive for a reason. "Before, we had storage stacked up at the end of the building," Jim says. "You often had to move something to get to what you wanted. This way you have access. We never leave anything parked in front of the storage racks for an extended period."
• Cheap to heat. The office has its own furnace and heat source. The rest of the building is heated by an ordinary furnace mounted in one corner and powered by LP gas. "It just doesn't take much to heat the shop," Jim says, smiling. The secret is insulation. The area above the ceiling is covered with loose-fill insulation, and insulation was blown into the sidewalls, he notes.
To see more highlights of the Douglases' shop, check out the slideshow.
About the Author(s)
Subscribe to receive top agriculture news
Be informed daily with these free e-newsletters
You May Also Like
---